Dawn Of The Unread: Zombies And Interactive Comics In The Classroom
By Olly MacNamee
Released for free and online on the 8th of every month, Nottingham's Dawn of The Unread is a brave venture into webcomics with a simple mission statement: get more people reading, encourage better literacy levels.
Created by James Walker, supported by Nottingham Trent University and illustrated by established British artists (Eddie Campbell illustrates Charlie Peace) as well as newcomers to the comic scene, each issue focuses on a famous local Nottingham personality (I just didn't know, until I visited the site and registered, just how many literary figures hailed from Nottingham) giving the readers a brief biography of the characters in question, interactive elements as well as a supportive educational pack to be used by schools in the local area. Walker's plan to engage with each and every secondary school in the area is a target worth aiming for, as I have seen first hand in my own classrooms what the power of comics can do for the struggling reader. Which, of course, is the point. Literacy levels in Britain are not something to boast about (in a recent study carried out by the Organization for Economic Co-operation and Development Britain's illiteracy levels ranked 22 out of 24 nations considered industrialized; worry reading, if you pardon the pun.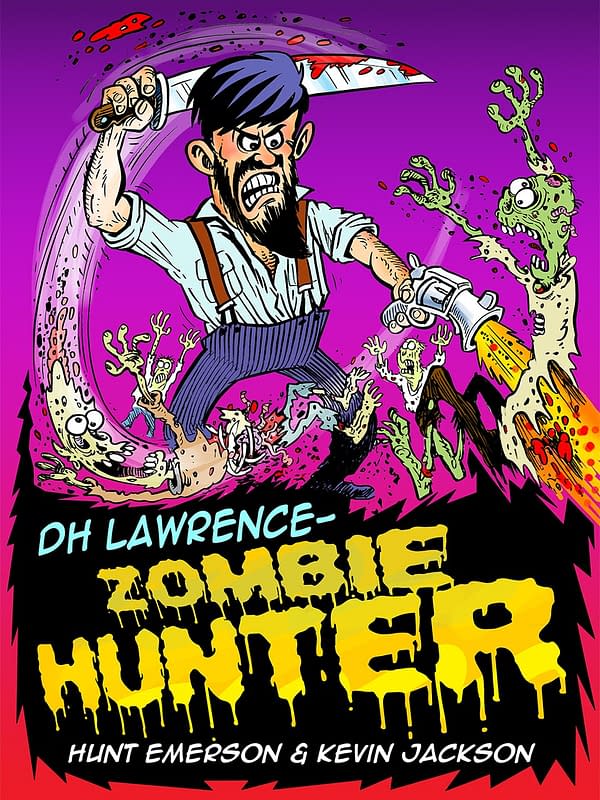 In creating a regular stream of fun, short comics the long-term hope is to encourage the 'YouTube generation' to once again pick up a book. With only 25% of children reading outside of school, and the process of reading in schools being one led by the teacher based on an even decreasing choice of novels (recently slashed again by outgoing government goon, Michael Gove, who wishes to return Britain to a 1950's education, which means no more Of Mice and Men) then endeavors like these need to be encouraged whether on this side of the pond, or t'other.
And support is what Walker and company are getting. September's webcomic focused on D.H. Lawrence (Lady Chatterley's Lover) and was presented by British underground comics legend, Hunt Emerson and his partner-in-crime, writer Kevin Jackson, and depicted a D H Lawrence that also fought the zombie hordes of Hell on the side when he wasn't travelling the world and writing. D H Lawrence, Zombie Hunter is available now to read along with several other titles. October's title, Duke and Disorderly focuses the spotlight on the eccentric 5th Duke of Portland and is online now and presented in the macabre fashion of the other titles, mixing the gothic and ghoulish with the factual to create an entertaining read that will appeal to some of the more reluctant readers I am sure.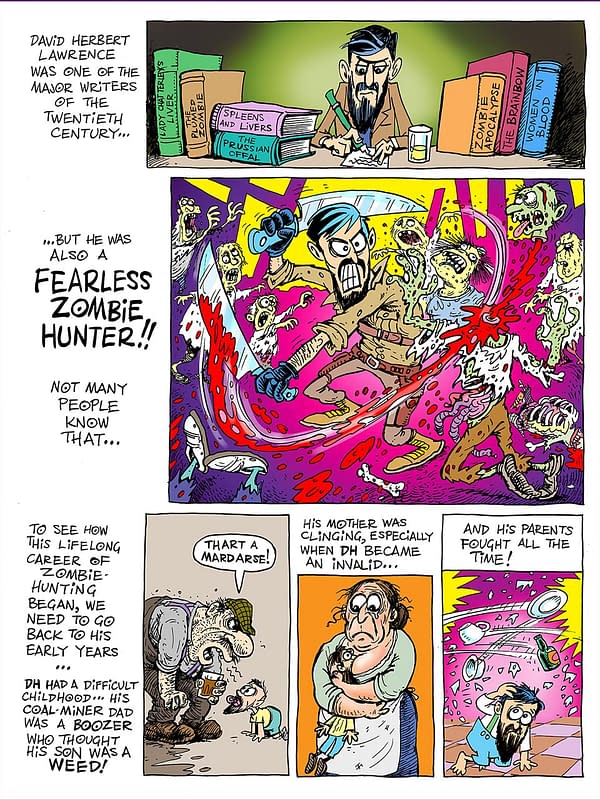 By offering snippets of these historical figures' lives, the hope is that it will be a springboard for further research and reading, with readers choosing to either 'read' the comic or 'play' it via the interactive elements and after the completion of four tasks at the end of each chapter. Anyone can join for free and given the focus is on world-famous writers, this collection could be used in any classroom with the right equipment. Even if you're not a teacher you may know someone (usually us boys, I'm afraid) who is a reluctant reader and may enjoy these four-colour funnies. A worthy project supported by the whole city, it would seem. Now that's collaboration!
Olly MacNamee teaches English and Media, for his sins, in a school somewhere in Birmingham. Some days, even he doesn't know where it is. Follow him on twitter @ollymacnamee or read about his exploits at olly.macnamee@blogspot.co.uk. Or don't.