Lots Of Things To Do In New York This Week If You Like Comics. Wow.(UPDATE)
Monday, October 6th Escape Pod Comics at 302 Main Street in Huntington, Long Island, will host a signing by Antony Johnston of Umbral, Fuse (and many other comics) from 5 to 8PM. They say: "Meet one of our favorite comic writers and world-builder par excellence Antony Johnston, creator of The Wasteland, Umbral, The Fuse and more. Part of COMICTOBERFEST at Escape Pod Comics.
Tuesday, October 7th
The 102nd meeting of the NY Comics & Picture-story Symposium will be held on Tuesday, October 7, 2014 at 8 pm at Parsons The New School, 2 West 13th Street, in the Bark Room (off the lobby). The event is free and open to the public. Please note 8 pm starting time. The presentation will be by Jay A. Gertzman, titled "Look, Look, Just Look: Scopophilia and the 20th century Illustrated Book". Gertzman says: " My talk will be about the way 20th century drawings illustrate texts by substituting the mutual sexual contact and its fulfillment—which is the subject of the narrative—with images which stimulate auto erotic responses in the viewer".

Tuesday, October 7th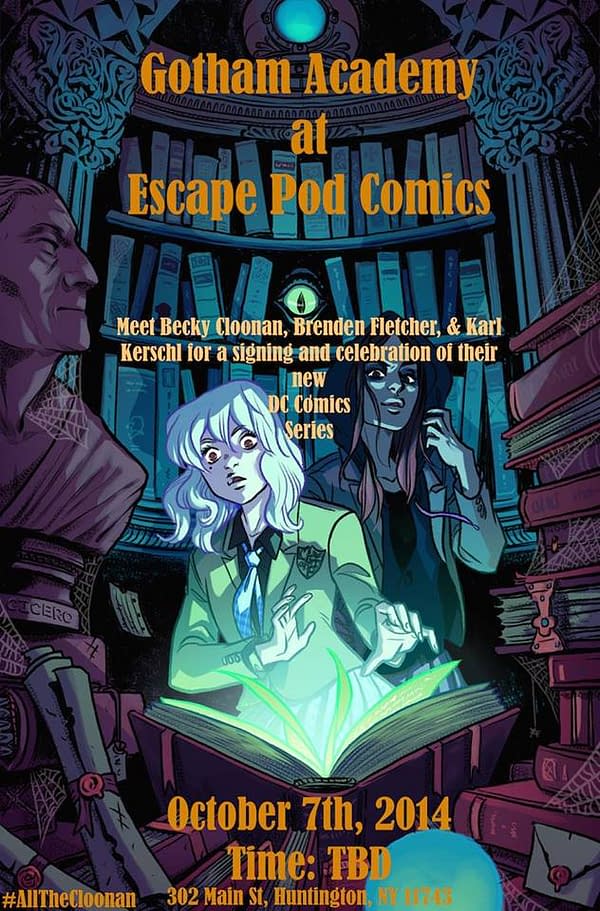 Escape Pod Comics at 302 Main Street in Huntington, Long Island, will host Becky Cloonan and Brenden Fletcher, and Karl Kerschl of Gotham Academy for a signing from 5 to 8PM. They say: "Meet the creative team of DC Comics Hot new Young Adult book, Gotham Academy! We'll have Brenden Fletcher, Becky Cloonan & Karl Kerschl on hand to sign their new book and talk comics.BONUS: Fletcher will be signing copies of Batgirl #35! (Batgirl #35 will ONLY be available to purchase during the hours of the signing 5-8pm) Part of COMICTOBERFEST at Escape Pod Comics.
Tuesday, October 7th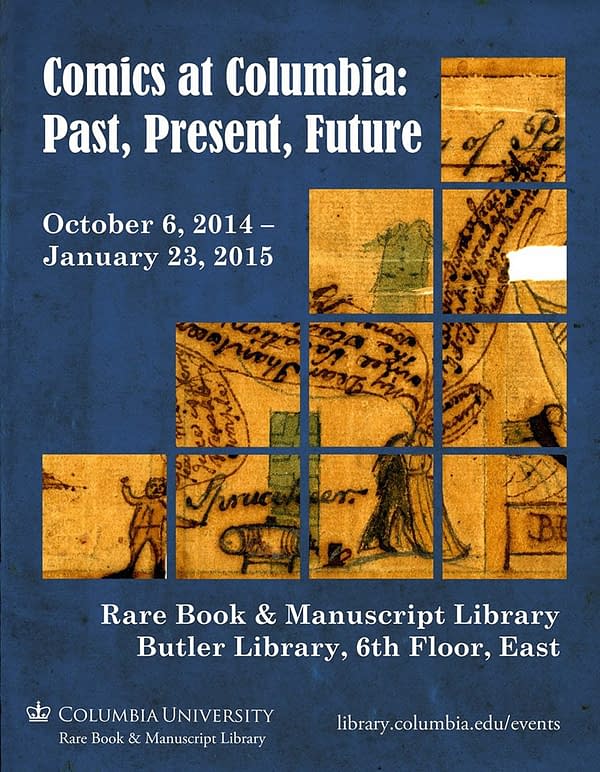 The Butler Library at Columbia University will host the Grand Opening Reception for the exhibit "Comics at Columbia: Past, Present, and Future" at 6PM. They say: "You're invited to the grand opening reception of this exhibition, which features materials from Columbia's comics archives. A brief discussion in 203 Butler will kick off the evening, then all may adjourn for a reception and exhibition viewing in our Rare Book & Manuscript Library. Join us–and many of our archival donors, such as Chris Claremont, Wendy and Richard Pini, Al Jaffee, Paul Levitz, Alexander Rothman, Sophia Wiedeman, Peter Kuper, Gregory Benton, Forsyth Harmon, Tom Motley, and more… If you're traveling to New York for New York Comic Con, think about coming a little early and helping us celebrate!".
Tuesday, October 7th
Forbidden Planet NYC will host a massive signing at 6PM by James Tynion IV, Michael Dialynas, Marguerite Bennett, Chris Antzoulis, and Fabio Valle. They say: "On October 6th at 7 o'clock, Forbidden Planet is going to have a whole slew of amazing creators in-store. Writer James Tynion IV (The Woods, Batman Eternal) and artist Michael Dialynas ( The Woods) will be here as well as writer Marguerite Bennett (Batgirl, Batman), writer Chris Antzoulis (Paladin) and artist Fabio Valle (Paladin) will all be here to sign copies of their respective books. Woo".
Tuesday, October 7th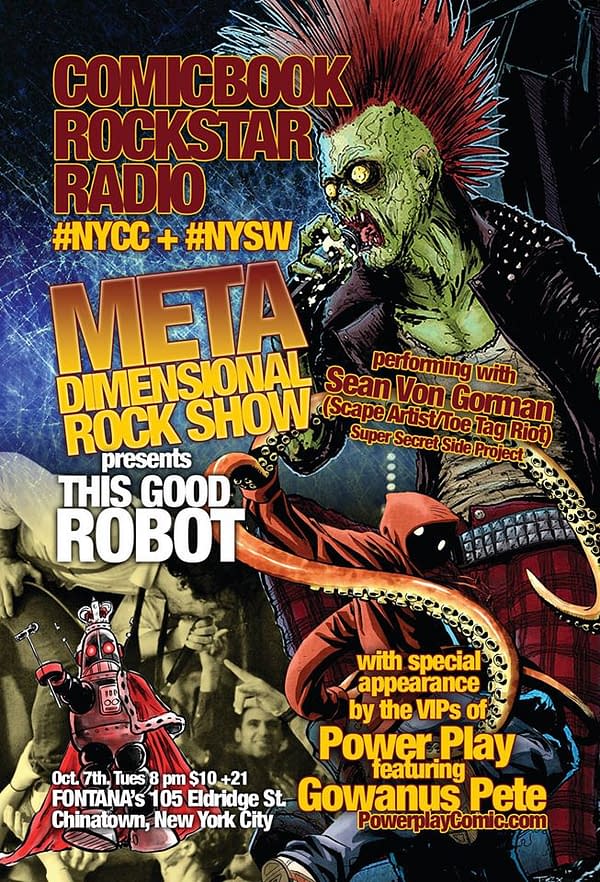 King's County Comics at Fontana Bar at 105 Eldridge Street in New York present This Good Robot for NYCC and NY Super Week at 8PM. They say: "Kings County Comics & #CBRSradio Present A New York Comic Con X New York Super Week Rock Show through Time & Space to POST-APOCALYPTIC NYC!! Featuring those meta-dimensional outlaws This Good Robot w/Sean Von Gorman's Super Secret Side Project!
Come meet the Contenders MAC WASHINGTON, ICE QUEEN, & Gowanus Pete from Power Play, the original NYC Digital Comic Book series by Kurt KC Christenson & Reilly Brown! Underground Superpower Streetgames!! There'll be Mutants, Monsters & Mayhem so please come dress properly attired, in an original costume, superhero, horror, sci-fi, but no store bought. 21+ $10 – Doors but FREE with #NYSW Card. Discount for attendees of Comic Book Club (7pm) Also for those brave adventurous souls who come in costume, a FREE portrait of you as your alter-ego to be featured in the comic book adaptation of the party!! Also, my Official Birthday Party!! Check out COMICBOOK ROCKSTAR RADIO, my weekly podcast recorded at SiriusXM! https://soundcloud.com/comicbookrockstar".
Tuesday, October 7th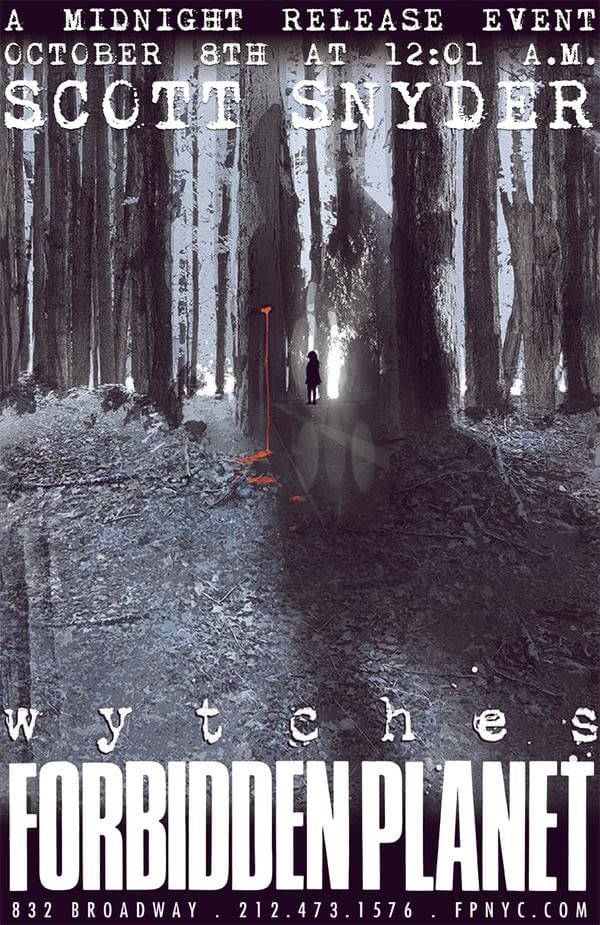 Forbidden Planet at 832 Broadway, Scott Snyder signing of Wytches #1 (available early) from midnight.
Wednesday, October 8th JHU Comics at 32 East 32nd Street hosts the CBLDF Annual and Yi Soon Shin Signing from 6 to 8PM. They say:
"Who: Onrie Kompan (Yi SOON SHIN), Amy Chu (writer, DC Comics/Vertigo/Sensation Comics, Girls Night Out), Janet K. Lee (artist Return of the Dapper Men, Lost Vegas), Robin Furth (writer/illustrator, Dark Tower and more), Derek Charm (artist, Powerpuff Girls, Super Secret Crisis War), Ryan and Luke Dunlavey (Action Philosophers, G.I. Joe)
You're not ready for this! We're hosting a great signing for the Comic Book Legal Defense Fund 2014 Annual and Yi Soon Shin, featuring 7 amazing writers and artists. You can meet all these great creators under one roof, with no hunting down tickets from scalpers! BONUS! Come out and have a blast with this at this epic signing event! Purchase of CBLDF 2014 ANNUAL or Yi Soon Shin required to participate in signing".
Wednesday, October 8th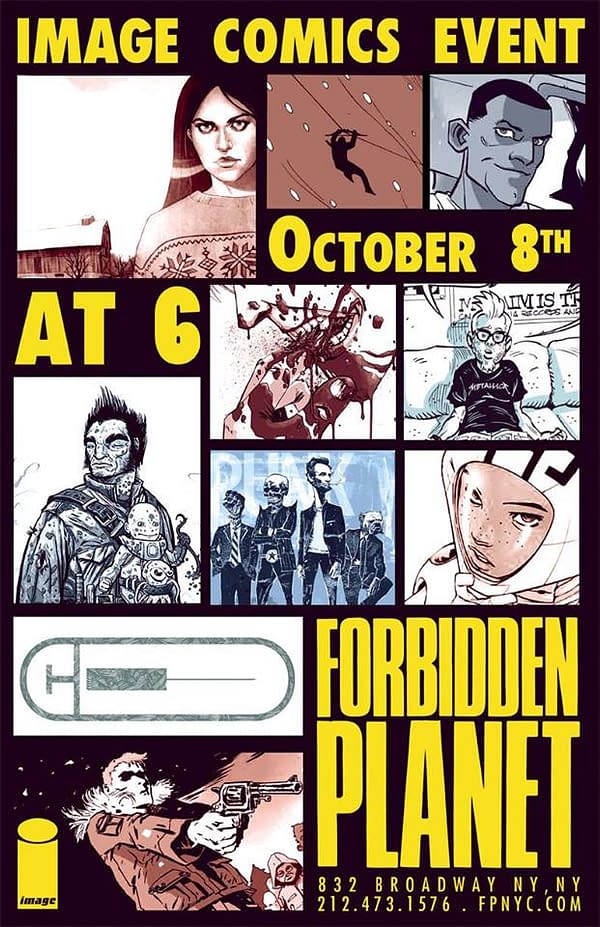 Forbidden Planet NYC is hosting another massive signing in an Image Comics Event at 6PM. They say:
"On October 8th at 6pm, Forbidden Planet is going to have:
Frank J. Barbiere (Five Ghosts)
Chris Mooneyham (Five Ghosts)
Joshua Williamson (Nailbiter, Birthright, Ghosted)
Josh Fialkov (Punks, Last of the Greats, Echoes)
Ed Brisson (The Field, Sheltered, Comeback)
Justin Jordan (Spread, Luther Strode)
Declan Shalvey (Injection)
Tim Seeley (Revival, Hack/Slash)
Brandon Montclare (Rocket Girl)
Bob Fingerman (Minimum Wage)
Antony Johnston( Umbral, The Fuse)
That's plenty of info right?".
Wednesday, October 8th

The Society of Illustrators 128 East 32nd Street in New York will host a book launch, signing, and discussion for Drew Friedman's new book Heroes of the Comics from 6:30 to 8:30PM. They say: "Join artist/author Drew Friedman, Mad Magazine legend Al Jaffee, journalist Sean Howe, author of "Marvel Comics, the Untold Story", and Karen Green, Columbia University Graphic Novels Librarian, for a book launch, panel discussion and visual presentation celebrating Friedman's new book "Heroes of the Comics", which features a foreword by Al Jaffee. The panel will be moderated by comics historian Danny Fingeroth. The book, published by Fantagraphics, will be for sale and Drew Friedman and Al Jaffee will be signing and inscribing copies following the panel. Seating is limited, reserve your tickets now at: http://www.societyillustrators.org/Events-and-Programs/Lectures/2014/Friedman/Celebrating-the-Heroes-of-the-Comics!.aspx".
Wednesday, October 8th

The Strand Bookstore in New York City will host the launch of The Best American Comics 2014 from 7 to 8PM. They say: "Strand Hosts a Panel of Experts Celebrating The Best American Comics 2014! The consistently acclaimed series Best American Comics returns to Strand for a dynamic panel. Examining the best in comics both well-known and up-and-coming, Best American Comics 2014 features the same exciting and eclectic mix, as selected by Bill Kartalopoulos and guest editor Scott McCloud. Join us for a an exclusive launch at Strand, featuring an all-star panel of artists and writers like Lale Westvind, Raina Telgemeier and Miriam Katin. The evening will be moderated by Bill, Best American Comics' editor, publisher and editor of Rebus Books.
Buy a copy of Best American Comics 2014 or a $15 Strand gift card in order to attend this event. All options admit one person. Please note that payment is required for all online event orders at the time of checkout. The event will be located in the Strand's 3rd floor Rare Book Room at our store at 828 Broadway at 12th Street".
Wednesday, October 8th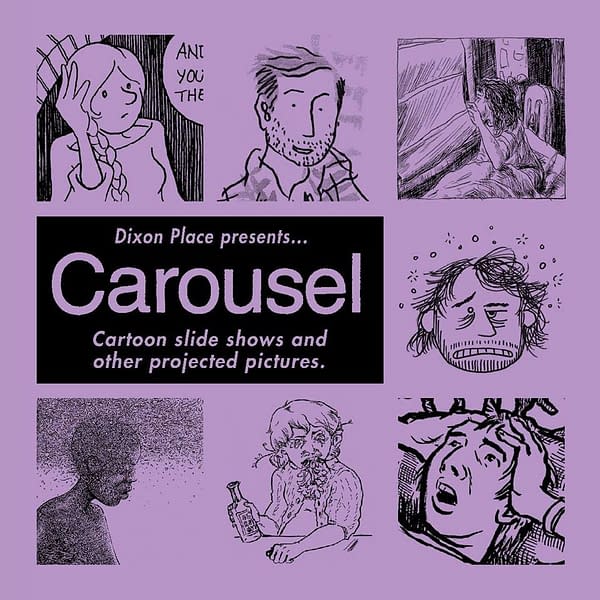 Dixon Place at 161A Chrystie Street hosts Carousel, a live performance of comix, at 7:30 PM. They say: "Dixon Place presents CAROUSEL: Cartoon Slide Shows and other projected pictures, hosted by R. Sikoryak. Songs, stories, a sasquatch, a trip to India, and much more. Featuring: Jeffrey Lewis, Jeff Lewonczyk, Mac McGill & band (Steve Wishnia, On Davis, Met Metzger, and Breeze Godfrey), Roxanne Palmer, Lauren R. Weinstein, Sophia Wiedeman, and Jess Worby.
Tickets:
$12 (advance)
$15 (at the door)
$10 (students/seniors)
or TDF
Advance tickets & info:
www.dixonplace.org
(212) 219-0736
More info:
http://carouselslideshow.com/
Wednesday, October 8th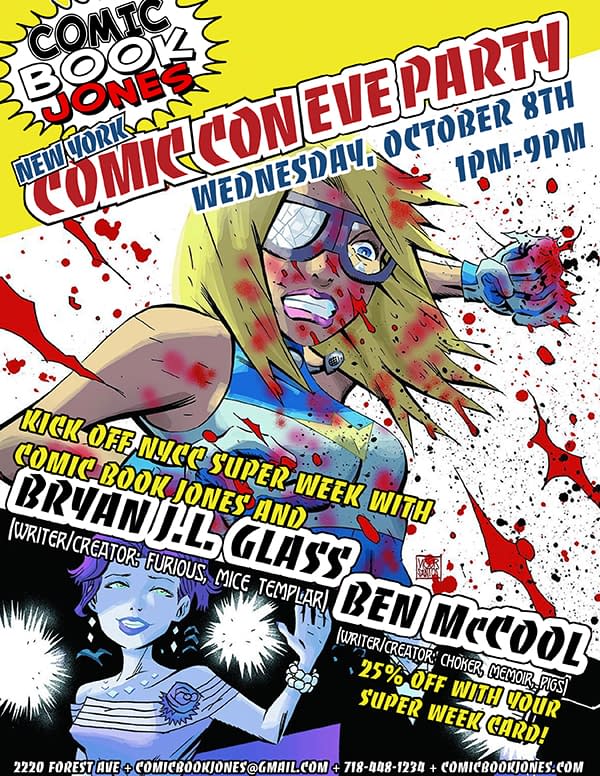 Comic Book Jones at 2220 Forest Avenue in Staten Island will be hosting a New York Comic Con Eve Party with signings by Ben McCool and Brian J.L. Glass from 1-9PM. Big sales also will ensue for those with NYCC Super Week cards.
Thursday, October 9th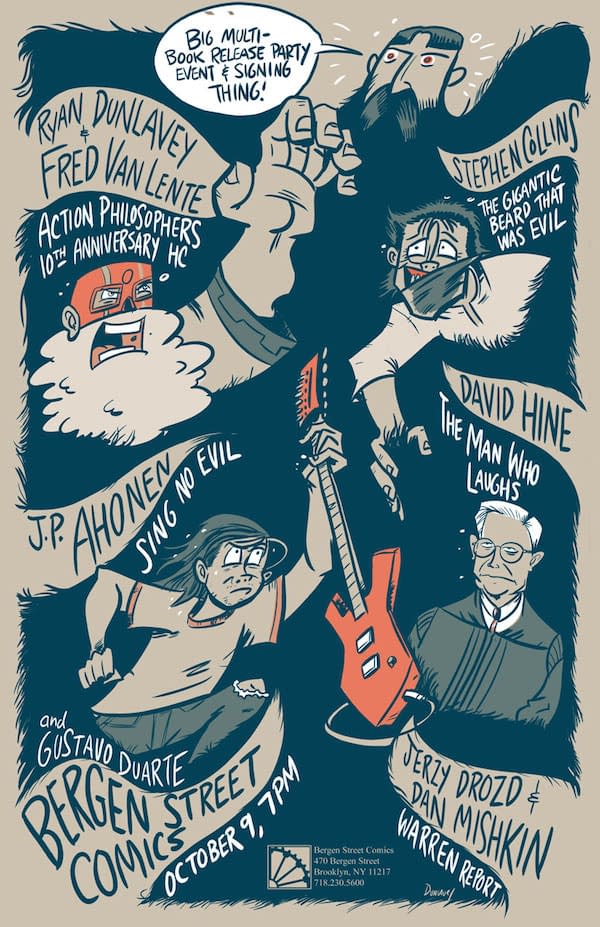 Bergen Street Comics at 470 Bergen Street in Brooklyn hosts Octopus: Bergen Street's New York Comic Con Kick Off Party, a multi-book release and signing at 7PM. They say: "Eight guests? You read that number right! New York Comic Con always draws a crowd, so we're opening our doors to welcome a whole bunch of them! Who will be there? Well how about Stephen Collins (The Gigantic Beard That Was Evil), Ryan Dunlavy & Fred Van Lente (Action Philosophers!), JP Ahonen (Sing No Evil), Jerzy Drozd & Dan Mishkin (The Warren Commission), David Hine (The Man Who Laughed) AND Ernie Colon! You won't want to miss this one. Heck, with this many guests, you won't be ABLE to miss this one. See you on Thursday!".
Saturday, October 11th

At New York Comic Con from 4-5PM, Dare2Draw will be held for a comics drawing competition. They say: "Coming to NYCC? Love to draw? Don't miss Dare2Draw! Come for a one-of-a-kind drawing challenge, a chance at amazing prizes, and the incredible opportunity to have your work viewed by top creators in the industry.
Special guests at the Dare2Draw TV "Series" panel will include Alex Maleev, Cliff Chiang, Dave Bullock, Gary Erskine, Russ Braun, Phil Jimenez, and other comic titans! They will help bring Dare2Draw: The Series to a television near you, and you can be a part of it all! We'll also have Simon Fraser (Doctor Who) and Jamie Tanner (Kickstarter's Comics Department) on the search for new talent for the Dare2Draw series.
Join us Saturday, October 11th, and show us what you've got!
Dare2Draw: The Series
Saturday, October 11, 4:00 PM – 5:00 PM, 1A05
Supplies provided, and gift bags, too!
* FREE event with NYCC tickets
*Limited to the first 125 attendees — first-come, first-served! Get there early to get a spot.
For up-to-date info about #Dare2Draw follow us on Twitter
https://twitter.com/Dare2Draw
Saturday, October 11th JHU Comics at 32 East 32nd Street in New York will host the Action-Lab Post-Con Party at 8PM. They say: "Well, folks, it's that time of year when you dust off your spandex, fill your wallet with your hard-earned cash, load up on snacks and wear comfortable footwear. Yes, the Convention is hitting NYC and we're going to celebrate in a big way! Action Lab Entertainment is teaming up with us and we'll be hosting the Post-Con Party for them! We'll have an INSANELY huge list of creators and talent here to sign for you, party with you, drink with you and have a few laughs with you!
Okay, deep breath… we're going to have here, for you:
Xenia Pamfil (creator of Mishka and the Sea Devil) With her appearance made possible by Romanian Cultural Institute in New York, as this is her only visit to NYC!
Dan Mendoza (Zombie Tramp Creator)
Jamal Igle (Molly Danger)
Vito Delsante (writer/ creator of Stray)
Sean Izaakse (Artist of Stray)
Anthony Ruttgaizer (writer/ creator of The F1rst Hero)
Eric Grissom (writer/creator of Planet Gigantic)
Jeremy Whitley (creator of Princeless)
Jeremy Dale (creator of SKYWARD)
Jason Martin (Zombie Tramp)
Marcus Williams (Artist of Hero Cats)
Mark Bertolini (creator/writer of Crimson Society)
Bill McKay (Artist of night of the 80's Undead)
Laura Guzzo (Princeless)
Nick Marino (creator of Holy F*ck)
Aaron Conley (artist of Dark Horse comics' Sabertooth Swordsman)
Amanda Coronado (Artist of Vamplets)
and some Surprise Guests!
So come out, hang with some great talents and celebrate your love for Action Lab and comic books in general!"
Sunday, October 12th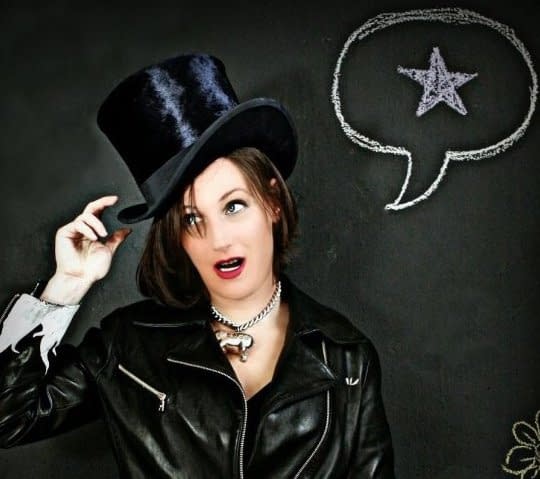 Escape Pod Comics at 302 Main Street in Huntington, Long Island, hosts Alex de Campi: Mistress of Comics in a signing from 4 to 7PM. They say: "Come meet One of our favorite comic creators: Alex De Campi, author of Smoke/Ashes, Grindhouse: Doors Open at Midnight, Lady Zorro, Valentine and more. Part of COMICTOBERFEST at Escape Pod Comics.
And of course, there's New York Comic Con itself, and New York Super Week. Good luck. Wear comfortable shoes and drink lots of water just getting to all THESE events!