Tuesday, April 1st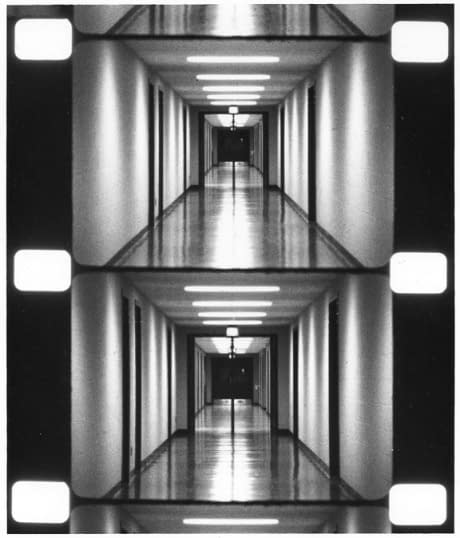 The eightieth meeting of the NY Comics & Picture-story Symposium will be held on Tuesday, April 1, 2014 at 7:00 PM at Parsons The New School, 2 West 13th Street, in the Bark Room (off the lobby) in New York. This event is free and open to the public. Ernie Gehr will present and discuss a selection of his films emphasizing the "animation" of the moving image. In non-technical terms one could interpret that as meaning "what have you got between the eyes, and is it of any use".
Tuesday, April 1st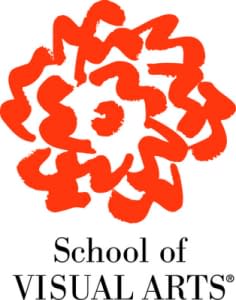 There will be a panel at the School of Visual Arts in the 3rd-floor amphitheater at
209 East 23rd Street in New York entitled "Strong Female Protagonists: Women in Comics" from 7-8:30PM.
They say: "This event brings together a diverse group of internationally recognized creators and editors for a discussion of the history and dynamics of women working as both creators and behind the scenes in American comics. The panel will feature women creators and editors of different generations, including Raina Telgemeier, creator of Smile and Drama, Diane Noomin, creator of Glitz-2-Go and editor of the seminal Twisted Sisters anthologies, Shelly Bond, Executive Editor of Vertigo comics and more. Panelists will discuss the role of women in comic narratives, career advice, and personal history, followed by audience Q&A. The event is presented in conjunction with the Museum of Comic and Cartoon Art/Society of Illustrator's MoCCA Fest 2014, and is organized by SVA Career Development and Keith Mayerson, Cartooning Coordinator". Space is limited, so please register at http://womenincomics.eventbrite.com
Thursday, April 3rd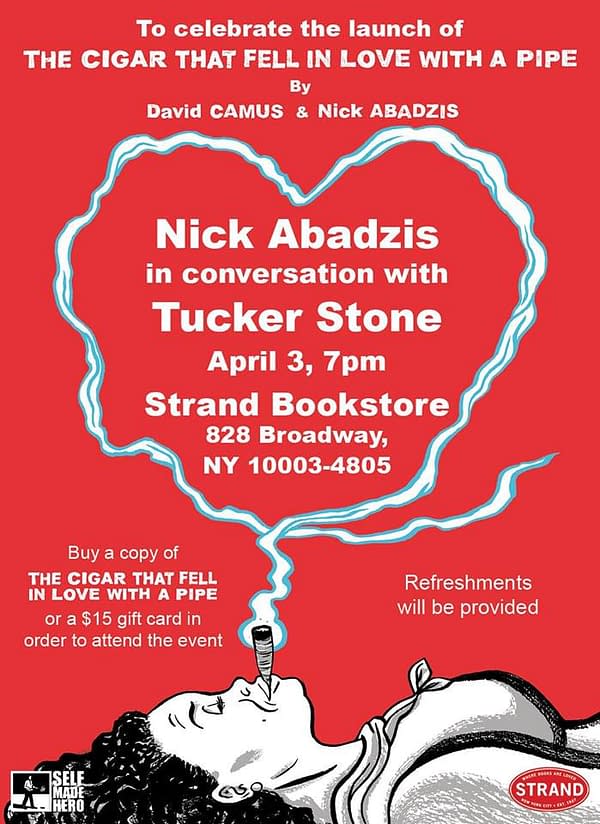 At the Strand Bookstore at 829 Broadway in New York, Tucker Stone of Nobrow Press will host artist Nick Abadzis to talk about his new book with David Camus, The Cigar That Fell In Love With A Pipe, at 7PM. Purchase of the book or an equivalent gift card is required to participate in the event.
Thursday, April 3rd
There will be a release party at Desert Island at 540 Metropolitan Avenue, in Brooklyn, New York, from 7-9PM celebrating Operation Margerine by Katie Skelly, published by AdHouse Books. The book entails: "Trouble tuff girl Bon-Bon and rich girl runaway Margarine make a motorcycle escape from the mean streets of the city to the desolate roads of the desert, holding their own against the elements, biker gangs, and each other".
Friday, April 4th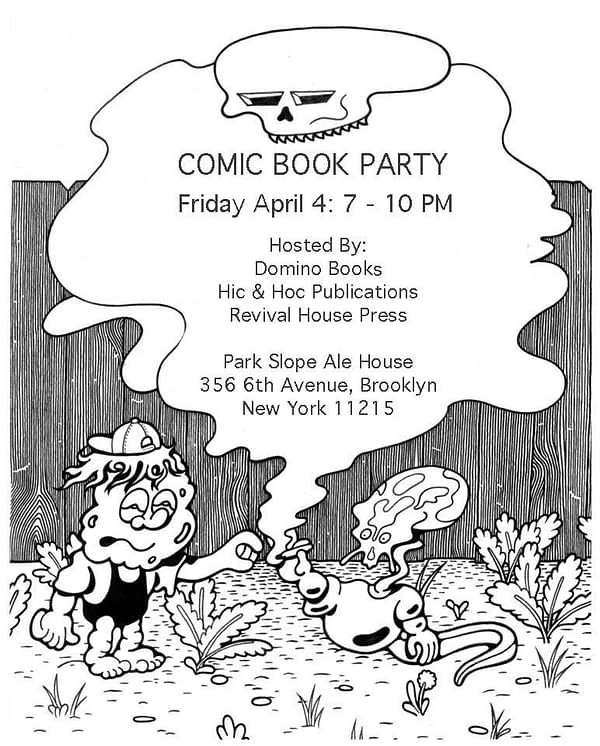 Domino Books, Hic & Hoc Publications & Revival House present the annual pre-MoCCA Fest comic book beer fest at Park Slope Ale House at 7PM at 356 6th Avenue in Brooklyn, New York (Poster art by Revival House's Rusty Jordan).
Friday, April 4th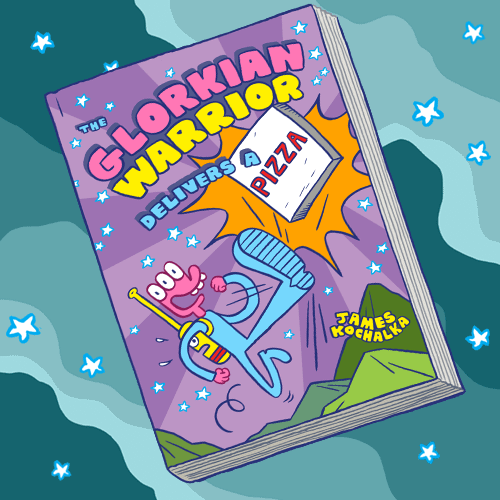 James Kolchaka will be launching his new book The Glorkian Warrior Delivers a Pizza, and signing at Bergen Street Comics at 470 Bergen Street in Brooklyn, New York, at 7PM.
Saturday, April 5th and Sunday, April 6th MoCCA Fest returns to New York on both Saturday and Sunday this weekend, from 11AM to 6PM and admission cost per day is just $5.oo, held at This is the premier indie comics show in New York, with a massive number of indie artists launching and selling their comics wares. Special guests this year include: Alison Bechdel, Howard Cruse, Fiona Staples, Robert Williams, and international guests Joost Swarte, Marion Fayolle, and Brecht Vandenbroucke.
Featured artists at the show include:
| | | |
| --- | --- | --- |
| Nick Abadzis | Alabaster | Sam Alden |
| Pat Aulisio | Josh Bayer | Gabrielle Bell |
| Nick Bertozzi | Box Brown | Beth Brooks |
| Scott Campbell | Hillary Chute | Mike Dawson |
| Michael DeForge | Austin English | Edie Fake |
| Tracy Fedonchik | Roxanne Feldman | Liana Finck |
| Chuck Forsman | Nathan Fox | Margaret Galvan |
| Nicole Georges | Justin Hall | Gary Hallgren |
| Dean Haspiel | Danny Hellman | Sandy Jiminez |
| Sabrina Jones | Tom Kaczynski | Kevin "KAL" Kallaugher |
| Miram Katin | Keren Katz | Chip Kidd |
| Rob Kirby | James Kochalka | Peter Kuper |
| Patrick Kyle | Jon Lewis | Jason Little |
| Jesse Lonergan | Alec Longstreth | Keith Mayerson |
| Carlo McCormick | Francoise Mouly | L. Nichols |
| Ann Nocenti | Danica Novgorodoff | Bill Plympton |
| Kevin Pyle | Calvin Reid | James Romberger |
| Katie Skelly | Fredrik Strömberg | Tad Suiter |
| Seth Tobocman | Adrian Tomine | Jen Tong |
| Andrea Tsurumi | Margerite Van Cook | Lale Westvind |
| Shannon Wheeler | Leah Wishnia | Sophie Yanow |
| Alexandra Zsigmond | | |
There will be programming held on both days of the Fest, and stay tuned on Bleeding Cool for more information and top picks for the event. Exhibitors for the event include many mid-sized and small press publishers as well, of course, as those selling and signing creator-owned comics.
Saturday, April 5th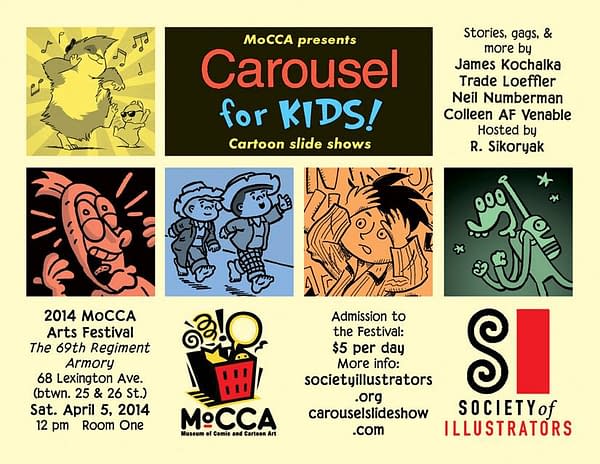 At Mocca Arts Festival 2014 , there will be a special KIDS' edition of CAROUSEL, the long-running series of live comics readings and other projected pictures at 12PM in the lower level of the Armory, Room One. Featuring James Kochalka (Johnny Boo, The Glorkian Warrior Delivers a Pizza), Trade Loeffler (Zig and Wikki, Zip and Li'l Bit Funnies), Neil Numberman(Do NOT Build a Frankenstein! Joey Fly: Private Eye), Colleen AF Venable (Guinea Pig, Pet Shop Private Eye) and host R. Sikoryak. There will be stories, gags, audience participation, and more, for kids of all ages.
Mocca Arts Festival 2014 is held in Manhattan at the 69th Regiment Armory, 68 Lexington Avenue (between E. 25th & E. 26th Street), NYC. MoCCA Arts Festival is $5 per day. Tickets are available to purchase at the door.
Saturday, April 5th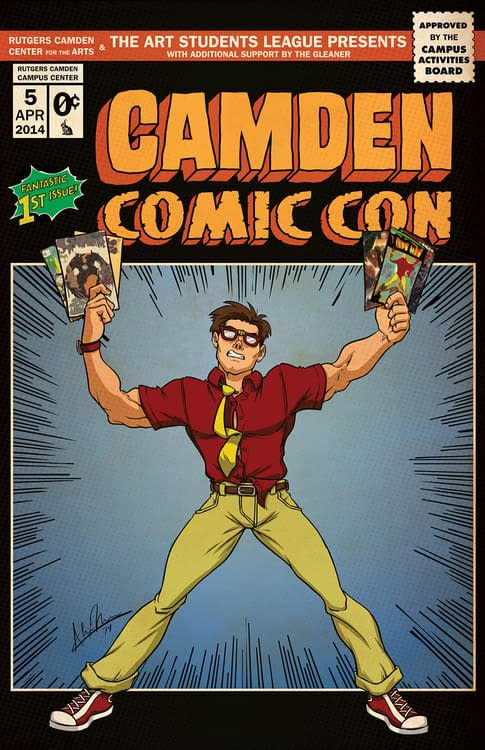 The first Camden Comic Con will be held this Saturday on the campus of Rutgers-Camden in the Multi-Purpose Room & Stedman Gallery in Camden, New Jersey from 10-4PM. The event is co-sponsored by Rutgers-Camden Art Students League & Rutgers-Camden Center for the Arts. They say: "Shop comics & memorabilia. Join in on expert panel discussions. Browse Artist Alley for geek-themed art & craft items. Get hands-on in a Workshop. Come in Costume & win a prize. Bring the kids for face painting, crafts, and more. Enjoy a reception in the Stedman Gallery for Compulsive Narratives. And don't miss the Comic-themed exhibition in the Student Works Gallery". Parking is available free of charge in RU Faculty/Staff lots (1,2, 3, 13, 14) The even is FREE and open to the public.
Special Guests for the event include:
Bob McLeod (New Mutants), Bryan J.L. Glass (Mice Templar, Furious), Mark Poulton (Savage Hawkman, Avengelyne), Mark A. Robinson (I Love Trouble), Rob Kelly (Ace Kilroy), Gigio Longo and Nick Suders (Adam 12), Marc Lombardi of GrayHaven Comics (The Gathering), Justin Piatt of Unlikely Heroes Studios (Super!), Tom Schloendorn, Adam McGovern & Ellen Stedfeld, Ryan M. Brady of Camden's Comics (The Bolt)
Reggie Byers, Jan Marc "Janimal" Quisumbing, Dominic Sparano, Dennis Knight of Pronto Comics, Cathy T. Colborn, and Joe Haley and T.J. Dort (Underburbs).
Panelists/Programs include:
Buffy to Batgirl – TBA, Robert Repici , Kickstart Your Comic (Unlikely Heroes, Pronto, and GrayHaven), Ryan Morrison (Island Officials), Robert A. Emmons Jr., Newt Wallen and Justin Silverman.

You can check up on the Camden Comic Con via Twitter here: https://twitter.com/CamdenComicCon
Enjoyed this article? Share it!