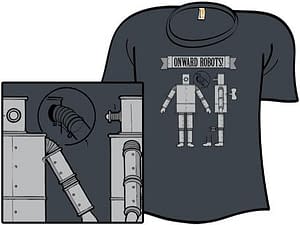 Saw Lucky Soul and The Pipettes play last night at The Lexington in Islington, London. Yes, I was basically in an issue of Phonogram for a few hours. And there was magic.
Acme Novelty Library creator Chris Ware launches a T-shirt today to benefit 826michigan, a youth creative education programme.
BBC News splash wide with the release of the first Unknown Soldier trade paperback… though the "Ugandan comic hero" does sound a little trite.
Jungle Doctor cartoonist Graham Wade passes.
The Green Lantern movie may be in trouble on the back of the booming Australian dollar, making production suddenly more expensive for the American studio. Or it's just a way for the company to get out of paying taxes.
Boom! Studios get in touch to say that, yes, they will be attending D23, or "DisneyCon". I do hope they'll practice their Musketeer chanting.
Comic artist Staz Johnson has been struggling with the joys of Facebook.
Ok.. apologys to anyone who just got an alert from me to take the 'how dirty is your mind' quiz.. I didnt send that.. the damn application did it.. i hate that!!
Rufus Dayglo added what we were all thinking. "Sssssssure, Staz! ;-)"
Enjoyed this article? Share it!