Red Mother Joins Once & Future and Something Is Killing The Children in Boom Studios Full December 2019 Solicitations
Here are the full Boom Studios solicitations for December 2019 and beyond. Lots to dig into.
We've already looked at Joe Christmas
and
TMNT vs MMPR
… but there's plenty more to dig into. Such as
Jeremy Haun
and
Danny Luckert
's new creator-owned psychological horror comic book series
Red Mother
#1 to join other titles such a
s Once & Future, Something Is Killing The Children, Folklords
and
Strange Skies Over East Berlin.
But we begin with a Red Mother…
RED MOTHER #1 CVR HAUN OCT191378
(W) Jeremy Haun (A) Danny Luckert (CA) Jeremy Haun
* Jeremy Haun returns to his The Beauty roots as he teams with Danny Luckert, hot off Regression, for a new psychological horror series.
* After losing her eye and the man she loves in a brutal mugging, Daisy McDonough is left trying to put the pieces of her life back together. Just when she begins to think she can heal- move on, she begins to see strange things through her new prosthetic eye. And The Red Mother sees her in return.
* Continuing BOOM! Studios' string of successes, The Red Mother follows Faithless, Once & Future, and Something is Killing the Children for a new original series that examines the dangers that hide in plain sight – and the consequences of digging beneath the surface to find the truth underneath.
In Shops: Dec 11, 2019
Final Orders Due: Nov 18, 2019
SRP: $3.99
RED MOTHER #1 CVR LUCKERT POWER RANGERS TEENAGE MUTANT NINJA TURTLES #1 CVR A MORA OCT191380
(W) Ryan Parrott (A) Simone Di Meo (CA) Dan Mora
* THE MIGHTY MORPHIN POWER RANGERS AND THE TEENAGE MUTANT NINJA TURTLES MEET FOR THE FIRST TIME!
* The Power Rangers arrive in New York City to find Tommy Oliver (a.k.a. The Mighty Morphin Green Ranger) but soon discover he's joined forces with the villainous Shredder and the Foot Clan!
* As the Rangers are sent reeling by this betrayal, they 're confronted by another (fr)enemy… the Teenage Mutant Ninja Turtles! Can these heroes find a way to work together to defeat the bad guys and save the world from total destruction?!
* Written by Ryan Parrott (Power Rangers: Necessary Evil) and illustrated by Simone di Meo (Mighty Morphin Power Rangers, Venom Annual), the Mighty Morphin Power Rangers fight – and maybe team up with – the Teenage Mutant Ninja Turtles for the first time.
In Shops: Dec 04, 2019
Final Orders Due: Nov 11, 2019
SRP: $4.99
POWER RANGERS TEENAGE MUTANT NINJA TURTLES #1 CVR B MONTES ( POWER RANGERS TEENAGE MUTANT NINJA TURTLES #1 CVR C MONTES ( POWER RANGERS TEENAGE MUTANT NINJA TURTLES #1 CVR D MONTES (
POWER RANGERS TEENAGE MUTANT NINJA TURTLES #1 CVR E MONTES ( BIG BLACK STAND AT ATTICA GN (MR) OCT191385
(W) Frank Smith, Jared Reinmuth (A/CA) Ameziane
* The uprising at Attica Prison remains one of the bloodiest civil rights confrontations in American history … but without Frank "Big Black " Smith it could have been even worse. Now for the first time, the late Frank "Big Black " Smith shares his experience at the center of this uprising, struggling to protect hostages, prisoners and negotiators alike.
* Before his death, Frank gBig Black h Smith worked with Jared Reinmuth, the son of his lawyer, to share the true story of his time in Attica State Prison. Adapted to a graphic novel by Ameziane (Dark Horse 's Muhammad Ali), this is an unflinching look at the price of standing up to injustice.
In Shops: Feb 12, 2020
Final Orders Due: Jan 20, 2020
SRP: $19.99
KLAUS LIFE & TIMES OF JOE CHRISTMAS #1 OCT191386
(W) Grant Morrison (A/CA) Dan Mora
* In the tradition of Grant Morrison 's 2001 New X-Men Annual , BOOM! Studios presents a widescreen comic that catalogs the life and times of one Joe Christmas.
* Abandoned as a baby, Joe Christmas is taken in by Klaus. In this holiday calendar-inspired comic, experience 25 all new short stories of Klaus teaming up with Joe Christmas over the years!
* Grant Morrison (New X-Men) and Dan Mora (Buffy the Vampire Slayer) return to the winter world of Klaus for an all new holiday special!
In Shops: Dec 18, 2019
Final Orders Due: Nov 25, 2019
SRP: $7.99
MIGHTY MORPHIN POWER RANGERS #46 CVR A CAMPBELL OCT191390
(W) Ryan Parrott (A) Daniele Di Nicuolo (CA) Jamal Campbell
NECESSARY EVIL CONTINUES! The ALL NEW OMEGA RANGERS discover a shocking betrayal from one of their own! As Safe Havens turns into a RANGER VS RANGER battleground, not everyone will make it out alive.
In Shops: Dec 18, 2019
Final Orders Due: Nov 25, 2019
SRP: $3.99
MIGHTY MORPHIN POWER RANGERS #46 20 COPY ANKA INCV
MIGHTY MORPHIN POWER RANGERS #46 FOIL MONTES VAR $4.99
GO GO POWER RANGERS #26 CVR A MAIN JLOU OCT191393
(W) Ryan Parrott, Sina Grace (A) Francesco Mortarino (CA) JLou
NECESSARY EVIL CONTINUES. As Jason begins to form his new team; THE OMEGA RANGERS, he struggles to keep the truth from Trini and Zack. And on another planet, Tommy has reached the Tower of Light, but is he truly worthy of becoming the WHITE RANGER?
In Shops: Dec 11, 2019
Final Orders Due: Nov 18, 2019
SRP: $3.99
GO GO POWER RANGERS #26 CVR B MERCADO VAR GO GO POWER RANGERS #26 20 COPY VIDAL INCV GO GO POWER RANGERS TP VOL 06 OCT191396
(W) Ryan Parrott (A) Eleonora Carlini (CA) Dan Mora
* Writers Ryan Parrott (Star Trek: Manifest Destiny) & Marguerite Bennett (Batwoman) are joined by an all-star cast of artists including Eleonora Carlini, Francesco Mortarino, Ilaria Catalini, Jim Towe (Riverdale) and more for stories that reveal the untold truth from the first year of Mighty Morphin Power Rangers history.
* Collects Saban 's Go Go Power Rangers: Forever Rangers and Saban 's Go Go Power Rangers: Back to School.
In Shops: Feb 26, 2020
Final Orders Due: Feb 03, 2020
SRP: $16.99
BUFFY VAMPIRE SLAYER ANGEL HELLMOUTH #3 CVR A FRISON OCT191397
(W) Jordie Bellaire, Jeremy Lambert (A) Eleonora Carlini (CA) Jenny Frison
Angel and Buffy are on a mission to find the Mistress and close the Hellmouth – but will they turn on one another first? And is Drusilla the true evil behind the Hellmouth, or if there is another, even more powerful, that they should be worried about? Spoiler: there is.
In Shops: Dec 11, 2019
Final Orders Due: Nov 18, 2019
SRP: $3.99
BUFFY VAMPIRE SLAYER ANGEL HELLMOUTH #3 CVR B CONNECTING REB ANGEL #8 CVR A MAIN PANOSIAN OCT191399
(W) Bryan Edward Hill (A) Gleb Melnikov (CA) Dan Panosian
A HELLMOUTH TIE-IN! Back in Los Angeles, TEAM SPIKE – Spike, Fred & Gunn -is doing their best to stem the tide of evil that Hellmouth has unleashed, but the city is being overwhelmed. But to save their city, Fred must decide whether to fight off the darkness inside her… or embrace it.
In Shops: Dec 18, 2019
Final Orders Due: Nov 25, 2019
SRP: $3.99
ANGEL #8 CVR B MORRIS VAR ANGEL #8 CVR C PREORDER BUONCRISTIANO
ANGEL #8 20 COPY BENGAL INCV BUFFY THE VAMPIRE SLAYER #10 CVR A MAIN ASPINALL OCT191403
(W) Jordie Bellaire (A) David Lopez (CA) Marc Aspinall
A HELLMOUTH TIE-IN! THE FIRST APPEARANCE OF A NEW SLAYER! With Buffy in Hell, someone new has answered the call to save what's left of Sunnydale. Who is this mysterious new Slayer? And how will the new blood cope with a team made up of a newly empowered witch and a half-human, half-vampire sidekick?
In Shops: Dec 04, 2019
Final Orders Due: Nov 11, 2019
SRP: $3.99
BUFFY THE VAMPIRE SLAYER #10 CVR B WADA BUFFY THE VAMPIRE SLAYER #10 CVR C CONNECTING REBELKA VAR
BUFFY THE VAMPIRE SLAYER #10 CVR D PREORDER INZANA VAR BUFFY THE VAMPIRE SLAYER #10 25 COPY PUTRI INCV BUFFY THE VAMPIRE SLAYER TP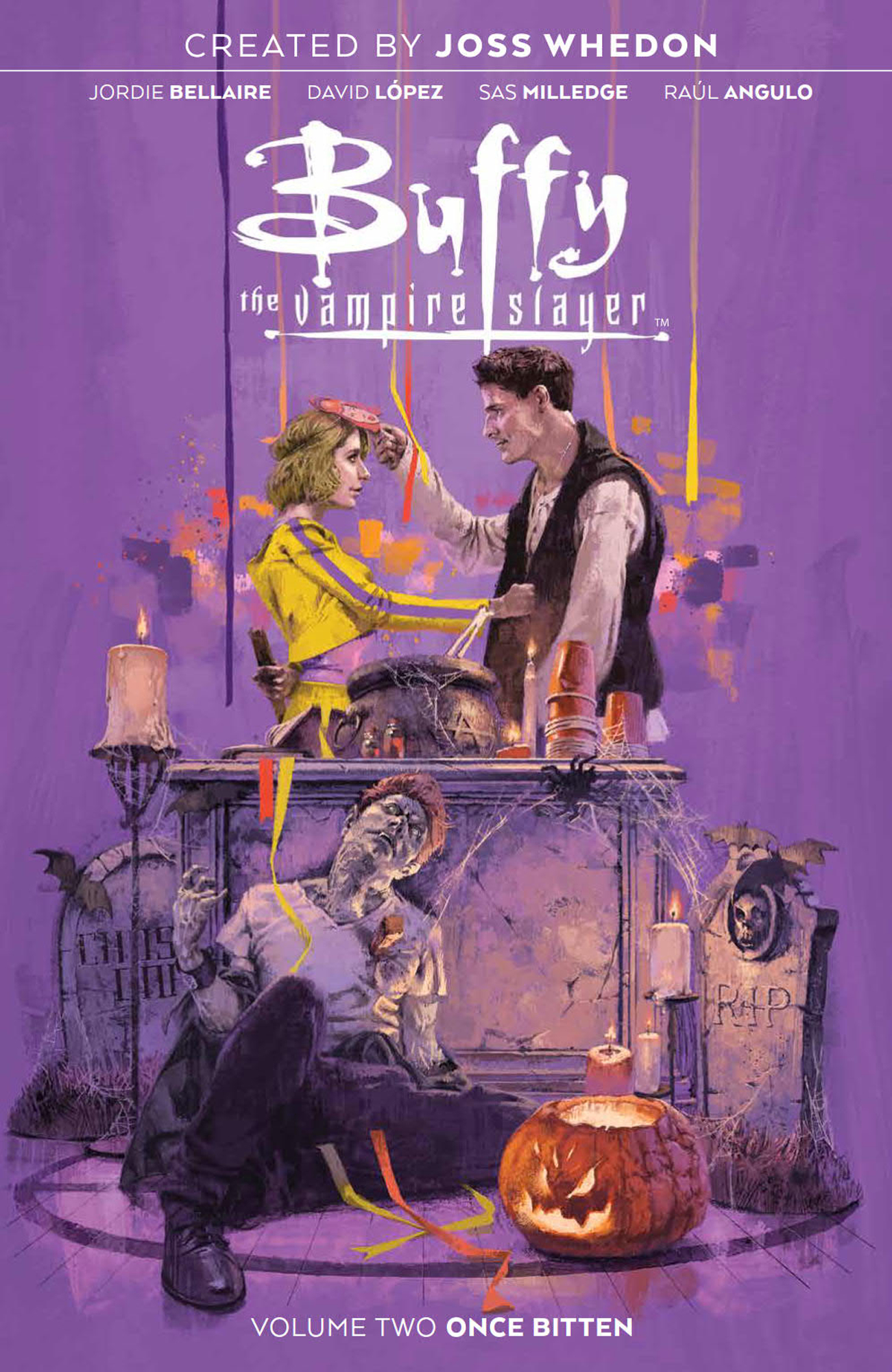 OCT191408
(W) Jordie Bellaire (A) David Lopez (CA) Marc Aspinall
* Buffy Summers, the Slayer – the Chosen One meant to save the world from the literal evil forces of hell – must save her friend Xander before he dies and returns as a vampire.
* As Giles and Willow each take drastic measures to find a cure, Buffy faces off against a new enemy.
* Eisner Award-nominated writer Jordie Bellaire (Redlands) and artist David Lopez (Captain Marvel) present the next chapter of the fearless pop culture reimagining that generated headlines worldwide.
* Collects Buffy the Vampire Slayer #5-8.
In Shops: Feb 19, 2020
Final Orders Due: Jan 27, 2020
SRP: $14.99
FIREFLY #12 CVR A MAIN GARBETT OCT191409
(W) Greg Pak (A) Dan McDaid (CA) Lee Garbett
The conflict that began with Mal and Boss Moon has become a war, tearing the planet apart. As Mal sues for peace, he is ?reminded that saving the day always comes at a higher price than expected. Year one of the all-new Firefly series concludes here – and you won't believe what waits on the other side of the new Unification War.
In Shops: Dec 18, 2019
Final Orders Due: Nov 25, 2019
SRP: $3.99
FIREFLY #12 CVR B PREORDER QUINONES VAR FIREFLY #12 15 COPY RAHZZAH INCV STRANGE SKIES OVER EAST BERLIN #3 OCT191412
(W) Jeff Loveness (A) Lisandro Estherren (CA) Evan Cagle
Herring's cover is blown! Captured by the spyhunter Keiner, Herring must go toe-to-toe in a mental battle with his old nemesis, while outside their interrogation room, the alien monster begins a psychic attack of its own.
In Shops: Dec 04, 2019
Final Orders Due: Nov 11, 2019
SRP: $3.99
FOLKLORDS #2 (OF 5) CVR A SMITH OCT191413
(W) Matt Kindt (A/CA) Matt Smith
Against the order of his village, Ansel strikes out to find the Folklords, the only beings that can explain his visions of another world. But the forest is even more dark and terrible than he was told, and Ansel meets two very different women who will change his life-one way or another-forever.
In Shops: Dec 18, 2019
Final Orders Due: Nov 25, 2019
SRP: $3.99
ONCE & FUTURE #5 (OF 6) OCT191414
(W) Kieron Gillen (A/CA) Dan Mora
With Gran's life hanging in the balance, Duncan comes face to face with another knight in search of the Grail, and only one will emerge victorious…
In Shops: Dec 18, 2019
Final Orders Due: Nov 25, 2019
SRP: $3.99
HEARTBEAT #2 (OF 5) CVR A LLOVET (MR) OCT191415
(W) Maria Llovet (A/CA) Maria Llovet
After witnessing a murder, Eva now possesses a terrible secret-Donatien, the most popular boy in
school enjoys the taste of blood…and is willing to kill for it. Eva knows she should turn him in but can't help her attraction to Donatien. Even though she knows he is a murderer-or perhaps because of it-Eva wants him.
In Shops: Dec 18, 2019
Final Orders Due: Nov 25, 2019
SRP: $3.99
SOMETHING IS KILLING CHILDREN #4 OCT191416
(W) James TynionIV (A/CA) Werther Dell'Edera
The FBI has come to the small town of Archer's Peak, allegedly to help stop more children from being killed. But when the Sheriff's department turns their investigation to Erica Slaughter, the FBI is more interested in getting in the way. As the horrified townspeople watch Erica arm herself for a war they can't see, tensions rise to their breaking point in this penultimate issue.
In Shops: Dec 11, 2019
Final Orders Due: Nov 18, 2019
SRP: $3.99
BLACK BADGE HC VOL 03 OCT191417
(W) Matt Kindt (A) Tyler Jenkins (CA) Matt Kindt
* The Black Badges, a top-secret branch of boy scouts tasked with covert missions that no adult could ever undertake, have always been shrouded in mystery … until now. As the modern-day squad of Badges races to solve the murder of one of their own, they'll discover the secrets of their organization 's past may be the key to building a better tomorrow.
* The Eisner Award-nominated team of New York Times bestselling writer Matt Kindt (Mind MGMT) and illustrators Tyler Jenkins and Hilary Jenkins (Peter Panzerfaust) conclude their action-packed examination of a world broken by adults … and the children responsible for fixing it.
* Collects issues #9-12.
In Shops: Feb 05, 2020
Final Orders Due: Jan 13, 2020
SRP: $29.99
JIM HENSON DARK CRYSTAL AGE RESISTANCE #4 CVR A FINDEN OCT191419
(W) Nicole Andelfinger (A) Matias Balsa (CA) Mona Finden
With the end of their quest within sight, Ordon and Fara finally have hope that they will be able to save their respective villages. But the journey home proves just as treacherous, and the two of them may arrive too late to stop the destruction of everything they love…
In Shops: Dec 18, 2019
Final Orders Due: Nov 25, 2019
SRP: $3.99
JIM HENSON DARK CRYSTAL AGE RESISTANCE #4 CVR B MATTHEWS JIM HENSON BENEATH DARK CRYSTAL HC VOL 03 OCT191421
(W) Adam Smith (A) Alexandria Huntington (CA) Benjamin Dewey
* The Legend continues in an official sequel to Jim Henson 's beloved fantasy film, THE DARK CRYSTAL.
* Betrayed by those closest to them, Thurma and Kensho seek each other fs guidance and companionship in their travels. They emerge from their tender reunion with renewed certainty regarding the fulfillment of their destinies: to protect and lead their peoples, no matter the cost.
* Written by Adam Smith (Long Walk to Valhalla) and gorgeously illustrated by Alexandria Huntington, Beneath the Dark Crystal Volume Three brings Kensho and Thurma 's journeys to a thrilling and heartwarming conclusion.
* Collects issues #9-12.
In Shops: Feb 26, 2020
Final Orders Due: Feb 03, 2020
SRP: $24.99
MAGICIANS #2 (OF 5) CVR A KHALIDAH (MR) OCT191424
(W) Lilah Sturges, Lev Grossman (A) Pius Bak (CA) Qistina Khalidah
THE NEW CLASS IS HERE! As the newly welcomed hedge Magicians and the traditional students come together for the first time in Brakebills history, things go wrong. A horrible accident leaves a student dead-and the only way to keep it a secret is for the two groups to work together. But the only way to make it right may be to work together to keep it a secret…
In Shops: Dec 11, 2019
Final Orders Due: Nov 18, 2019
SRP: $3.99
MAGICIANS #2 (OF 5) CVR B SHARPE (MR) AVANT-GUARDS TP VOL 02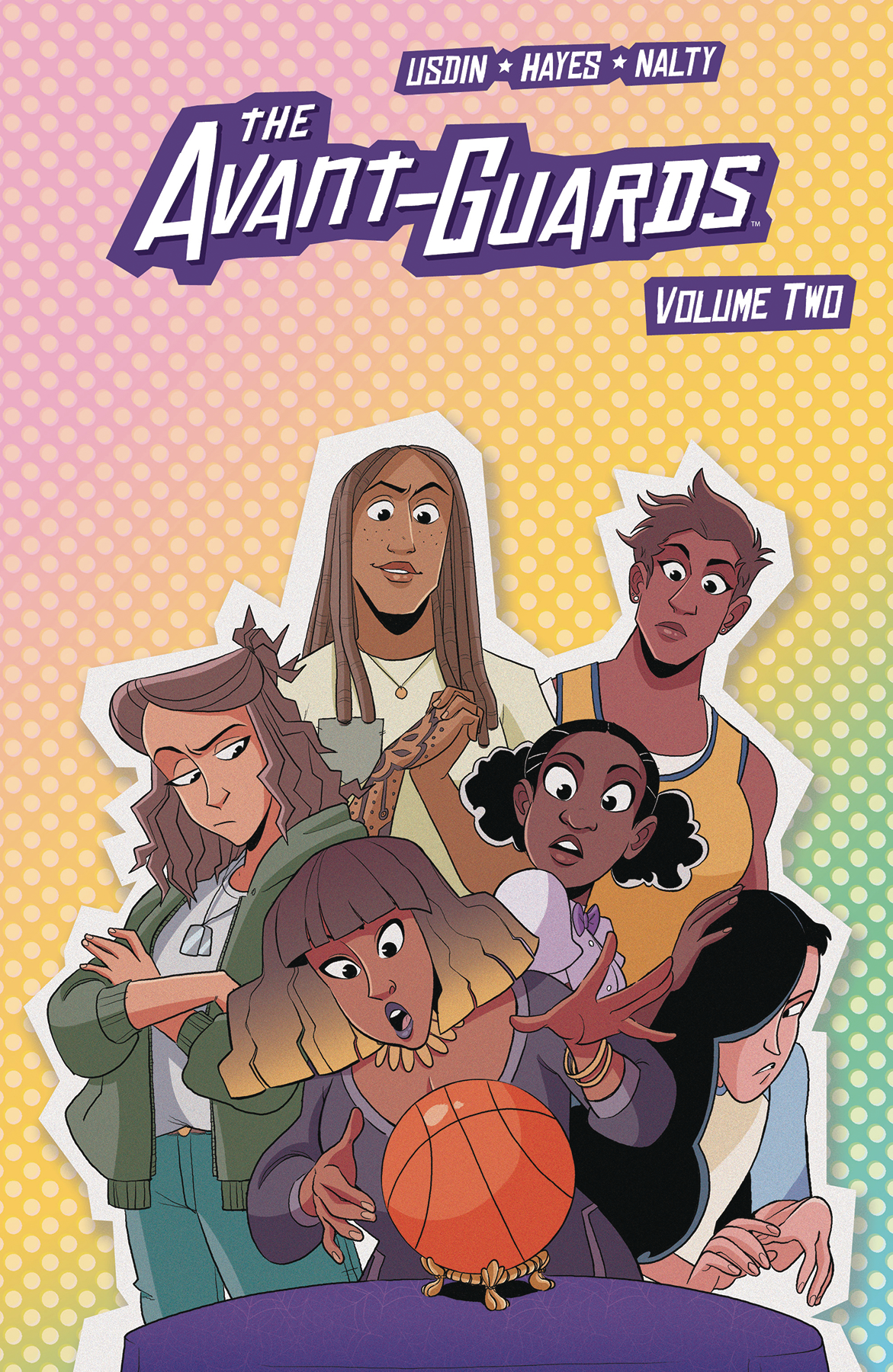 OCT191426
(W) Carly Usdin (A/CA) Noah Hayes
* The Avant-Guards have been on a roll, but when they hit the end of their winning-streak, will these new friendships survive? As The Avant-Guards struggle to move forward, they'll soon learn just what it means to truly be a team – on the court and, most importantly, off the court.
* The critically-acclaimed team of writer Carly Usdin (Heavy Vinyl) and artist Noah Hayes (Wet Hot American Summer) deliver the next chapter of the series where every shot counts when you take them with your friends.
* Collects issues #5-8.
In Shops: Feb 12, 2020
Final Orders Due: Jan 20, 2020
SRP: $14.99
B B FREE #2 (OF 12) CVR A DUNLAP OCT191427
(W) Gabby Rivera (A/CA) Royal Dunlap
After discovering that everything her father ever told her is a lie, b.b. is on the run to the only person she can trust, her radio show partner, Chulita. But with b.b.'s mysterious powers getting stronger everyday, and her father's power organization on her trail, b.b. won't find the safe haven she expects… and she may be putting her only friend in danger.
In Shops: Dec 11, 2019
Final Orders Due: Nov 18, 2019
SRP: $3.99
GHOSTED IN LA #6 CVR A KEENAN OCT191428
(W) Sina Grace (A/CA) Siobhan Keenan
It's never a good thing when your ex has a crush on your roommate. It's awkward enough that the part where Daphne's roommates are all ghosts isn't even the weirdest part of the situation. Daphne is about to learn that personal drama doesn't stop when your heart does.
In Shops: Dec 04, 2019
Final Orders Due: Nov 11, 2019
SRP: $3.99
GHOSTED IN LA #6 CVR B GRACE VAR GIANT DAYS TP VOL 12
OCT191430
(W) John Allison (A/CA) Max Sarin
* It 's never a quiet day at the University of Sheffield as best friends Esther, Susan and Daisy try do regular things like solving comic book shop capers, attending McGraw 's brother 's wedding, and Daisy learning to drive OH MY GOD WE'RE ALL DOOMED.
* The Eisner Award-nominated team of John Allison (By Night) and Max Sarin are back with new unforgettable stories about the best BFFs ever, including a special issue both written and illustrated by Allison himself.
* Collects issues #45-48.
In Shops: Feb 05, 2020
Final Orders Due: Jan 13, 2020
SRP: $14.99
LUMBERJANES #69 CVR A LEYH OCT191431
(W) Shannon Watters, Kat Leyh (A) SKELEHIME (CA) Kat Leyh
It's time to discover what it really means to be a Lumberjane scout. As April, Jo, Ripley, Mal, and Molly look into the history of their beloved camp, they'll have to investigate their camp director Rosie's mysterious past!
In Shops: Dec 18, 2019
Final Orders Due: Nov 25, 2019
SRP: $3.99
LUMBERJANES #69 CVR B PREORDER YEE VAR
OVER GARDEN WALL SOULFUL SYMPHONIES #5 (OF 5) CVR A YOUNG (C OCT191433
(W) Birdie Willis (A) Rowan MacColl (CA) Keezy Young
The curtain rises as Greg and Wirt are forced into what could literally be their final performance! The longer the play goes on, the more the two brothers lose of their souls. Will they be able to escape in time, or is it curtains for Greg and Wirt?
In Shops: Dec 04, 2019
Final Orders Due: Nov 11, 2019
SRP: $3.99
OVER GARDEN WALL SOULFUL SYMPHONIES #5 (OF 5) PREORDER PENA STEVEN UNIVERSE ONGOING #35 CVR A PENA OCT191435
(W) Taylor Robin (A) S.M. Mara (CA) Missy Pena
Greg and fan-favorite character Bismuth team up to defend Beach City while the Gems are off-world. Yeah… Beach City is doomed.
In Shops: Dec 11, 2019
Final Orders Due: Nov 18, 2019
SRP: $3.99
STEVEN UNIVERSE ONGOING #35 CVR B PREORDER SINABAN VAR STEVEN UNIVERSE ONGOING TP VOL 06 PLAYING BY EAR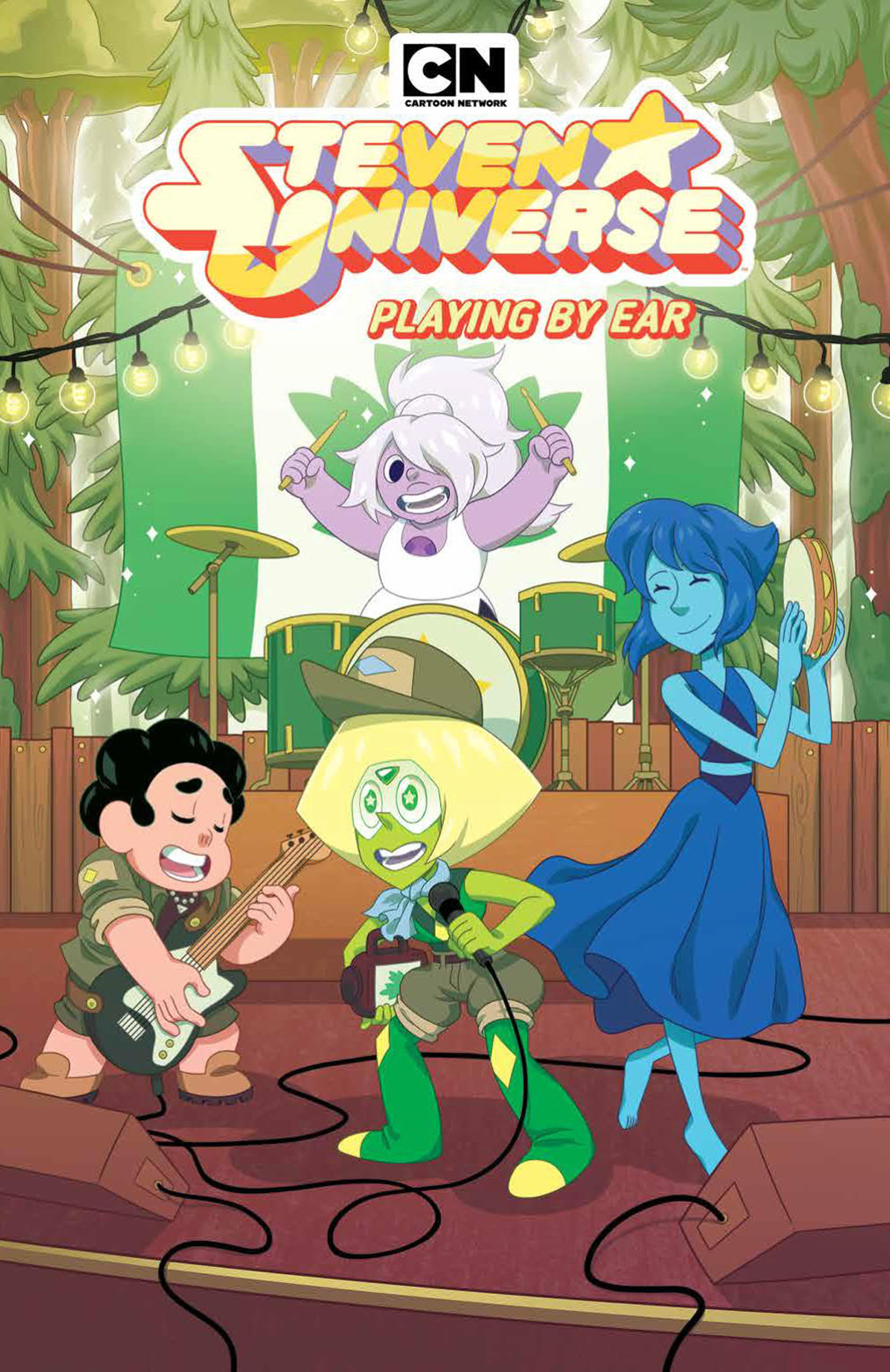 OCT191437
(W) Grace Kraft (A) Rii Abrego (CA) Missy Pena
* It's never a dull day for Steven and The Crystal Gems in this collection of all new adventures! Peridot looks to Steven and Greg for help in learning about the power of music; Cat Steven needs Connie to help Steven learn to be a better owner; and Pearl helps Steven try to find the perfect birthday surprise for Connie!
* Writer Grace Kraft and artist Rii Abrego (Adventure Time) present all-new stories from the world of the Cartoon Network Emmy Award-nominated series featuring all your favorite characters!
* Collects Steven Universe #21-24.
In Shops: Feb 19, 2020
Final Orders Due: Jan 27, 2020
SRP: $14.99