Robot Bonding and Adventure in Atomic Robo: Dawn of the New Era #2
[rwp_box_recap id="0"]
The Junior Action Scientists discover a new secret hideout on the Tesladyne base, Robo helps Alan learn how to use his robot body, Vik and Lang visit a lab, and Bernie gets lost in issue #2 of Atomic Robo: Dawn of the New Era from IDW!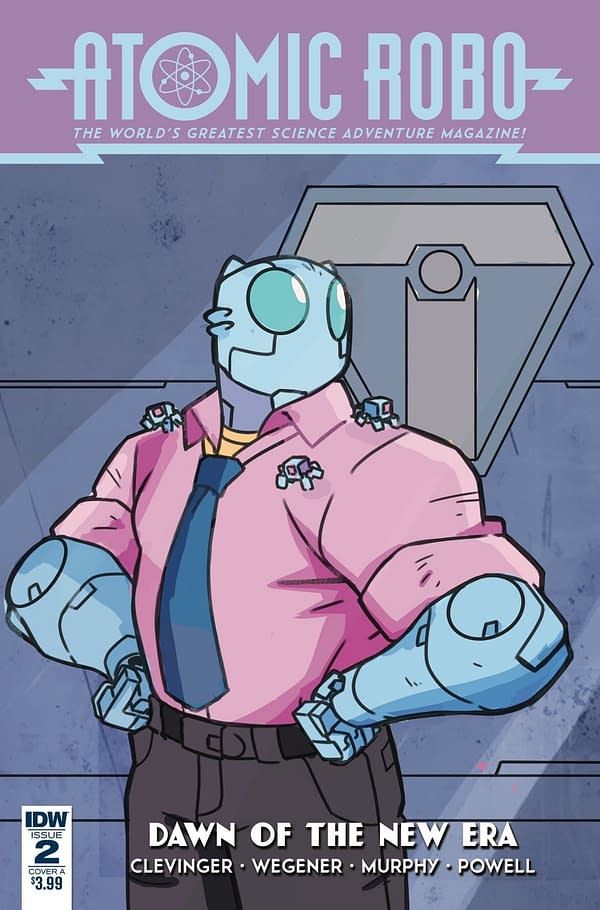 Atomic Robo is one of those titles that is effortlessly fun to read, with an emphasis on science, scientists, and robots punching monsters. So far, "Dawn of the New Era" hasn't had Robo punch anything, but the last page of this issue introduces a bunch of suckers itching to get a steel fist to the mouth.
Brian Clevinger is having a good time with this series, pulling back a little on the action as Robo learns how to be more of a teacher to the next generation of Action Scientists. Bernie's breakdown underground is relatable, but there may be more going on under the surface than he knows. And Lang's relationship with Vik is adorable; it's been fun watching these characters grow together over the years!
Scott Wegener has taken on an entirely new approach to his art style for Atomic Robo: it's an entirely cartoonish approach to the series, far less stylized that previously established. It's still a lot of fun to look at, and could be a great way to get kids into the series; it's more Steven Universe in style than traditional Robo.
Atomic Robo is always a refreshing read, suitable for all ages with a great focus on adventure, companionship, science, and teamwork. We're not sure yet where "Dawn of the New Age" will take our heroes, but we're happy to go along for the ride!
SUMMARY: Words: Brian Clevinger; Art: Scott Wegener; Colors: Shan Murphy; Letters: Jeff Powell; Editor: Lee Black; Publisher: IDW Publishing; Release Date: February 6, 2019; Cover Price: $2.99; 26 pages
[rwp-review-ratings id="0"]
[rwp-review-form id="0"]