Rodney Barnes Teams with Superstar Artist TBD for Lando: Double or Nothing at Marvel in May
Rodney Barnes is writing a new Lando Calrissian mini-series to tie into the upcoming Solo: A Star Wars Story movie, and he's bringing one of comics' most well-known superstar creators with him: TBD! Frequently, TBD's name is used when new books are announced are Marvel, only for Marvel to pull the ol' bait and switch before the book is released and replace TBD with a different artist. That's because TBD, unlike many Marvel artists according to former Editor-in-Chief Axel Alonso, moves the needle. In this case, however, TBD is listed three times on the cover, so even if a different artist, colorist, or cover artist eventually gets added to the book, we can surely expect TBD to stay on in at least one or two roles.
The book, called Lando: Double or Nothing, was revealed as part of a clickbait slideshow on Entertainment Weekly, amongst other books that will tie into Solo: A Star Wars story. Most of them are "novels," which is a kind of book that doesn't have pictures. That's because TBD has a very busy schedule and can't be expected to draw every Star Wars book. Instead, these other books will need to do without TBD's acclaimed artistic stylings. The list also includes various guide books and encyclopedias.
Here's EW's blurb on Lando: Double or Nothing, which, typical of a lot of comics coverage, doesn't even mention the artist, TBD:
This Marvel Comics miniseries is written by Rodney Barnes (a veteran scribe from TV's The Boondocks) and will play out over five issues. "It's focused on Lando set during an incident right before the film, with backstory about Lando and L3," Siglain says. The series debuts the Wednesday after the movie opens, since its story is so closely tied in. "Coming out of the film, we think everyone is going to want ot read more about Lando."
That would put Lando: Double or Nothing in stores on May 30th, giving TBD plenty of lead time to get the work done even while doing so many jobs at once.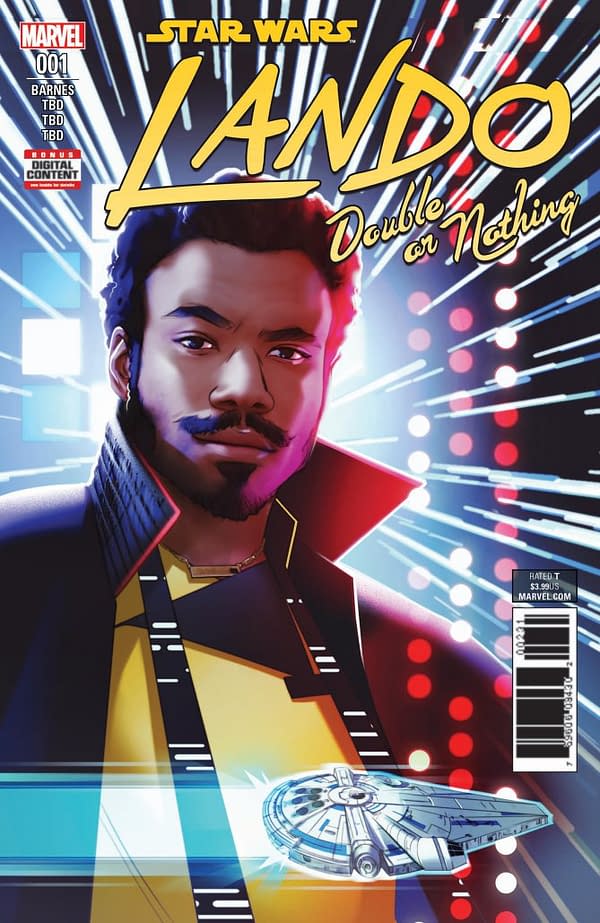 EW's article also highlights IDW's Star Wars Adventure comics as tying into the movie: