SDCC '15: Live! From The Fight Club 2 Panel With Chuck Palahniuk, David Mack, And Cameron Stewart Earlier today at San Diego Comic Con, author Chuck Palahniuk confirmed in a Dark Horse panel that he will indeed be working on another comic project beyond Fight Club 2. Earlier this week, Dark Horse also announced that Chuck Palahniuk would be appearing as a recurring character in the Fight Club 2 following from issue #4 onwards, also huge news.
Now an absolutely packed room settled in to hear the entire creative team behind the immensely popular comic talk about Fight Club 2. Palahniuk was joined by Cameron Stewart and David Mack, and the three were hosted by Dark Horse Editor-in-Chief Scott Allie.
David Mack spoke a little bit about the project Temple of Art, a documentary which feature comics creators speaking in their own voice about their creative experiences and lives (which we helped promote in Kickstarter here on Bleeding Cool in fact a few months back).
Scott Allie showed some of the early promo images for Fight Club 2 and reflected on the announcements that were made at SDCC last year regarding the book.
Chuck Palahniuk informed the audience that he's commissioned "scratch and sniff" style scented bookmarks of which fans will have to guess the scents of the bookmarks. The smells are "mostly horrible" Allie joked and Palahniuk didn't exactly disagree. The bookmarks will be available through retailers, first one variety, then later on a second.
Allie asked the panelists to talk about the early days of working on the comic and working together in Portland. Cameron Stewart said a "sticking point" was that Palahniuk wanted to work with someone local, but he didn't live in the USA, however, he immediately made the decision to rent a place in Portland over the summer to work on the book. They'd get together, often at colorist Dave Stewart's house.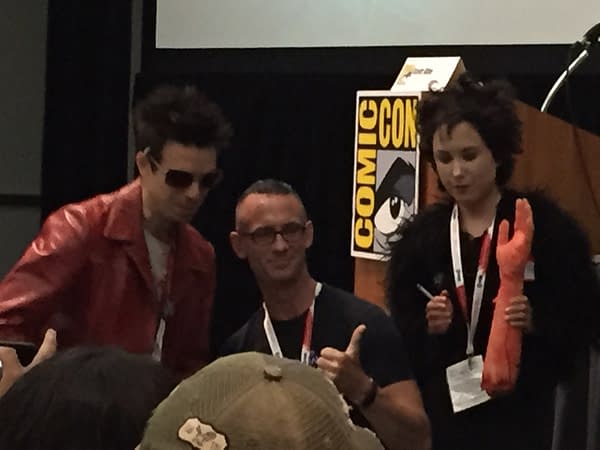 With the panel opening up into Q&A, a fan asked if author Chuck Palahniuk wants to produce or adapt more of his works into comics format. He said that right now James Franco is working on a screen adaptation of Rant, and if that comes to pass successfully, after its release, at the point afterwards, his next goal in comics might come to pass, which would be a comics sequel to Rant.
When asked if he'd ever make a Fight Club 2 film, or allow one, Palahniuk said that he's aware that Fight Club is being adapted into a Rock Opera, and that he doesn't want to step on anyone's toes by working on another project of that kind at the same time. He wishes that project the best.
Palahniuk said, when asked, that he didn't give the narrator of Fight Club, now revealed to be named Sebastian in Fight Club 2, a name is because he finds names to be quite an abstraction and it was a specific choice. In the comic, Cameron Stewart really "nails" the gestures that are necessary to really depict character, he said, and praised that absence of abstraction in the comic.
A fan asked how Palahniuk manages to write a comic sequel to a book that's essentially based on a "theme". Palahniuk said that it's like going to church, something that becomes a "practice", just like the need to keep going to language classes to keep the knowledge fresh. Fight Club is not about "one and done" for him, but something that "has to be done on a regular basis" as a way of thinking that's comparative to religious practice. You have to "do it over and over and explore it or lose it", he said. Palahniuk also said that the sequel is very much about the "same themes but from a different angle".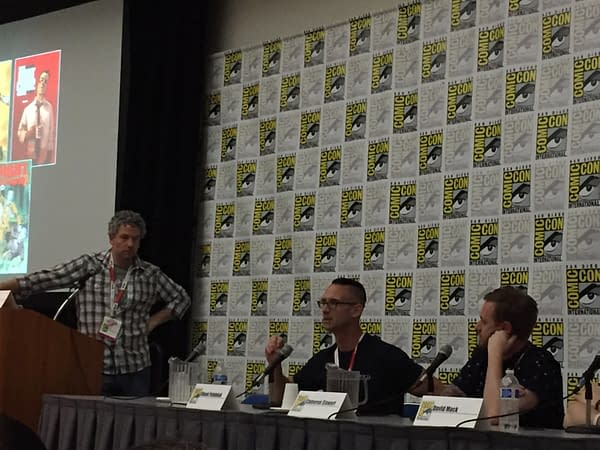 An audience member asked if he's ever self-censored despite his tendency to be uncensored. He said initially, he was putting things on the page, and Cameron felt like "he was going to hell for some of the things he was being asked to draw", which was a bit of a joke, but had some basis in terms of extreme taboo breaking. Stewart said that he knew the style of the comic was going to be "cartoony" and yet he was having to draw images of children with terrible illnesses while still staying true to the tone of the comic. That's "far from the worst thing in the book", he warned. He just finished a sequence in 5 where he "laughed his ass off" and another sequence in which he "almost passed out".
There was a sequence Palahniuk discussed with Scott Allie where bodily fluids appear to be staining the page, and Allie actually encouraged him to go further and "shock people". "That's not something that Double Day would let me do", he said. He fought with them over things in the book like having soap based on lypo-suction fat, but "with Dark Horse there's no fighting", he said. To a wild round of applause.
When Palahniuk was asked why he named the narrator Sebastian in the comic, nameless in the first prose book, he said there were several names he wasn't able to use for legal reasons, and finally he wanted the name to be Cornelius, after his favorite character in Planet of the Apes (and if he had a monkey he'd name it Cornelius) but he already used the name in "Beautiful You". So he settled on Sebastian, partly because of the "least likeable character in English literature", Sebastian Flyte in Brideshead Revisited, who carries around a teddy bear.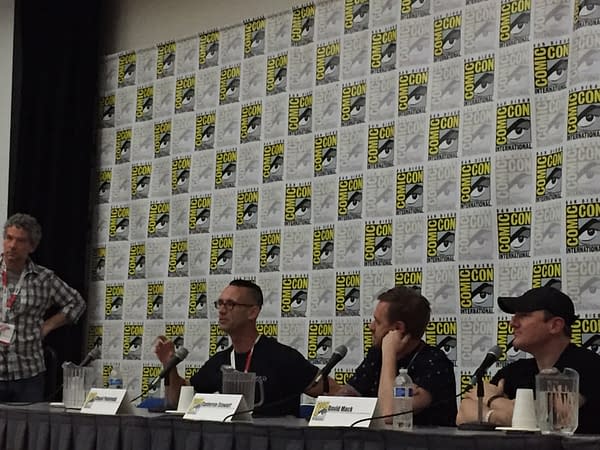 There's a "sense of camp" in the original book, Palahniuk said, and that's an element of style he didn't want to "steal from somebody else" but develop on his own. He feels that attracted him to Cameron's artwork in combining the same features.
Palahniuk feels inspired by the "non-fiction form" which he lifts from magazines and past examples in art like Citizen Kane's use of journalism, and often uses that faux-real framework for his writing. It helps ingrain setting, for one thing.
When asked how he came up with the name Tyler Durden, he said he had seen a movie starring a boy called Tyler, and he met another little boy as a child who claimed to have been the boy in the film, but to have had facial surgery to look like the character. The boy was such a good liar that he associates the name Tyler with "liar".
The name Durden is less pleasant. It was the name of a man who sexually harassed a young woman he knew of, who was traumatized by the experience, and it was horrific enough an event that he associated the name with "dirt".
The comic "really is that if I thought of it, I put it on the page", Palahiuk said, whereas in the more literary world his editor would have "put him on the choke chain". He focused the panel on David Mack for a few minutes to talk about his psychological covers which convey such internal things so powerfully in his work on the series.
The decision to have Mack do the covers was an immediate response, but Mack has so many different styles that is was like having several David Macks, and Mack didn't know which style they wanted. He sent them several ideas, and still not quite there yet, he sent more, and they'd go back and forth until they found it, he said.
The cover with two boys and the burning house, for instance, was nicely ambiguous since you don't know if it's Tyler and Sebastian or Sebastian and his son. Palahniuk originally asked for there to be a gun in the hand of one child about to pull the trigger on the other child, but Mack suggested that might not be the best idea. They eventually settled on a grenade, and drawing the pin of the grenade meant that Mack had to find an actual pin while passing through Kentucky on the way to LA.
***There will be a signing for Fight Club at the Dark Horse booth, #2615, at 11:00AM on Sunday at SDCC with Chuck Palahniuk, Cameron Stewart, and David Mack .
---
---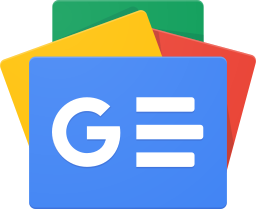 Stay up-to-date and support the site by following Bleeding Cool on Google News today!