Okay, so this is a peculiar one.
Sgt Fury Epic Collection: The Howling Commandos TPB appeared in the most recent Marvel Comics solicitations. But its contents seemed a little… at odds.  Solicited as Volume #1 in the Sgt. Fury Epic Collections, we were told that it contained,
Written by BOB LAYTON, DAVID MICHELINIE, MIKE SAENZ, ROGER MCKENZIE & KEN STEACY
Penciled by BUTCH GUICE, DENYS COWAN, ALAN KUPPERBERG, BOB LAYTON, MIKE SAENZ & KEN STEACY
Cover by BOB LAYTON

The Ghost is back! As Tony Stark struggles with the ramifications of the Armor Wars, he must convince the world there's a new Iron Man — and what better way to boost Shell-Head's popularity than stopping a nuclear satellite from crashing to Earth! Spider-Man helps out against the Radioactive Man as Steve Rogers and Ant-Man drop by! But while an alien spreads horror in orbit, the Rhino wreaks havoc on Earth! Fearsome foes are lining up to take down Iron Man — but will Blacklash, Blizzard and Boomerang help him against the Ghost? And will the most dangerous threat of all be Grey Gargoyle, the Mandarin, Doctor Doom…or Tony's new flame, Kathy Dare?! Plus: Iron Man stars in the world's first computer-generated graphic novel! Collecting IRON MAN (1968) #233-244, IRON MAN: CRASH and MARVEL FANFARE (1982) #22-23 and #44.
448 PGS./Rated T+ …$39.99
ISBN: 978-1-302-91657-2
That's not very Sergeant Fury, is it? Retailers have been told what exactly is inside the first volume, with this amazing errata…
SGT FURY EPIC COLLECTION TP HOWLING COMMANDOS will now have writing credits by Stan Lee instead of the previously solicited Bob Layton, have interior art by Jack Kirby and Dick Ayers instead of the previously solicited Butch Guice, and cover art by Jack Kirby instead of the previously solicited Bob Layton.
The solicitation text has also been updated to:
From the heart of the Silver Age, Stan Lee, Jack Kirby and Dick Ayers bring you the World War II adventures of Sgt. Nick Fury and his crack squad — the Howling Commandos! These creative titans took the Marvel method and applied it to the combat genre, creating the "war comic for people who hate war comics." Starring Nick Fury, Dum Dum Dugan, Gabe Jones, Reb Ralston, Junior Juniper and the rest of the Commandos, the series was an instant hit and would even inspire filmmaker Quentin Tarantino's Inglourious Basterds. In this inaugural Sgt. Fury Epic Collection, our heroes battle more Nazis than you can shake a bayonet at, team up with Captain America and Bucky, battle the nefarious Barons Strucker and Zemo — and set out to capture Adolf Hitler himself! Collecting SGT. FURY #1-19.
That's a bit better…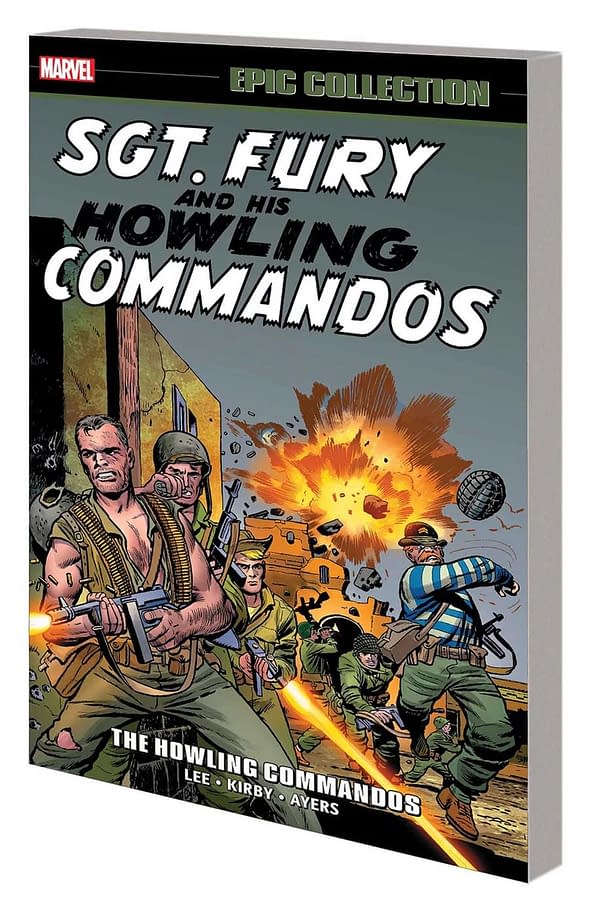 Enjoyed this article? Share it!