Skottie Young has taken a side in the schism that's rocked the artistic community, drawing baby feet on his baby X-Men for the Skottie Young Uncanny X-Men #1 variant cover. As we've seen with past Uncanny X-Men covers revealed by Marvel, some artists have chosen to take the extra time required to draw feet on their covers, while others seem to have gone to great lengths in positioning characters (and convenient smoke) to avoid drawing feet altogether. It's an ideological divide that will rock the comics industry to its foundations before it's over, and nothing will ever be the same again.
Young proudly joins the likes of Cliff Chiang, Dave Cockrum, Jen Bartel, Elizabeth Torque, Leinil Francis Yu, Carlos Pacheco, and David Finch in clearly depicting feet on their Uncanny X-Men covers. On the no feet side: David Marquez, Rob Liefeld (shocker!), John Tyler Christopher, Scott Williams, Marco Djurdjevic, Joe Quesada, Jim Cheung, and Yu again, who drew multiple covers, some with feet and some without.
Check out the variant and its accompanying press release below.
This November, UNCANNY X-MEN returns with a new ongoing series, bringing together nearly every mutant left on earth in a story that threatens to destroy them. It's an epic tale of mystery and tragic disappearance, with an adventure so earth-shattering, it could very well be the X-Men's FINAL mission!

In celebration of the much-anticipated launch of UNCANNY X-MEN #1, Marvel is excited to reveal a new variant cover from superstar artist Skottie Young!

Don't miss UNCANNY X-MEN #1, coming this November to local comic shops – X-MEN DISASSEMBLED will have fans talking for years to come!

UNCANNY X-MEN #1 (SEP180791)
Written by KELLY THOMPSON, ED BRISSON and MATTHEW ROSENBERG
Art by MAHMUD ASRAR, MARK BAGLEY and MIRKO COLAK
Cover by LEINIL FRANCIS YU
UNCANNY X-MEN YOUNG VAR
On Sale 11/14/18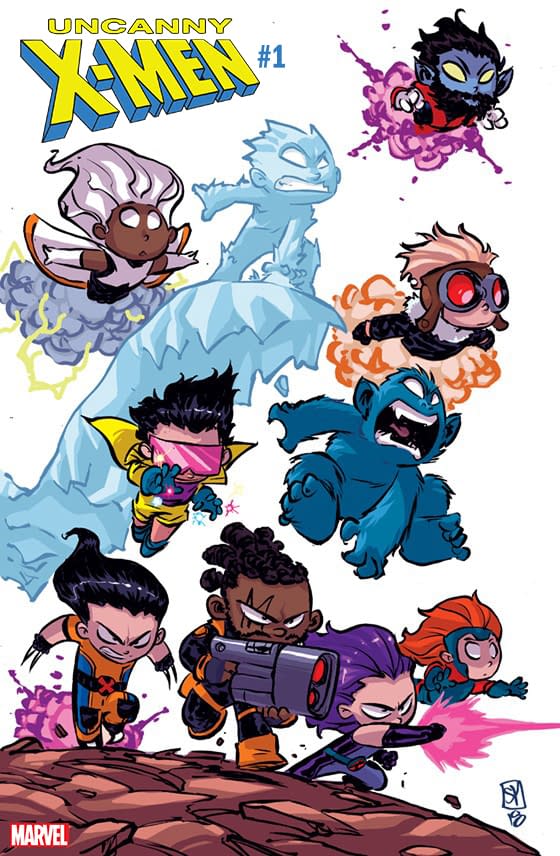 Enjoyed this article? Share it!