Frank Tieri has been writing the Ruins Of Ravencroft one-shots that have led up to today's Ravencroft #1. And in doing so has been doing his own impersonation of Al Ewing and Mark Waid by rewriting the history of the Marvel Earth.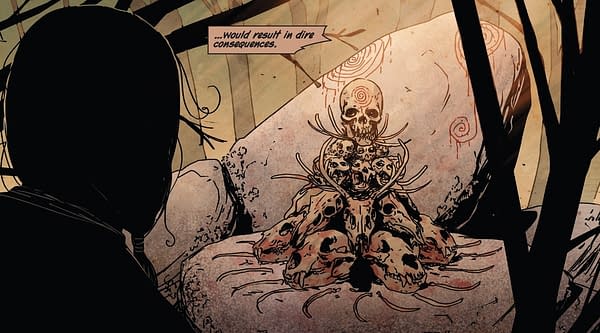 He has rewritten the history of the First Americans by adding the swirly symbol, Symbiote god Knull and Venom symbiotes to the area where the Ravencroft Institute was set up, where Cletus Kasady was imprisoned and which formed the home for the Absolute Carnage takeover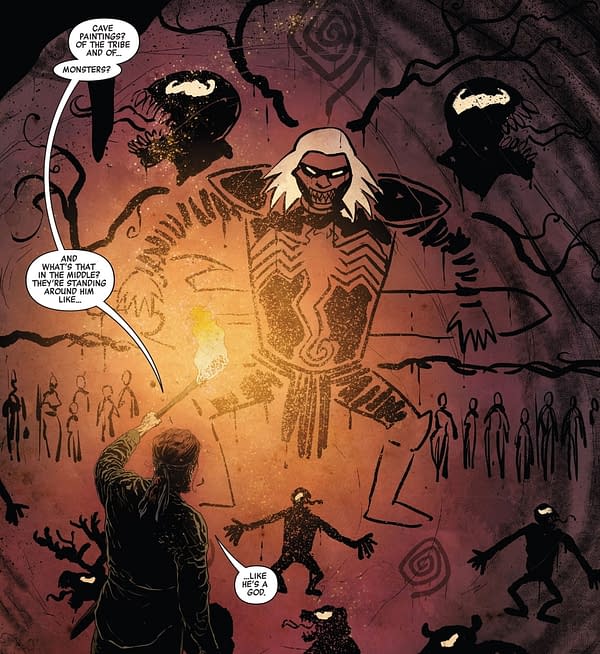 It gets really nasty really vasty – with these symbiote-substitutes being made of human skin.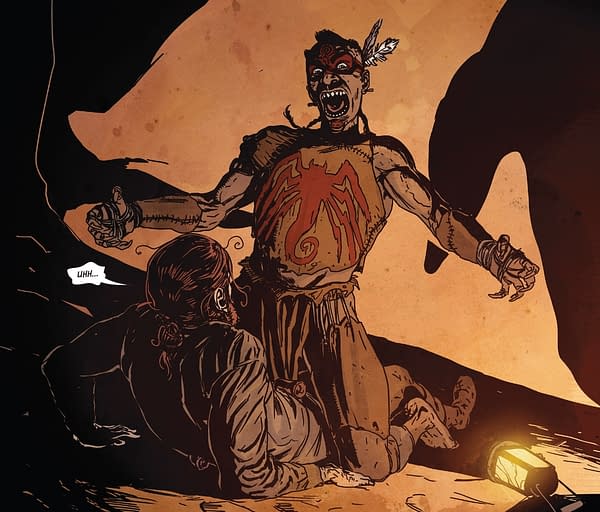 And with the frontiersman thus affected, getting all Carnage on us.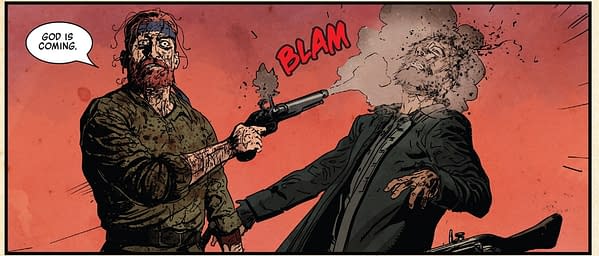 And imprisoned in a small not-yet-called Ravenscroft hut…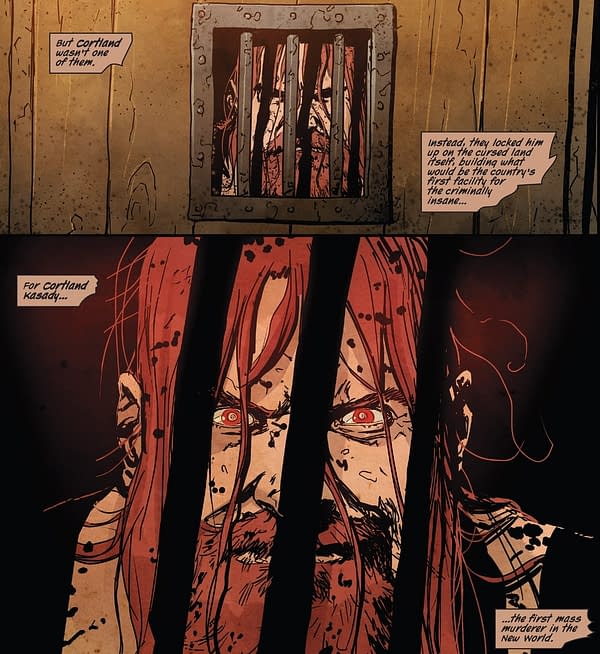 … revealed as te ancestor of Cletus Kasaday, placing a symbiotic heritage and lineage for the man who would be Carnage. In subsequent volumes, a hidden Ravencroft underneath the ruins of the former Ravencroft is discovered which continued to rewrite history. Dating back to the 1900s and before, we get to see a stuffed and mounted Flergen from Captain Marvel.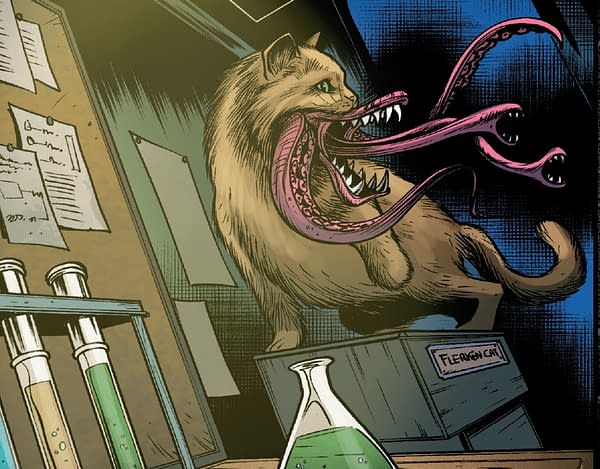 As well as Wendigo, Mol Men and Skrulls – indicating Skrulls had visited Earth a lot earlier.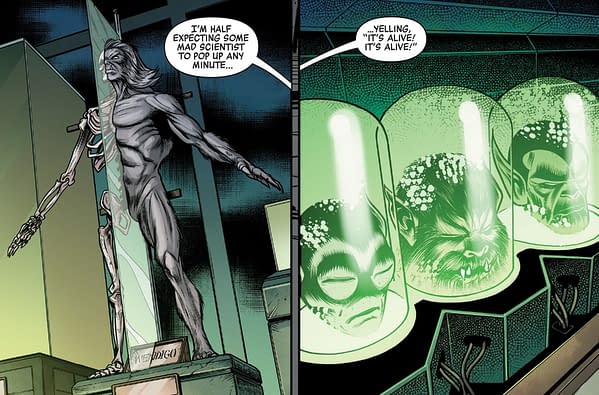 Notations for Fin Fang Foom…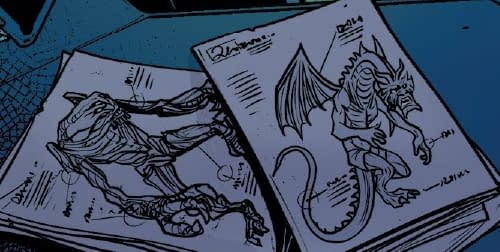 And vials of zombie, Kree and… Asgardians?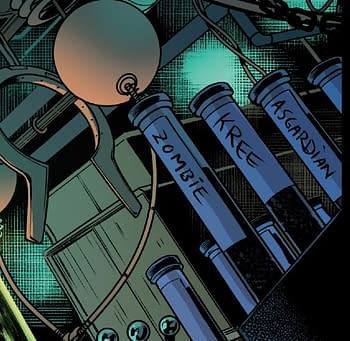 Oh and a disembodied arm.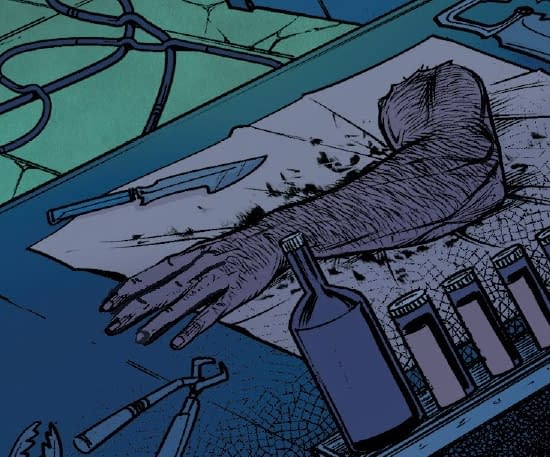 More on that to come.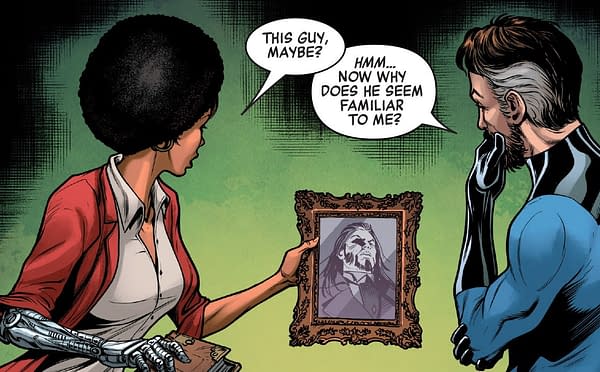 Because, smartest man in the room, it's clearly Mister Sinister. Nathaniel Essex. But there's further for Tieri to take us back. Ravencroft during the Revolutionary War gave us a proto-Captain America in the eighteenth century.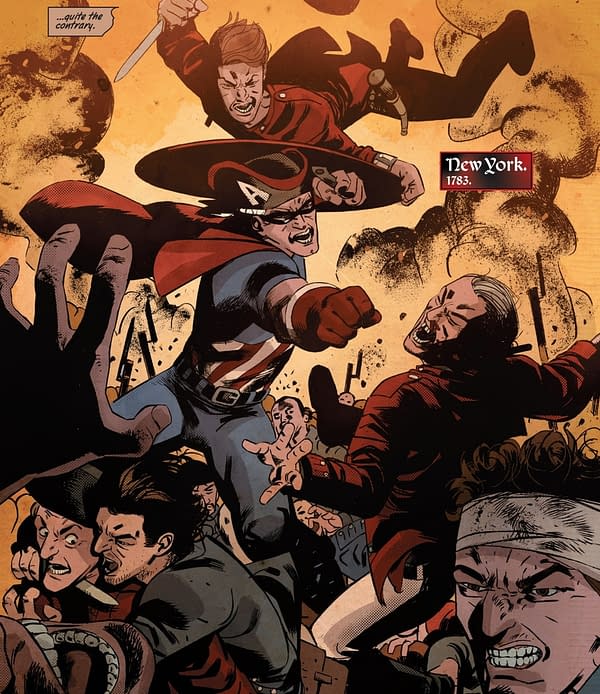 Shuma-Gorath first appeared as a Lovecraftian Old One in a Doctor Strange story before, appearing in Conan's age to be imprisoned by Crom, to emerge later in Dr Strane's day. But this emergence in Ravenscroft is set two hundred years before that. We also get an early nineteenth century version of a Ghost Rider.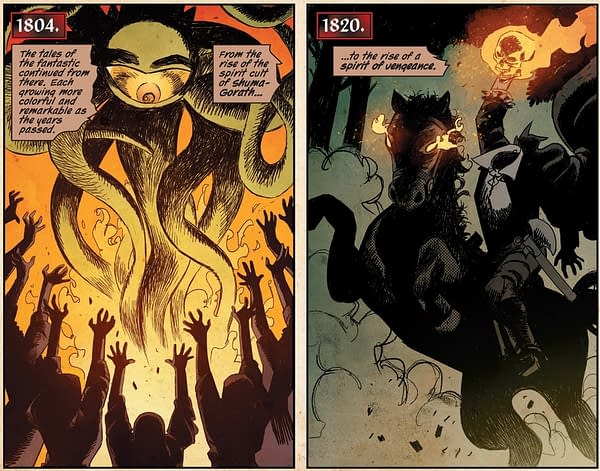 As well as a Journey To The Centre of The Earth-timed invasion by Tyrannus and hs Tyrannoids (Mole Man being not quite as Immortal as Tyrannus) – while we get a War of The World-timed invasion by the Skrulls .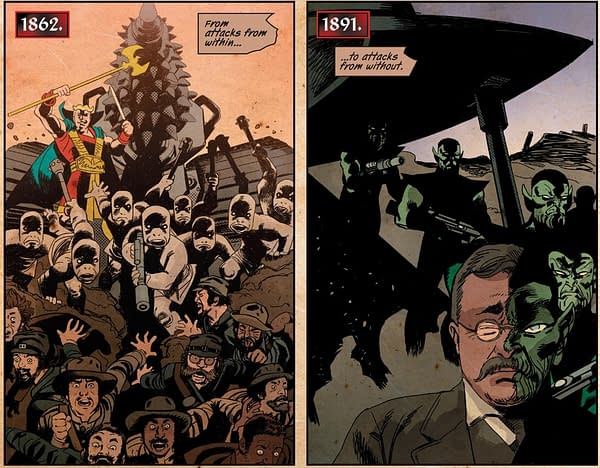 And as Ravencrodf builds his institute, that doesn't go smoothly, with more devilry.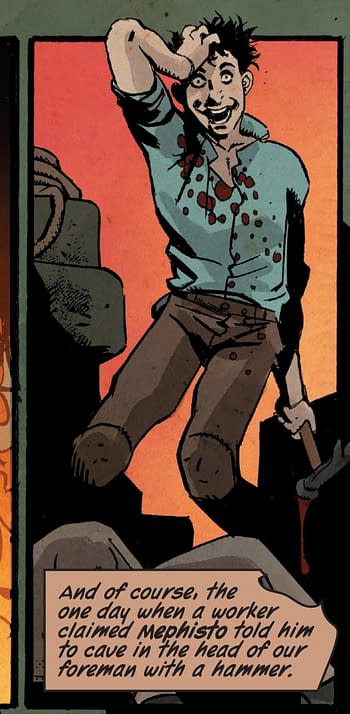 And there are always problems when treating the insane… that they may not actually be insane. Take this Black Knight…

Not that Mister Sinister, working at the Institute, will allow for that.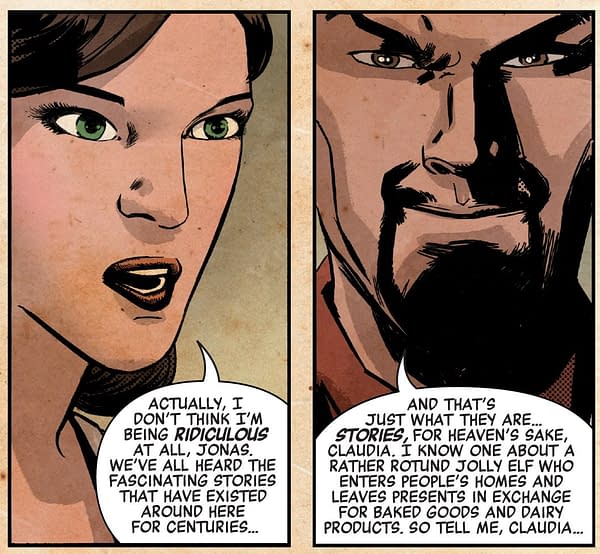 Then we have Sabretooth working as an orderly, Wolverine admitted as a lobotomised patient who is about to lose his arm as well as the frontal lobes of his brain.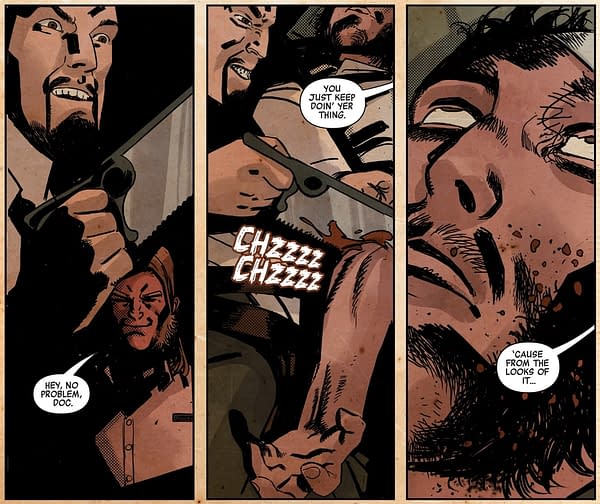 Yes, that arm. That has managed not to rot over the decades, but also not grown into another Wolverine.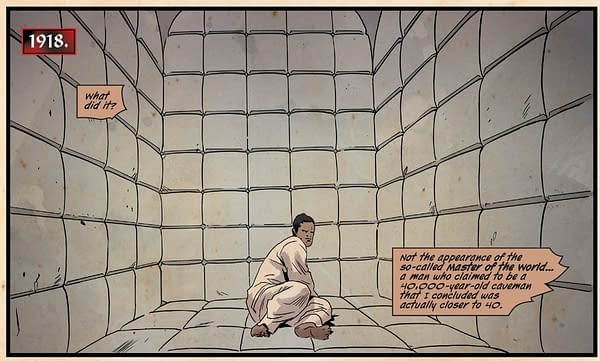 Then we get The Master Of The World from Alpha Flight – who is what he says he is.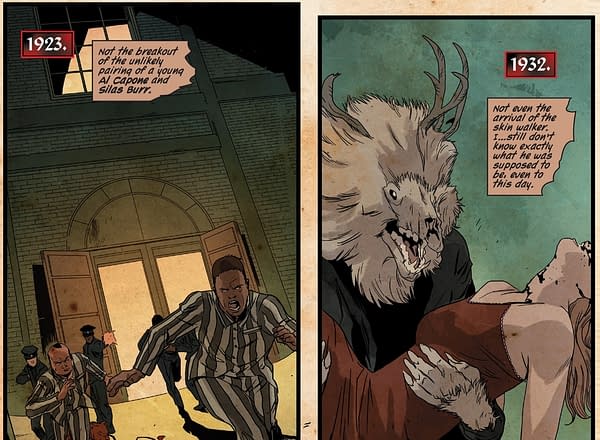 And Silas Burr, later to be an adamantium-laced supervillain Cyber. And… no, no ide who this Skin-Walker is. Any suggestions?
And even Loki pops by. But don't forget Mister Sinister…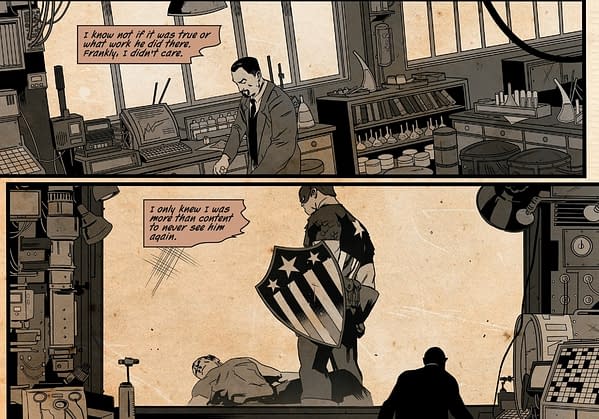 Looks like he was involved in the German attempts to create a super soldier that eventually led to Steve Rogers and the Weapon Zero project… which also finds a home at Ravencroft. With Professor Thorton, who was behind the Weapon X project that created Wolverine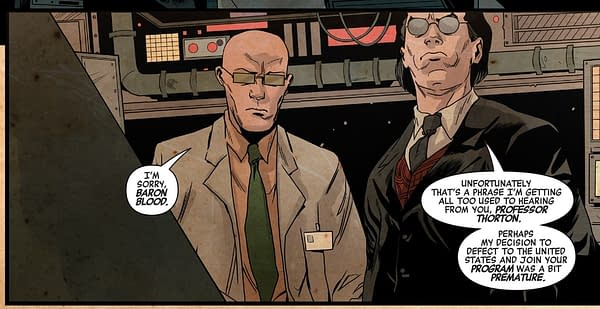 So fast forward to today, there's only one person that the government would put in charge of all this history.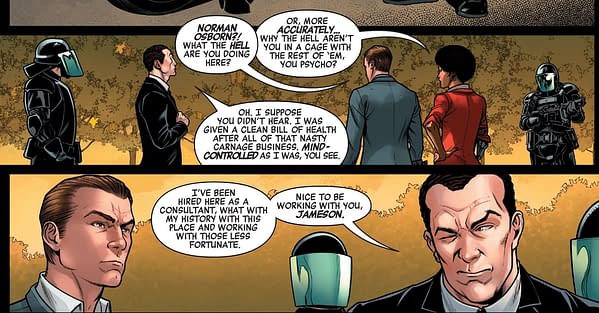 Norman Osborn, who has managed to get off scott-free and has returned to the place he worked out of during Absolute Carnage as the Red Goblin and then a version of Carnage himself…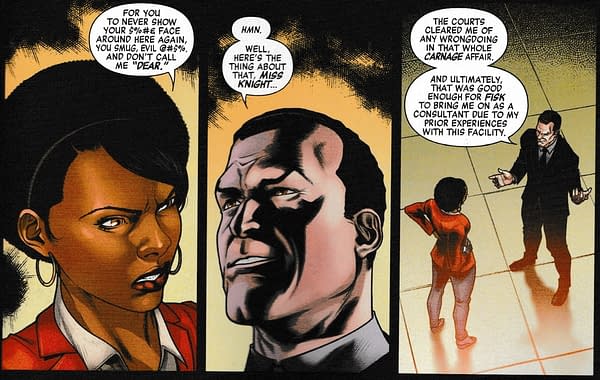 Though there are other monsters in here, other than the ones still living underground. Forget Room 101, this is after all the Marvel Universe, all horrors of continuity will lie…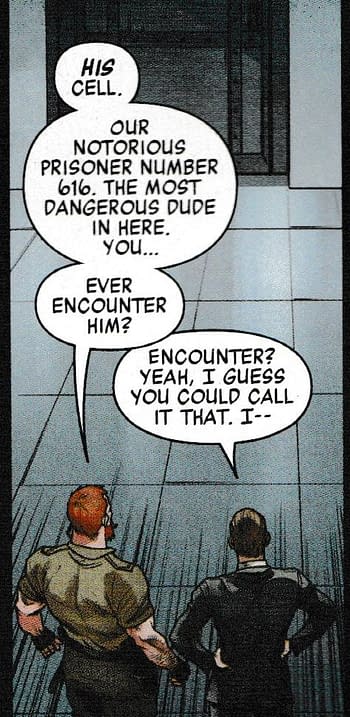 In Room 616. Also Peter Parker's house number…
RAVENCROFT #1 (OF 5)
(W) Frank Tieri (A) Angel Unzueta (CA) Kyle Hotz
RAVENCROFT REOPENED!
After the hellish horrors of ABSOLUTE CARNAGE, the Ravencroft Institute has received a much-needed facelift and is open for business with a new staff, including JOHN JAMESON, looking to atone for the part he played in ABSOLUTE CARNAGE. But will Ravencroft return the mentally unstable villains of the Marvel Universe to upstanding citizens and give John the redemption he's looking for, or will they fall prey to the hospital's seemingly sinister nature?
Rated T+In Shops: Jan 29, 2020
SRP: $3.99
Ravencroft #1 is out today from Marvel Comics… I bought mine from Piranha Comics in Kingston-Upon-Thames. Piranha Comics is a small south London comic store chain with a small south-east store in Kingston-Upon Thames's market centre, which runs Magic The Gathering nights on Fridays, and a larger south-west store in Bromley, which also runs Magic nights and has an extensive back issue collection and online store. If you are in the neighbourhood, check them out.

Enjoyed this article? Share it!