Posted in: Comic Connect Sponsored, Comics, Comics History, Vintage Paper | Tagged: amazing fantasy, marvel, stan lee, steve ditko
---
Spider-Man 1st Appearance Amazing Fantasy #15 CGC 9.2 Hits $598,000
We've covered a lot of chart-busting sales of the first appearance of Spider-Man in Amazing Fantasy #15 during the first decade of Bleeding Cool. It is perhaps the most liquid single vintage comic issue across the entire range of grades in all of the comic book collecting hobby. Spider-Man himself is seemingly immune to the natural highs and lows of popularity that virtually every other major character has had over the course of the decades. Powered by some sort of Steve Ditko and Stan Lee creative radiation with an infinite half-life, the Amazing Spider-Man never, ever goes out of style.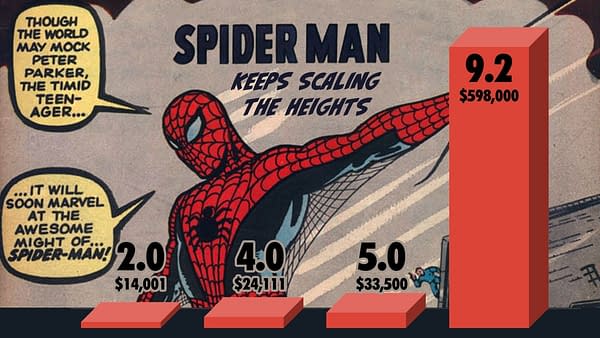 That unfailing staying power is the key to Amazing Fantasy #15's relentless monetary rise over the course of time, because there's more copies of this comic out there than you'd think. There are currently 3,169 entries for the comic in the CGC Census. While that's an imperfect measure of exact quantity of distinct issues that CGC has slabbed due to the fact that individual copies are sometimes resubmitted for grading, there is certainly a significant number still left unslabbed as well, so suffice it to say that for a comic book from 1962, there is a noteworthy quantity on the market available for purchase on any given day.
There were five copies of this comic book available tonight on Comic Connect, in grades ranging from CGC 2.0 to CGC 9.2, and as always, the marketplace has spoken: the Amazing Spider-Man is more popular than ever.
Tonight's sale of an Amazing Fantasy #15 CGC 9.2 for $598,000 is a particularly strong result for an issue of the comic in this grade. By way of comparison, Bleeding Cool told you about another sale of a copy of Amazing Fantasy #15 CGC 9.2 in 2017 for $454,100 at Comiclink. In 2011, an Amazing Fantasy #15 in census-topping CGC 9.6 smashed the record for a Silver Age comic book with a $1.1 million sale at Comic Connect. There are currently 3,169 entries on the CGC Census for the issue, with 4 entries at CGC 9.2 Universal (not restored or conserved), 4 entries at CGC 9.4 Universal, and 4 entries at CGC 9.6 Universal.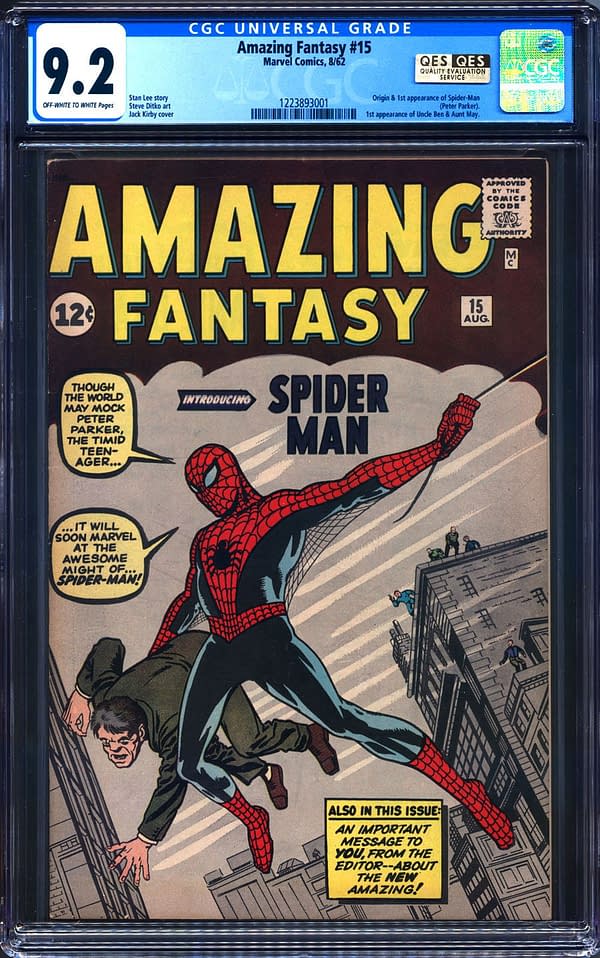 Here's a list of prices realized for copies of Amazing Fantasy #15 on Comic Connect tonight:
While we've noted that there are a significant number of copies of this comic still in existence overall — and that steadily increasing demand has kept prices strong despite this — the rarity of the very best copies is another matter entirely. Even the wealthiest collectors in the world won't get too many shots at adding a CGC 9.2 or higher to their collection, and it's that factor which led to tonight's $598,000 result.

Affiliates of Bleeding Cool buy from and/or consign to ComicConnect.
---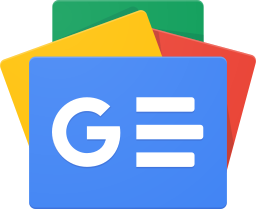 Stay up-to-date and support the site by following Bleeding Cool on Google News today!