Does Superman Believe in God? Who Wins When Superman Fights Batman? Superman Giant #16 Mild Spoilers…
Tom King seems to invest very deeply in every writing assignment he does, often asking big questions that fans have pondered, like is being Batman basically a long term suicide attempt for Bruce Wayne? Or questions characters themselves ask in books, like can the Vision have a real family?
In the Superman: Up In The Sky series, first published in the Walmart exclusive Superman Giant Volume 1, Tom King has pondered a "Superman question" in every issue (with fantastic Andy Kubert artwork).
Issue 3 asked, how far will Superman go to save just one life? (The answer, across the Universe and anywhere he has to.) Issue 7 asked, what truly scares Superman? (Lois dying, in all manner of ways.) Issue 9 asked, who is faster the Flash, or Superman? (Superman in this tale, though why is interesting…) Issue 10 asked, what is Superman without Clark Kent? (Very, very cold…). Issue 15 asked, why does the DCU rely so much on Superman? (He never gives up, making what seems impossible, possible.) So the last part, printed in issue 16 of Superman Giant Volume 1 doesn't just ask one question … it asks a lot of questions, some that fans have wondered about and debated many times.
In part 12, "Questions and Answers", Superman flies the little girl, Alice, that he rescued from the other side of the galaxy back to Earth. Having a lot of time to kill Alice asks Superman every question she can think of … and these are questions many have asked, and Superman answers them all. So if you want any of the following questions answered, read on.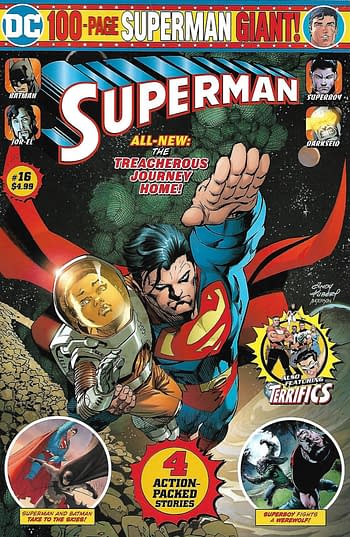 First, how does Superman explain how his powers work? And does Superman fire things out of just his eyes?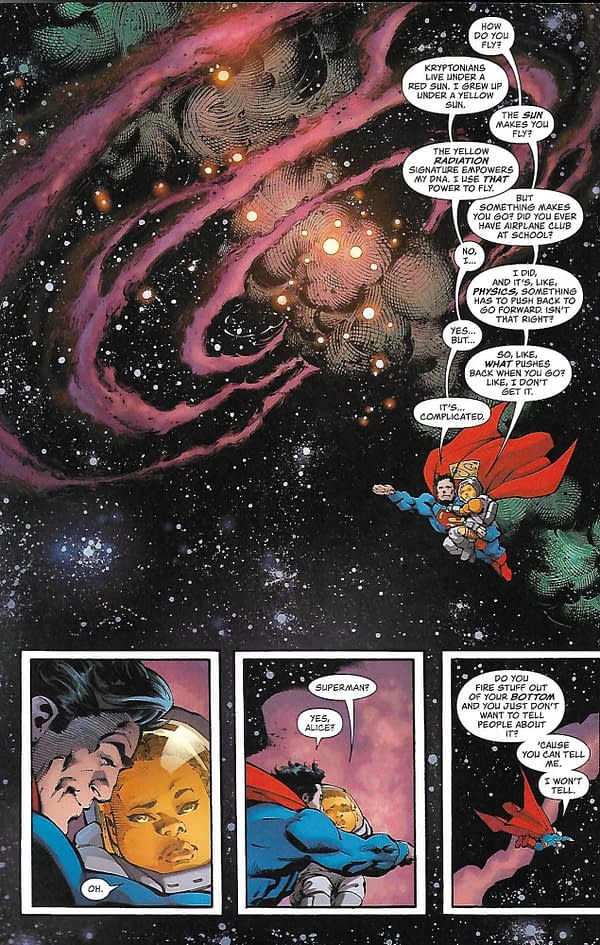 Next, does Superman think he can help everyone who needs help?

Who would win in a fight between Batman and Superman according to Superman? And why? (Yes, Superman knows Batman would win. The why is the interesting part…)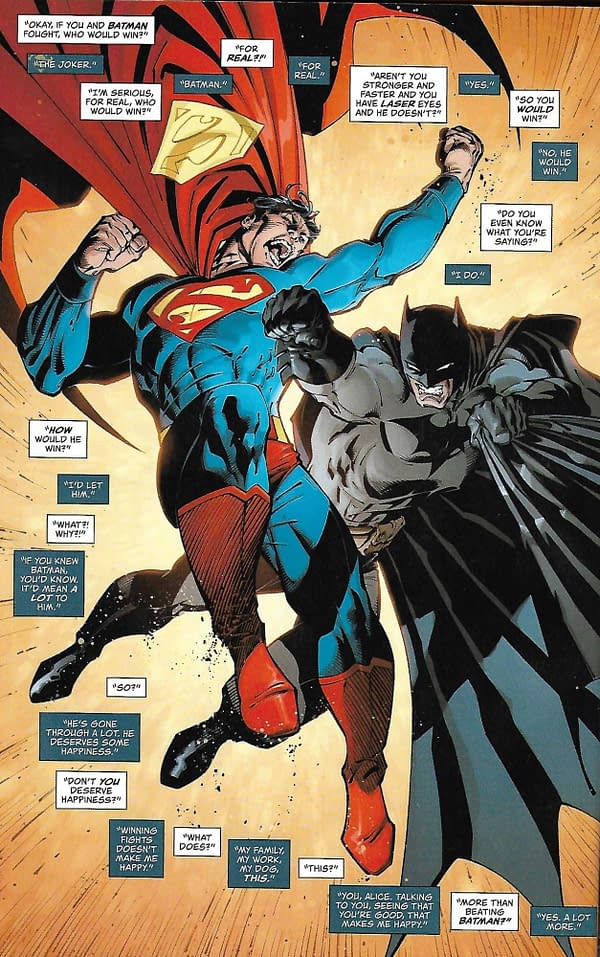 Does Superman believe in God?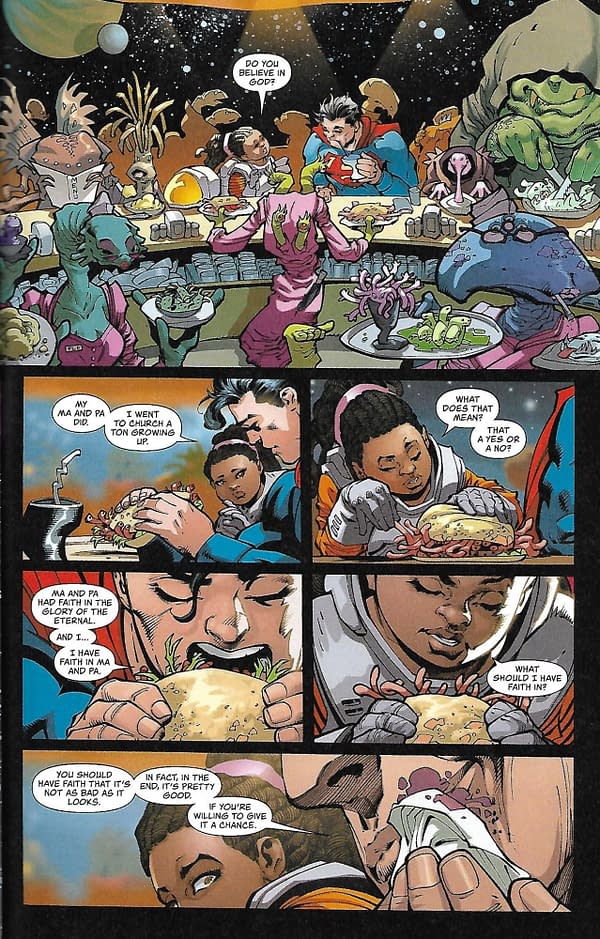 Who is Superman's favorite Robin?

Why does Lex Luthor hate Superman?

Who is smarter, Mr. Terrific or Batman?

What does Superman really think of Wonder Woman?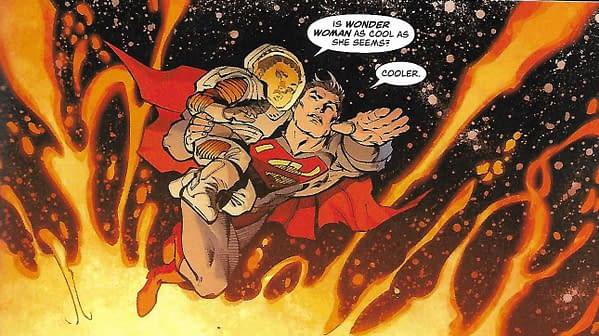 What does Superman really think of Green Arrow?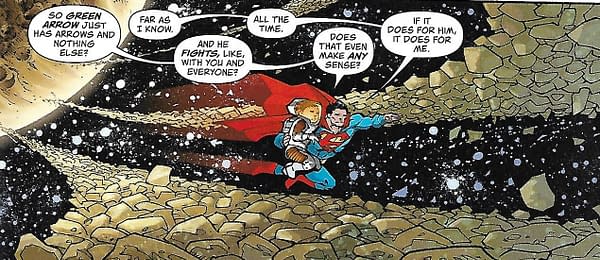 How did Superman win his race with the Flash?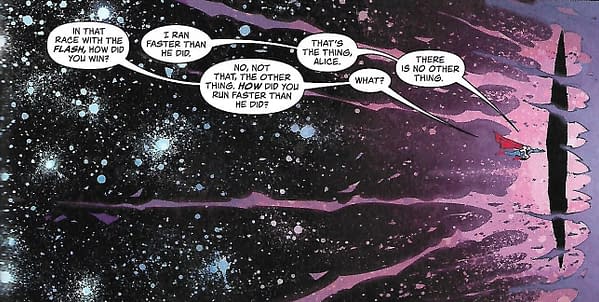 Now these are all Superman's opinions (as written by Tom King), but the frankness and honesty they are delivered with makes them all seem the most concrete answers readers will ever get. There are other questions Superman answers in the story too, but really anyone wanting all the questions and answers should read the Superman: Up In The Sky, either through the Walmart Superman Giant Volume 1, or the miniseries reprinting it, or the hardcover version due out in April 2020.