Welcome to Thank FOC It's Friday, a semi-weekly mailing list, similar to The Daily LITG, but (mostly) every Friday and planned to coincide and cover the demands of Final Order Cut Off. The date when retailers have a last chance to amend their advance orders for comic books without penalty. A final chance for publishers to promote books while orders can still be added. And a time for credits to be amends, new covers to be revealed and a final push given. This is an attempt to sift through them all and find the most relevant items.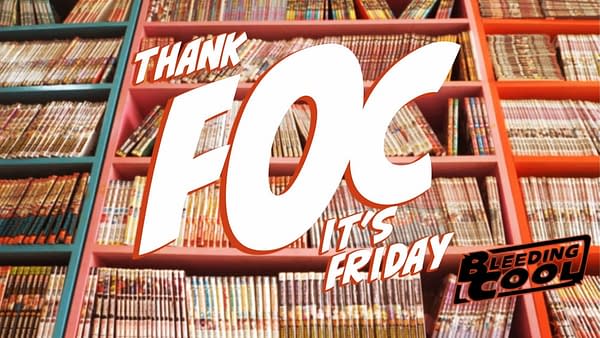 And now it seems that Diamond Comic Distributors has decided to join in. Well, imitation is the greatest form of flattery. You can sign up here or with the form at the bottom.
So what's FOC'ing today?
Matt Hawkins and Colleen Doran launch Clock #1 from Top Cow/Image.
Joe Hill and Martin Simmonds' Dying Is Easy is on #2 – with a Gabriel Rodriguez 1:10 incentive cover.
Chien Ying Yu, David Rodriguez and Martin Coccol launches Rising Sun #1 – returnable with a 20c per copy fee, and 1:10 and 1:25 variants.
How did 20XX #1 do? 20XX #2 is up.
Dark Horse has a number of heavy gaming 'Art Of' books – Art of Cuphead, Art of Doom Eternal and Art of Guild Wars, with retailers getting three-for-two promotions.
Ram V is becoming quite the hit writer at DC Comics – now Darl Horse is publishing his Grafity's Wall graphic novel with Anand Radhakrishnan for the US market.
Kill Whitey Donovan has been picked up for a movie – and is getting its second issue FOC'ed. Maybe don't drop orders quite as fast?
Firefly: Outlaw Ma Reynolds #1 launching from Greg Pak and Davide Gianfelice, returnable. We looked at some Boom FOC covers for Power Rangers/Turtles and Strange Skies Over East Berlin, here's one for Firefly.
Jody Houser, Ryan Kelly and Le Beau L. Underwood kick off a new Stranger Things: Into The Fire series, returnable for retailers who order 20 or more.
Batman #86 – James Tynion and Tony S. Daniel's first Batman together.
Gail Simone returns to the Birds Of Prey Giant #1.
Laura Marks and Kelley Jones are launching Daphne Byrne #1 from DC Black Label Hill House Comics, returnable for retailers who order Justice League Dark Annual #1 numbers.
Watch for the DC Super Hero Girls OGN Powerless.
Superman #19 – the secret is out, one day later, and president of Earth?
Wonder Woman #750 – ten dollars a pop, will you dive down for the 1:100 Jim Lee pencils cover?
Marvels X is launching from Alex Ross, Jim Krueger and Well-Bee, the first in a new wave of Marvels-related comic books.
Star #1 launches from Kelly Thompson and Javier Pina.
Brian Studler takes advantage of public domain, with Red Agent: Island Of Dr Moreau #1 from Zenescope.
What's on your FOC?
Sign up below and we'll see what Thank FOC It's Friday brings next week… on time possibly.
Enjoyed this article? Share it!