The Comics Community Pays Tribute To Seth Kushner(UPDATE)
Last night we learned of the death of photographer, writer and comic creator Seth Kushner. And all through the day we have been learning how many lives he touched. Sites like Robot6, The Beat, Newsarama and Comic Book.com reported the news and the impact of the man, as did Bleeding Cool's Editor-In-Chief Hannah Means-Shannon.
Donations for his young family can be made here, and many people are advocating for donations as his family have been faced with a great deal of medical debt over the past year as Seth struggled to overcome Leukemia. On social media, many have changed their avatars to photographs of themselves taken by Seth, since he was a prolific and talented professional photographer, and have shared their memories of the man.
These are just a very few of those tributes.
Paul Levitz: The wonderfully talented and sweet Seth Kushner has passed, leaving the world a less interesting place and those of us who were his photography subjects a choice between pretending not to age and being portrayed less well. One of the sins of America's medical system is the enormous financial damage it can wreck on families, and Seth's are poster children for this. While the beneficiaries of treatments that allowed him to live longer than expected, they face significant burdens. Please consider helping:http://www.gofundme.com/d8gc2o
Simon Fraser: My Author photo. Credit Seth Kushner
Danny Fingeroth: Very sad to hear the news of the passing of Seth Kushner. Here's a wonderful photo of Harvey Pekar I watched Seth shoot in 2009:
Jonathan Vankin: The man with the camera, the one and only Seth Kushner. This day, backstage at New World Stages shooting the Forever Dusty Fotocomic, was so exciting, hilarious, creative, productive, magical — and just so much fun. And we owe all that to Seth. I don't have adequate words right now, but remembering this moment sums it up for me. Thanks for all that,Seth. Thanks for everything.
Jim Salicrup: Very sad to hear about the passing of Seth Kushner: http://t.co/z1Gtdpazxl He was a very talented and wonderful man. http://t.co/x0JVwFcDUb
Jeff Newelt shared his photo. REST IN PEACE Seth Kushner (http://sethkushner.com), my dear friend, uber-talented photographer and comics-lover who combined both passions in an utterly unique magical way. From shooting his favorite creators for his book LEAPING TALL BUILDINGS (http://www.wired.com/2012/05/leaping-tall-buildings/ ) to shooting Photocomix interviews with major arts/culture characters, and countless comix-y collaborations with Dean Haspiel, for TRIP CITY(http://welcometotripcity.com/…/series/culturepop-photocomix/ ),HANG DAI Editions, and other projects, Seth produced an out-of-this-world ouevre. We were pals and collaborators, mostly both at the same time… so many events, so many articles, so many projects, so many great times…. I'm going to share a gem generated by the Kushner/Jahfurry combo every day for the next week; here's a doozie to start. Seth you are so missed, your singular combination of earntestness, kindness, gumption, and genius is irreplaceable. ******PLEASE help Seth's lovely wife Terra and super son Jackson by donating here: http://www.gofundme.com/d8gc2o
Rob Bass Rest in peace, Seth Kushner. Thank you for so many beautiful pictures.
[http://welcometotripcity.com/…/10/mark-hamill-changed-my-l…/]
Gregory Benton: Seth, lunch will never be this good again. I will miss you every day.
Chris Ryall: Here's some proof that Seth Kushner worked wonders with his photography no matter the subject matter.
Menachem Luchins: My night literal just came to a standstill when I saw the news of the passing of Seth Kushner. Seth was really one of the nicest, strongest, kindest men I ever had the honor to know. We only met a few times, but we kept up here. Like so many others, I watched his recent struggles with his health and I prayed for him and tried to do what I could to help.
I was blessed to have known him even the short time I did and on the superficial level that I did. My heart goes out to those who knew him longer, and better. And my hearts goes out to those of you who never knew him, because now that chance is lost to you.
Tim Ogline: Seth Kushner's final Facebook post… and a reminder of what's really important: the ones we love. Think about Seth's family now in what is without question an absolutely devastating time.http://www.gofundme.com/d8gc2o
Vito Delsante For Seth, Terra and Jackson:
I love Seth. I do. I remember the dream of having our desks face each other, so we looked like detectives in a precinct. Partners. He would be good cop, of course. I would be fly-off-the-handle-maniac cop. For the past few months, Seth, Dean, Adam and I have been putting something together, and I am not in a position to talk about it's future. But working with Seth that closely. Getting notes and giving them, and having that spirit of brotherhood…we're in this together…that's what I'm going to miss most. Because we all know the guy was a talented photographer. We all knew he was a talented writer. But to work with him. Not many of you know that feeling, or that experience and for that, I feel sorry…for you. I did get to experience that, and just like watching a comet, eventually that light fades and goes away, but I got to see it. And it was the brightest star in the sky for what felt like seconds. And it was beautiful and bright and could fill the universe. And the universe was better for knowing Seth Kushner. And so am I.
Katelan Foisy, who collaborated with Seth on photocomix, created a blogpost entitled:
The Caravan 049: Seth Kushner – Offering Up the Night that you can find here.
In it she posted several photos Seth had taken of her including this one:
And said in excerpt:
These are things I remember in between tears. Sentences are really easy why your eyes aren't spouting water and your throat closing up. I want to pound my fists into the ground and summon him back but you can't wish someone back from the other side, no matter how hard you are wishing. You can't rip up the floorboards and resuscitate them. You can't write them back into the pages of an already written book.
All I can do is be happy for the times we had. I can rejoice in being a collaborator, muse, and friend. I worked with Seth on two other projects. We were supposed to do two more. Seth fought hard to beat leukemia. He did it for his family, for his friends, for all those that loved him dearly and deeply. I spoke to him two days before. It's times like this that nothing seems real. I want to call but can't, so instead I reach out to friends and collaborators. We share our stories and images. We share our memories.
And lastly, two more of Seth's close collaborators, George Folz, who was working with Seth on The Roman Nose, and Christopher Irving, who was his longtime partner on Graphic NYC and then the book Leaping Tall Buildings, wrote extensive blog post farewells today.
Folz's can be found here, and reads in part:
Remembering Seth Kushner
Occasionally, life will show you something.
If you're lucky, it is a great, persistent truth.
Throughout life, I've been fortunate enough to have a few instances in which a passing glance has lead to me have a very pure understanding about a particular human being.
I've come to realize that the first time I met Seth Kushner in person, I had this experience.
Irving's post was made to their Graphic NYC archive account, found here, and says: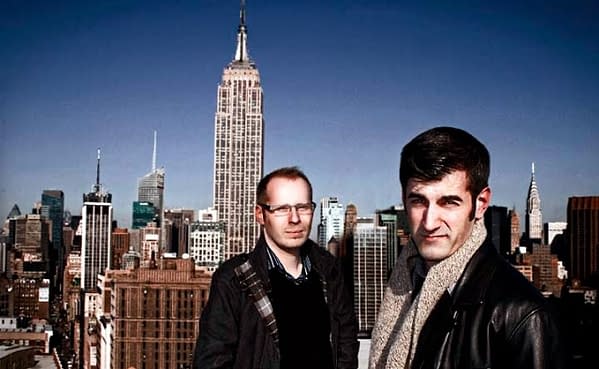 When Seth and I launched Graphic NYC back around 2008, we had no idea it would grow to the size it has, or for as long as it did. Each essay took something like 20 hours on my end (and who knows how many for his photographs) and they never felt real until Seth added the images to my text and hit PUBLISH every Wednesday morning.
*****
I'm not writing an eulogy about him. That's a Post Mortem. I prefer Post Scripts (P.S.) for two reasons: it denotes there will be a correspondence back, and it provides an additional bit of information. So, rather than discuss my feelings over losing my best friend and brother–feelings I know countless others share in our own right–let me give you some extra things to know about our much-missed Mr. Kushner.