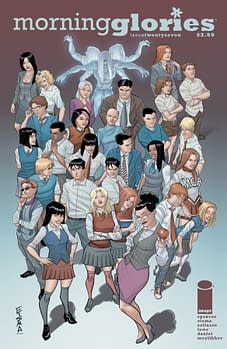 Joseph Kyle Schmidt talked to Joe Eisma.
No stranger to scrutiny, Joe Eisma can withstand the pressures of penciling a book like Morning Glories. Even then, a guy's liable can get nervous from time to time.
"Every issue has some kind of, at least one major shocking scene," Joe says. "I wonder how people are going to react to that. Every time an issue comes out, I'm pretty much useless that day, looking for reactions and reviews and what not."
With Morning Glories comes a rabid fanbase devoted to deciphering the clues contained within each panel and page. The month between issues grows the anticipation, with the latest edition raising even more questions than answering. Whether exciting or stressful, Joe says it never gets old.
"We have some really dedicated fans. I'm amazed at the amount of dedication, and not in a bad way. There'll be guys that post stuff on Tumblr that I think is kind of random and they're scrutinizing it. I'm like, 'Oh my god. Really?!'"
But that's the kind of comic you're getting with Morning Glories: a plot heavy, character driven, blink-and-you'll-miss-it paced, action-packed romp through time, seen through the eyes of all too relatable teenagers navigating through the most fucked up high school since DeGrassi.
Chat rooms, blogs and wikis corral every meticulous detail in hopes of deciphering… something. Whether it's a payoff or yet another mystery, it doesn't matter. When it comes to Morning Glories, that's part of the appeal.
"There's times I'll read a script and I'll be like, aw jeez, the readers are really going to roast us for this. For every answer we give, it just opens up a box of all new questions. People get mad, they're like 'what's going on? We need some answers!' Sometimes I think we're going to get so many tweets, so many posts."
These kinds of sensations don't occur over night. It's taken Joe, writer Nick Spencer, colorist Alex Sollazzo and letterer Johnny Lowe nearly three years, but with the series through its 'First Season' and kicking off the second with Issue #27, the creative team has created a detailed world based in history and theology.
"Nick is very much in control of the story, he has it all planned out," Joe says. "He'll send me lots of reference. Like, when we had our Tower of Babel scene in issue 22, he sent me a lot of reference for that. There's something coming up in issue 28 that he actually sent me, it's not actually visual reference, it's based on some piece of literary text."
What Nick doesn't provide reference for, he's left to his own devices to get it done.
"Google is a great help for finding stuff. Sometimes I'm afraid I'll end up on some kind of FBI watch list because of the stuff Nick puts in the script that I have to Google. But nothing bad has happened yet, so that's good."
Joe also puts his dayjob skills as a videogame developer to use.
"I'll build 3D sets of significant locations. I have a 3D model of the school that I built, just something that I have so I can keep continuity so there's no difference issue to issue."
Don't expect to see the maps in the back of a collected edition any time soon, or at least until the series ends. In fact, don't even expect to see so much as a script excerpt, Joe says.
"So much of his panel descriptions are very spoilerific. There's a scene in the third arc, there's a location. And the place, the actual location [in the panel description] was a spoiler. I don't want to give anything away."
But there are moments that surprise even Joe, such as the recent story reveal that Casey held Hunter's neurologist at gunpoint, calling back to issue 8.
"There's a lot Nick keeps me in the dark about. And part of me thinks its just because he wants to have the freedom to change it if he changes his mind. I didn't know what that was going to be Casey holding the gun to the doctor's head. Pretty cool reveal, I thought."
Though it's Nick's scripts that guide the story, Joe's pencils are what give it life. With the help of his artistic collaborators, each issue of Morning Glories is a visual feat with distinct cinematic cues. And despite any formal art training, Joe's made a name for himself through consistency, practice, and talent.
"My college degree was in film. I strive for [a cinematic feel]. That was something that really affected me in film school … Stanley Kubrick, Alfred Hitchcock and Ridley Scott, those guys had a profound affect on me and how I approach storytelling. When I lay out a page or a sequence, I always try and think of stuff from that perspective."
He adds with a laugh, "At least in that perspective I feel like my parents' money wasn't wasted on college."
Joe draws the monthly Image Comic from his home in Wylie, Texas, which he shares with his wife and two sons. Though he liked to draw as a child, he attended film school after graduating high school. After film school came grad school where Joe got into game development, which continues to pay the bills.
And almost always following a hit indie comic come job offers from bigger publishers. But that doesn't mean you should expect a hiatus for his run on an X-Men book, or even a fill-in.
"Morning Glories opened a lot of doors for me, of which I am very grateful. But the important thing for me is to not dilute Morning Glories, or in any way risk ruining it."
He takes the opportunities as they come, like when asked to do an issue of Sam Humphries' Higher Earth from Boom!
"Especially now that we've gone on, I've gotten to be quite a bit faster with drawing, so opportunities like working with Sam, when it came up, I was this close to not doing it. But it just worked out, I was between scripts, I was able to knock it out pretty quickly. It's a juggling act … Morning Glories is not a short book, by any means."
And though he might dabble with a different series from time to time, he'll be chronicling the students of Morning Glory Academy for the long haul.
"It's fun, it's great. I wouldn't trade what I do for anything."
Enjoyed this article? Share it!