Things to do in London in January 2019… if you like comics, of course. Exhibitions followed by events… let us know if we missed any.
Exhibitions: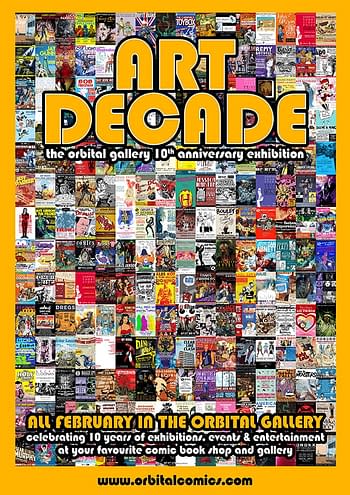 Art Decade: The Orbital Gallery 10th Anniversary Exhibition, Orbital Comics. Until February 28th.
A lot can happen in 10 years, but you'll be amazed at exactly how much has at Orbital Comics' February exhibition Art Decade! This impressive collection of over 200 events posters documents a decade of exhibitions, events and entertainment hosted in the Orbital Gallery.
Britain's Best Political Cartoons 2018, Putney Cartoon Gallery. An exhibition of original cartoons covering the major events of 2018 by Britain's leading national newspaper cartoonists such as Steve Bell, Peter Brookes, Gerald Scarfe, Christian Adams, Dave Brown, Chris Riddell, Morten Morland, Steve Bright, Peter Schrank, Ian Knox, Ben Jennings and Patrick Blower amongst many others. until March 2019.
Journeys Drawn: Illustration from the Refugee Crisis, An exhibition telling refugee stories, both observed and experienced first-hand, Multi-media work by 12 contemporary illustrators will include Olivier Kugler's portraits from Calais and George Butler's reportage from Syria, animation by Majid Adin and manga by Asia Alfasi. House Of Illustration, 9th November to 10th March 2019.
Quentin Blake: The Model as Artist. House Of Illustration. 9.30am-4pm. £7.50. Until 24th February.
An exhibition of Quentin Blake's first figurative drawings from the 1950s.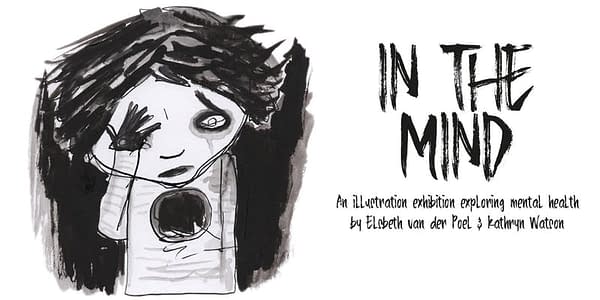 In the Mind, Free Space Project, Kentish Town Health Centre, February 7th – March 20th. Monday-Friday.
An illustration exhibition exploring mental health by artists Elsbeth van der Poel and Kathryn Watson. Through their unique drawing styles each artist has created a fantastical world of monsters, friends, worries and hope based on their own lived experience.
EVENTS:
Friday, 1st February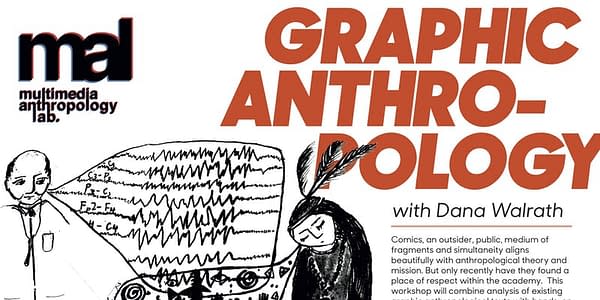 Graphic Anthropology | MAL Seminar with Dana Walrath, Darryl Forde Seminar Room, UCL Anthropology Department 6-8pm
An evening seminar and workshop on Graphic Anthropology led by Dana Walrath. The seminar will be followed by a drinks reception. "Comics, an outsider, public, medium of fragments and simultaneity aligns beautifully with anthropological theory and mission. But only recently have they found a place of respect within the academy. This workshop will combine analysis of existing graphic anthropological texts with hands-on exercises in creating ethnographic comics and using comics as a tool for all phases of anthropological inquiry: from field work, to writer's block, to graphic ethnography." – Dana Walrath
2nd February.
Professional Practice Day for Children's Book Illustrators with Orange Beak. House Of Illustration. 9.30am-4pm. £40.
Learn how to present your work effectively to children's book publishers.
Pen to Print – Comic Book Workshop, Barking Library 10am-Noon
Join Wallis Eates at this fantastic workshop, whether it's learning new skills or to brush up on your talent, these workshops will give you the confidence to produce some great art work.
Ben Aaronovitch & Andrew Cartmel:  Talk, Q and A and book signing, Chipping Barnet Library 2.30-4pm
Sunday, 3rd February
Short Course: Beginners' Guide to Drawing with Merlin Strangeway. House Of Illustration. 11am-1.30pm. £250.
A structured approach to drawing for beginners, the curious or for more experienced artists.
Monday, 4th February
Church Street Library Graphic Novel Club, Church Street Library, Marylebone, 6:30 – 8pm
Brompton Library Graphic Novel Reading Group, Upstairs in the Brompton Library Learning Space, 6:30 – 7.30pm
Tuesday, 5th February
Shoe Lane Comic Forum, Shoe Lane Library, Little New Street. 5.30-7pm
Islington Comic Forum, North Library, Manor Gardens. 6.30-7.30pm.
Centre for Collective Violence, Holocaust & Genocide Studies seminar: Transmuting Transgenerational Trauma: Comics, Re-humanisation, and Kinship across Genocides with Dana Walrath. IAS Forum Ground Floor, South Wing, UCL 5.30-7.30pm.
Dehumanisation—stripping individuals of their personhood—provides the cognitive shift that permits human slaughter, enslavement, experimentation, and other abuses normally reserved only for animals. Through making those who have lost their personhood visible and tangible, through showing the process of dehumanisation in action, comics have the power to re-humanise and to heal. I will present a series of nine interactive comics from my installation "View from the High Ground" that allow readers to experience the process of dehumanisation and tell of how making this piece and bringing this work to audiences, ranging from inner city high school students to scholars and activists from across the globe, was part of my own healing process. Focusing on nine of the many genocides that have taken place over the past 500 years (those committed against the first peoples of the Americas, African Slaves in the US, Australian Aborigines, Armenians, Jews, Cambodians, Tutsi, Bosniaks, and the Rohingya). "View from the High Ground" reflects the characteristics that all these genocides share despite their spatial and historical specificity.
Wednesday, 6th February.
Comics Culture and Roy Lichtenstein Revisited: Analyzing a Forgotten 'Feedback Loop', University of Chichester, 6-7.30pm
Coming directly from Director of the Institute of Arts and Humanities at the University of Chichester and Professor of Cultural and Visual History, Hugo Frey's longstanding research collaborations with Professor Baetens (University of Leuven), it will take you from Paris to New York and back again (via Brussels and Antwerp) on a journey into some previously hidden aspects of the history of comics and mid-1960s pop art. Maybe unsurprisingly, the world of French new wave cinema will form a chapter of the story.
Creative Fun for 2-5s: February. House Of Illustration. 10.30am-12pm. £5.
A fun introduction to our gallery and making session tailored specifically to welcome 2-5 year-olds, parents and carers.
Thursday, 7th February
In the Mind Private View, Free Space Project, Kentish Town Health Centre, 6-8.30pm
In the Mind is an illustration exhibition exploring mental health by artists Elsbeth van der Poel and Kathryn Watson. Through their unique drawing styles each artist has created a fantastical world of monsters, friends, worries and hope based on their own lived experience.
Troopers, Guests Only, Location available to guests.
Saturday, 9th February
The Secret Protectors signing (Adam & Ben), Orbital Comics, 2-4pm
WIP (Work In Progress Comics), Royal Festival Hall, South Bank, 11.30am-3.30pm
Ben Aaronovitch & Andrew Cartmel: Authors' Talk, Kensal Rise Library, Bathurst Gardens 3-4.30pm £3
Monday, 11th February
Laydeez do Comics London, The Koppel Project Hive Gallery 6.30-8.30pm.
SPEAKERS: Gareth A. Hopkins, Akhila Krishnan. Free! With a chance to purchase one of our fabulous LDC designer tote bags and tea towels.
Tuesday, 12th February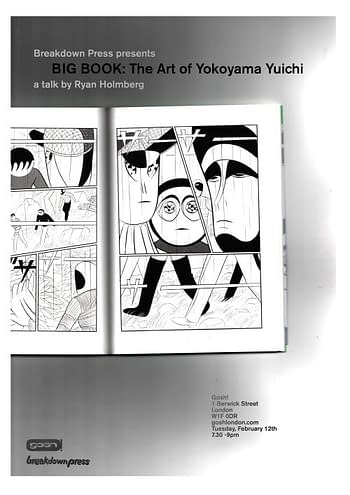 Big Book: The art of Yokoyama Yuichi – talk by Ryan Holmberg, Gosh Comics 7.30-9pm
To mark the release of Yokoyama Yuichi's Outdoors from Breakdown Press, we'll have manga scholar Ryan Holmberg here to discuss the work of the brilliant manga experimentalist on Tuesday the 12th February, 7.30pm-9pm.
Peckham Library Graphic Novel Book Group, Peckham Hill Street, 6pm to 7.30pm
London Comic Book Club: Books of Magic by Neil Gaiman (+The Truth is a Cave in the Black Mountains), The Sheaf, Southwark, 7-9pm
Wednesday 13th February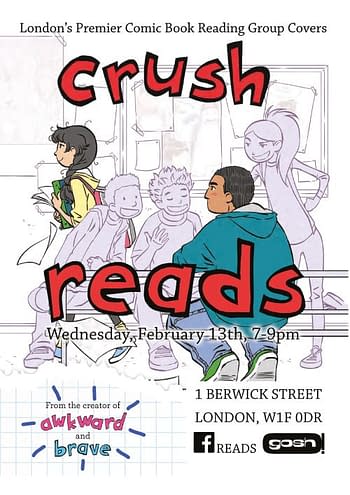 Reads February 2019: Crush, Gosh Comics 7-9pm
Valentines Day is upon us, and with our monthly reading group, Reads, falling on the 13th of February, 7-9 pm, we felt it was only appropriate to keep in-theme, so we're looking at Svetlana Chmakova's latest YA hit, Crush!
Friday, 15th February.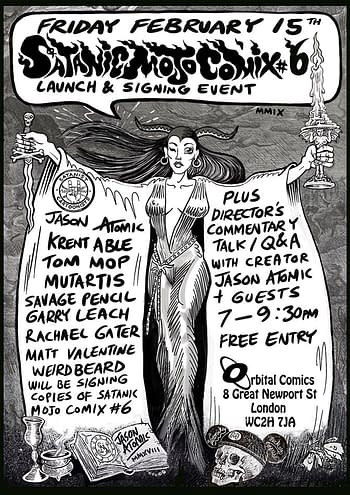 Satanic Mojo Comix #6 Launch and Signing, Orbital Comics, 7-9.30pm.
This 68-page giant brings to a close Volume 1 of the world's greatest satanic underground comic, and ties up many plot threads that have been left dangling over the last few years. Come along to get your copies signed by contributing artists, including – all the way from Florida USA – "Shady Kids" creator Weirdbeard! Also signing: Krent Able, Savage Pencil, Tom Mop, Mutartis, Billy Chainsaw, Rachael Gater and Matt Valentine. We will also have a 'Director's Commentary' and Q&A by Satanic Mojo founder Jason Atomic. FREE ENTRY, Comix £6.66 each
Saturday, 16th February.
Visual Storytelling Studies – Session 4: Believable Characters, Royal Festival Hall, South Bank Centre, 11am-1pm
Family Workshop: Create a Parade of Curious Characters with Marianna Madriz. House Of Illustration. 2pm-5pm. £6.
Be inspired by Corita Kent's work to illustrate a cast of curious characters at our next workshop for children and families.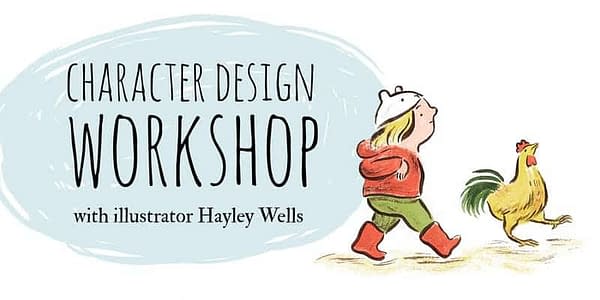 Character Design Workshop with illustrator Hayley Wells, Dark Side Comics, Chelmsford, 11am-1pm
Learn how to develop dynamic characters for comics and picture books in this playful workshop! Hayley will guide you through the process, helping you to understand your character's personality through simple sketchbook exercises.
Sunday, 17th February
London Comic Mart, Royal National Hotel, 9-6pm
Thursday. 21st February
Barbican Comics Forum, Barbican. 5.30pm-7pm. A fun and informal book group dedicated to the understanding and enjoyment of the multifaceted medium of comic books and graphic novels.
Saturday, 23rd February
John Charles Technofreak signing, Orbital Comics, 5-6pm
Adult Masterclass: Mrs Noah's Collage. House Of Illustration. 10am-4pm. £60.
Discover how to use collage to make stunning picture book illustrations, with James Mayhew.
Alez Paknadel and Andy Diggle signing Incursion #1, Forbidden Planet, 3–4pm. Signed copies will be available here.
Sunday, 24th February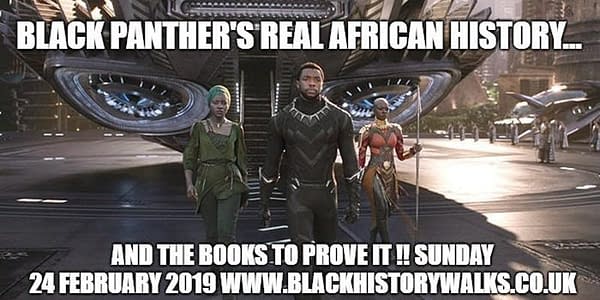 Black Panther's real African history + the books to prove it by Black History Walks, Thoughtworks Ltd. Wardour Street 3-6pm
Monday, 25th February
Dalston Comic (creators) Club, Dalston CLR James Library, Dalston Lane, 6:30 – 7:30pm
Tuesday, 26th February
In the Mind:  Artist talk with Elsbeth Van Der Poel & Kathryn Watson, Free Space Project, Kentish Town Health Centre, 6.30-8.30pm
Join our exhibiting artists Elsbeth van der Poel and Kathryn Watson to hear more about their exhibition In the Mind and their creative practices. Through their unique drawing styles each artist has created a fantastical world of monsters, friends, worries and hope based on their own lived experience.
Wednesday, 27th February
Comics Social Club, Central Bar, Royal Festival Hall, 6pm
If you have an event that needs listing, contact richjohnston@bleedingcool.com
Enjoyed this article? Share it!