Tonight Bleeding Cool Is Moderating a Panel On Gender In Comics In Brooklyn – And There's Even a Special 'Zine
Tonight, the 7th of November, I will be moderating a panel on behalf of Bleeding Cool on Gender in Comics, joined by five female comics creators with a range of experience and publications in indie comics and the mainstream, ranging from autobio works to genre comics. The approach in this panel is a questioning one. Do the issues that typically come up in panels or discussions devoted to gender in comics really serve creators adequately, or have they become crutches and truisms to fall back on that only get in the way of real-life issues that creators face when they sit down to the drawing board? Tonight we'll hear directly from creators about what concerns them the most, and in particular, the ways in which genre comics have opened doors for greater creativity and self-expression when it comes to bringing diversity to comics. This promises to be an evening of radical honesty and some high-caliber tips on how to make the most of changes in comics to have greater creative freedom.
So What? Press is hosting the event alongside Hullabaloo Books and even producing a special 'zine for the event. What a treat! The space is "intimate" so turn up early for good seats and stay around for signings from our panelists.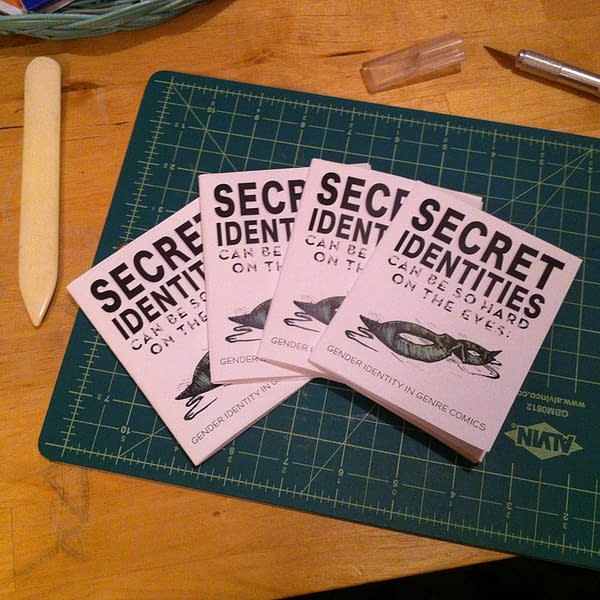 Here's information about the event:
"Secret Identities Can Be So Hard On The Eyes: Gender Identities in Genre Comics", a panel discussion and satellite event leading up to Comic Arts Brooklyn, will be held at Hullaballo Books in Brooklyn in conjunction with So What? Press. The event will run from 7-10PM at 711a Franklin Avenue, on Park Place, Brooklyn.
Dave Kelly of So What? Press, who put the panel event together, describes the discussion thus: "If you know genre comics, you know the perceptions that come with them: Masks, capes, feats of strength, damsels in distress…and sometimes damsels in worse situations than that. For better or worse, mainstream comics are built on tropes such as these. What you may not know is that, like a good secret identity, sometimes there is more than meets eye. Genre is back in a big way – – from the movies we watch right down to the comics being published outside the mainstream – – and creators everywhere are working to redefine what it means to be a hero as well as challenging the presupposition that the good guy always gets the girl…because sometimes, as we all know, the girl has to save the guy's ass".
The participants in the panel will be local Brooklyn creators LARA ANTAL (Tales of the Night Watchman), MARGUERITE DABAIE (The Hookah Girl and Other True Stories), ROBIN HA (Women of Marvel, The Dress), HAZEL NEWLEVANT (If This Be Sin), and MOLLY OSTERTAG (Strong Female Protagonist) talking about how comics are changing for the better and how you the reader (or fellow creator) can help implement such change. Moderated by Hannah-Means Shannon of Bleeding Cool.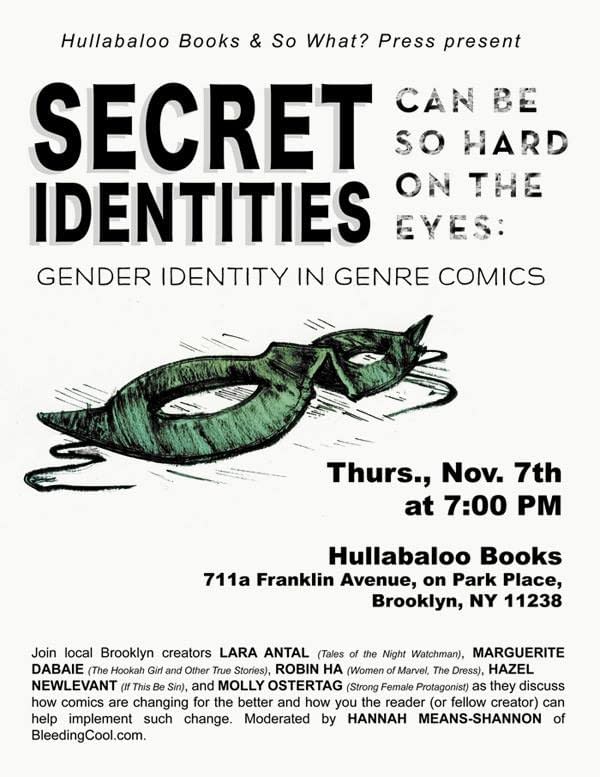 And here is some information about our panelists:
Lara Antal (Tales of the Night Watchman)
(http://www.lara-antal.com/)
Lara Antal hails from the great land of Wisconsin where she spent her chilly upbringing indoors honing her craft as an illustrator. After graduating summa cum laude from MICA, she moved to NYC and began self-publishing comics. She currently illustrates Tales of the Night Watchman with collaborator Dave Kelly. In 2012, they launched So What? Press which published her first solo book, A Comic Guide to Brewing. She spends her free time listening to old radio shows, sipping coffee, and watching classic films starring Vincent Price. She currently resides in Prospect Heights, Brooklyn.
Marguerite Dabaie (The Hookah Girl and Other True Stories)
(http://www.mdabaie.com/)
Born in San Francisco, Marguerite Dabaie moved to New York City to pursue a BFA in Cartooning from the School of Visual Arts which was followed by an MFA from the Fashion Institute of Technology. While at SVA, she was awarded two grants for her comic, The Hookah Girl and Other True Stories, an autobiography about Palestinian-Americans. The differences she has felt between Arab and American cultures heavily informs her work. She is currently working on a new comic, A Voyage to Panjikant, a work of historical fiction about Central Asians during the height of the Silk Road. She has worked extensively as a researcher and educator in the fields of comics and history and has had her work shown in galleries in Brooklyn, Manhattan, and Italy.
Robin Ha (Women of Marvel, The Dress)
(http://robin.megaten.net/)
Robin Ha is a South Korean born textile designer and cartoonist living in Brooklyn, New York. She is part of Drawbridge, a cartoonist collective in Gowanus. She's currently working on a super natural thriller, The Dress, and also a memoir about her unexpected move from Seoul to Huntsville, Alabama in 1995. You can find her recent work in the last issue of Strumpets: Going Place and also Shattered: Asian American Comics Anthology. Her original superhero comic strip on fabric, Quilt Girl, can be found in fabric and craft stores in the U.S. Her short comics are online at activatecomix.com.
Hazel Newlevant (If This Be Sin)
(http://newlevant.com/)
Hazel Newlevant is a cartoonist who grew up in Portland, OR and is now on the verge of graduating from the School of Visual Arts. She's the creator of many mini-comics about music, sexuality, mythology, human relationships and frailties with plenty of dark humor. She has been honored with the 2013 Queer Press Grant for her comic If This Be Sin and the Xeric Award for Ci Vediamo. Every week, she goes to a show and posts Concert Review Comix on her website, newlevant.com. She likes to dance around, alone or with others.
Molly Ostertag (Strong Female Protagonist)
(http://www.mollyostertag.com/)
Molly Ostertag grew up in the Hudson Valley, lives in Brooklyn, and is a senior at the School of Visual Arts. Although she spends most of her time drawing in her room, she enjoys making comics about tough women going on cool adventures! She is the artist half of the webcomic Strong Female Protagonist.
Hannah Means-Shannon is Senior New York Correspondent at Bleeding Cool, writes and blogs about comics for TRIP CITY and Sequart.org, and is currently working on books about Neil Gaiman and Alan Moore for Sequart. She is @hannahmenzies on Twitter and hannahmenziesblog on WordPress. Find her bio here