Transformers #12 was solicited as being drawn by Kei Zama. Indeed, with a cover by Alez Milne, the solicitation promised 'The return of both Alex Milne (Transformers: Unicron) and Kei Zama (Optimus Prime)'
Not so fast. While Milne is still drawing the cover, the internal art credit has now transformed into Sara Pitre-Durocher, who worked on the pre-reboot Transformers books for IDW. But Milne will be returning for the subsequent issue.
Because Transformers #13 was solicited with art by Anna Malkova and Bethany McGuire-Smith and has now similarly transformed into Angel Hernandez and Alex Milne who worked on previous issues.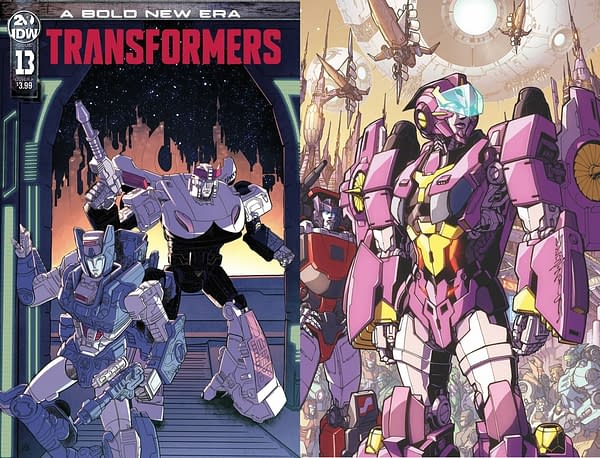 Any more for any more? Here are the original solicitations for both:
TRANSFORMERS #12 CVR
(W) Brian Ruckley (A) Kei Zama (CA) Alex Milne
Out in the vast galaxy, Cybertronian explorers encounter all manner of beings-some friendly and some in stern opposition to Cybertronian expansion. When relations start to crumble and violence is threatened, there's only one bot to turn to-Nautica, head of xeno-relations.
All your favorite Transformers characters as you've never seen them before!
The return of both Alex Milne (Transformers: Unicron) and Kei Zama (Optimus Prime)!In Shops: Sep 18, 2019
Final Orders Due: Aug 26, 2019
SRP: $3.99
TRANSFORMERS #13 CVR A CHAN
(W) Brian Ruckley (A) Anna Malkova, Bethany McGuire-Smith (CA) Winston Chan
The hunt is on! Chromia and Prowl launch a massive security operation, desperately trying to track down two murderers. Bumblebee visits an injured Windblade, Orion Pax, Sentinel Prime, and Megatron wrestle for control and influence-and nobody knows whose side (if anyone's) Termagax and Starscream are on in all of this!
* Now shipping monthly!
* A new arc begins here!
* When things get bad, can Security Operations tell who is friend and who is foe?
* The bold new era continues! Cybertron's fate hangs in the balance as Transformers begins a new story arc!In Shops: Oct 09, 2019
Final Orders Due: Oct 16, 2019
SRP: $3.99
Enjoyed this article? Share it!