Will Jonathan Hickman's House Of X and Powers Of X Tie In With His Avengers Run?
Lots of the promo art – and the promo items – for House Of X and Powers Of X, the new X-Men series are rather floral based.
Trees, flowers, specific flower variant covers, and there are seed packet promotional items. So, we get it, plants everywhere, including Krakoa, the living island who was responsible for the formation of the second team of X-Men back in the seventies.
So, basically, plants.
Jonathan Hickman's run on Avengers, which tied into his previous work on Fantastic Four and the subsequent Secret Wars series, also was a little plant-obsessed.
The Builders were the universe's oldest race, who created systems to control the structure of space and time, including using different races called Alephs, Gardeners, Curators, Abyss and Caretakers.
Yup, Gardeners. Such as Ex Nihilo who, along with his sister Abyss, arrived on Mars, terraforming it creating an atmosphere and vegetation in the hope of creating a "perfected" version of mankind. And then launching Origin Bombs at Earth to attempt similar change.
A mutant paradise on Earth? No Humans Allowed? A Genosha/Utopia/Krakoa idyll?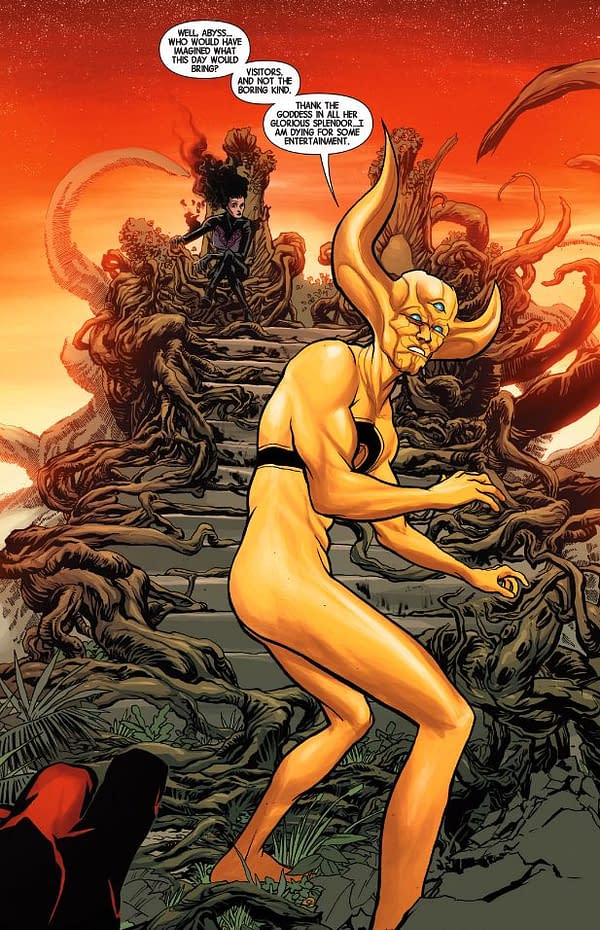 Could all the foliage we've been seeing have something to do with a terraforming experiment? In the first issue of House Of X, we do get to see a little of Mars…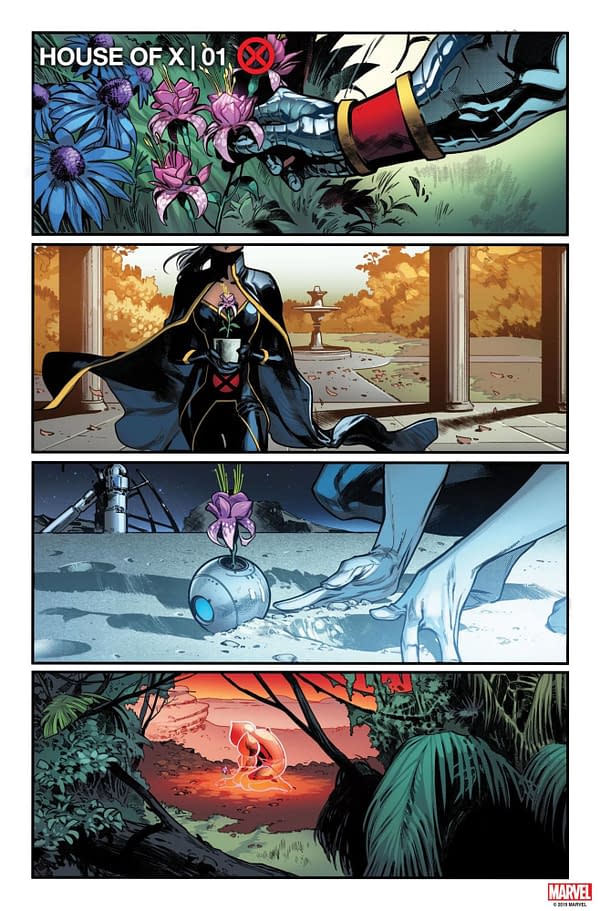 That last panel.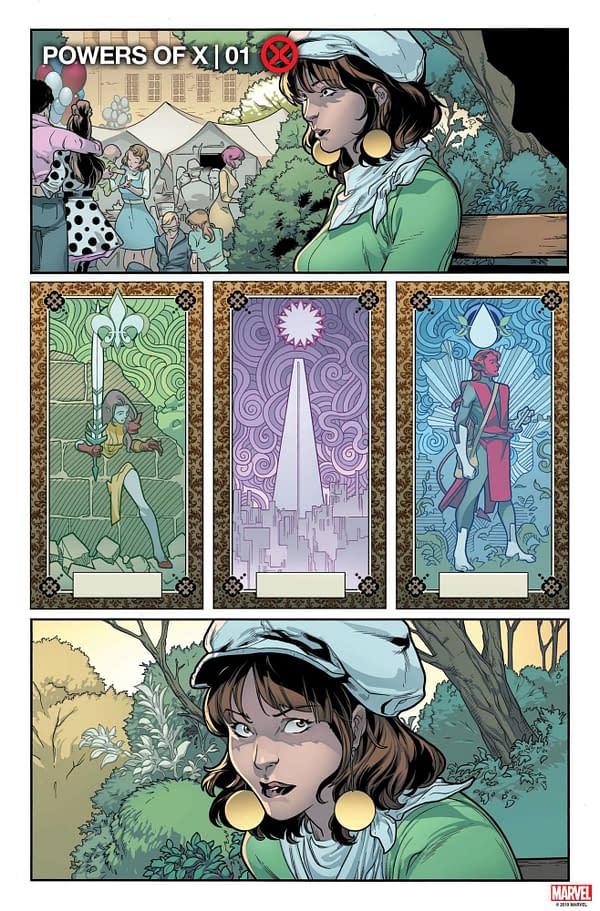 And with flowers and foliage everywhere, and that repeated purple flower, all very Edge Of Darkness/Trees…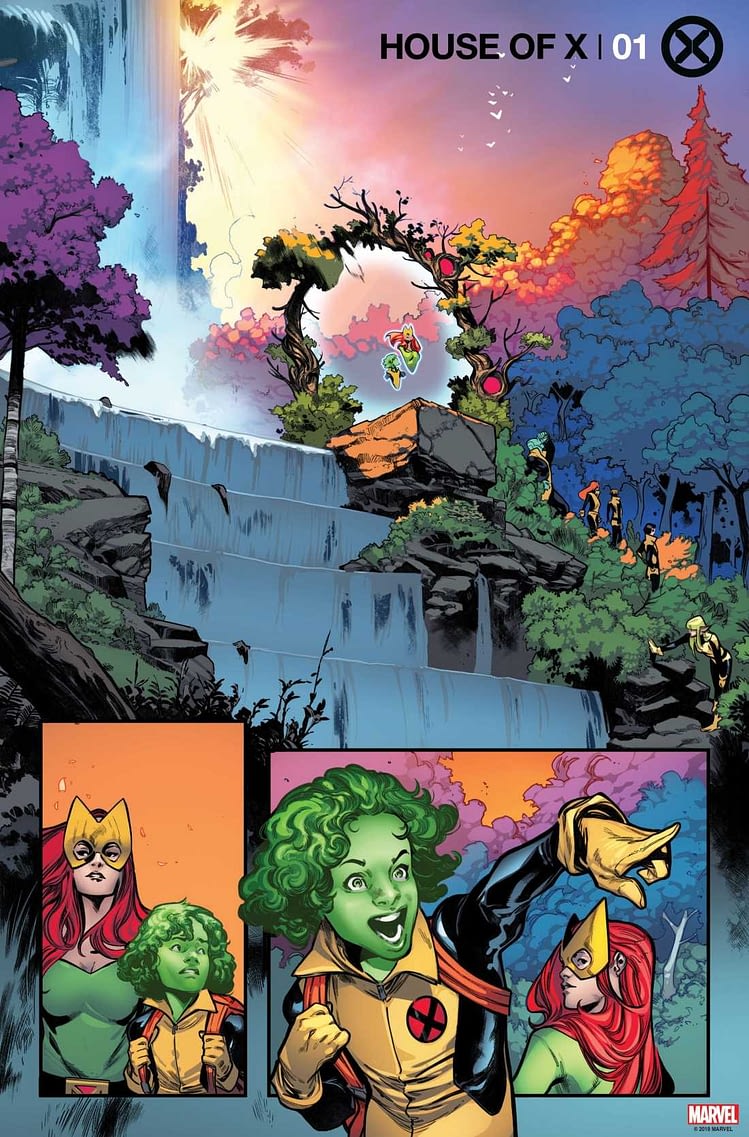 And Bleeding Cool did reveal the first words from the first issue of House…
'HUMANS OF THE PLANET EARTH. WHILE YOU SLEPT THE WORLD CHANGED.' – Professor Charles Xavier
If you were talking to the humans of the Planet Earth, where might you be standing?
HOUSE OF X #1 (OF 6)
(W) Jonathan Hickman (A/CA) Pepe Larraz
FACE THE FUTURE! Superstar writer Jonathan Hickman (SECRET WARS, AVENGERS, FANTASTIC FOUR) takes the reins of the X-Men universe! Since the release of Uncanny X-Men #1, there have been four seminal moments in the history of the X-Men. Giant-Sized X-Men. X-Men. Age of Apocalypse. New X-Men. Four iconic series that introduced a new era for Marvel's mutants and revolutionized the X-Men. In House of X, Charles Xavier reveals his master plan for mutantkind…one that will bring mutants out of the shadow of mankind and into the light once more. Rated T+ In Shops: Jul 24, 2019 Final Orders Due: Jul 01, 2019 SRP: $5.99