Some of the recent What If? books have gone high concept with their alternate-universe storytelling, such as What If? X-Men, which reimagined the X-Men as cyberpunk hackers. But What If? Thor is a much more classic take on the concept, going back to a pivotal moment in Marvel Comics lore and changing the outcome of one fateful moment to produce a wildly different world as a result.
In the case of What If? Thor, the book asks the question: what if Thor was raised by frost giants, in essense reversing the roles of Thor and Loki, the son of Frost Giant King Laufey, who was raised by Thor's father, Odin, in Asgard. But for this scenario to come true, that means that Odin has to die, which he does in brutal, squishy fashion in this preview of What If? Thor #1.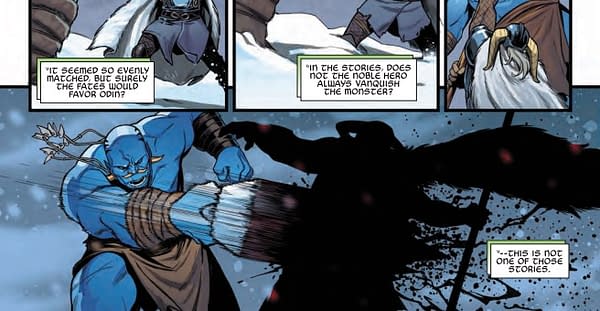 Yuck!
What If? Thor #1 hits stores on Wednesday.
What If? Thor #1
(W) Sacks, Ethan (A) Michele Bandini (CA) Marco Checchetto
When young THOR'S father falls to the King of Giants, his life is forever changed. He's ripped from Asgard to be raised in a world of persistent winter, learning the brutal way of life in Jotenheim. But what happens when the runt of the giants, LOKI, is under the shadow of his new step-brother?
Rated T+
In Shops: Oct 24, 2018
SRP: $3.99
Enjoyed this article? Share it!