Konami Reveals "Yu-Gi-Oh!" TCG Releases For April & May 2020
Today, Konami revealed two more releases for the Yu-Gi-Oh! trading card game, set to arrive during the Spring of 2020 to shake up tournament play. The first of the two will be Structure Deck: Mechanized Madness. This is a ready-to-play right out of the box set which brings with it a new wave of support cards. Not too hard to add to the Machina arsenal. This has 42 cards in total containing 37 Commons, 3 Super Rares, 2 Ultra Rares, and 1 Double-sided Deluxe Game Mat/Dueling Guide. This set will run you $10 a pack, set to be released on April 17th.
Meanwhile, in May you'll see Eternity Code. This set follows directly on from Ignition Assault, and introduces new cards for Synchro, Xyz, and Fusion-based strategies. This set has 100 cards comprised of 50 Commons, 26 Super Rares, 14 Ultra Rares, and 10 Secret Rares. This set will run you $4 a pack and will be released on May 1st. Here's more info on Eternity Code coming to Yu-Gi-Oh! TCG.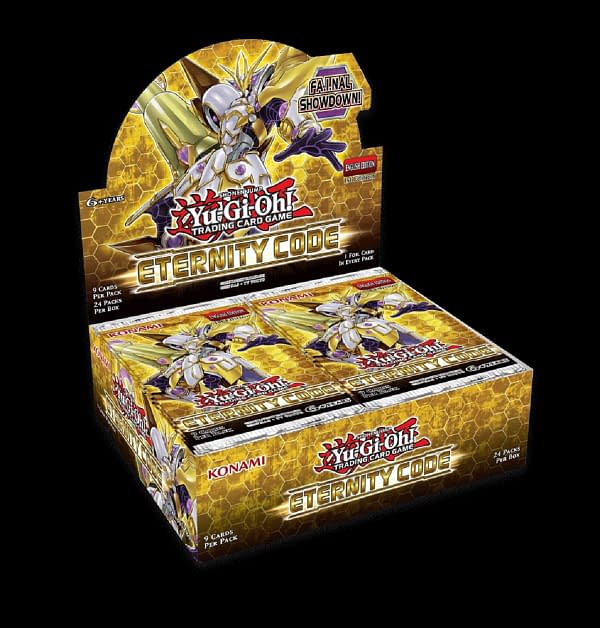 • Eternity Code follows directly on from Ignition Assault with new cards for @Ignister, Ancient Warriors, and the world premiere theme: Plunder Patroll! It's now easier than ever to take advantage of the Plunder Patroll's easy access to the Extra Deck.

• The ultimate @Ignister Link Monster is here! This Link-6 monster is unaffected by all other card effects and its ATK ranges from 3000 to 6000 depending on how many monsters you use as Link Material.

• New cards for strategies from 2019's Rising Rampage, Chaos Impact, The Infinity Chasers, Fists of the Gadgets, and Mystic Fighters, including the first Link-4 "Code Talker" and incredible new Dragonmaids!

• Duelists who want to be fully prepared should look to Duel Overload to pick up crucial cards for Decks like Dinosaurs, Madolche, and Witchcrafters before strong, new cards for those themes arrive in Eternity Code!

• Powerful general use cards that can go into any Deck, including a new Effect Monster from the same lineage as Ash Blossom & Joyous Spring!