Konami has three big releases coming out for the Yu-Gi-Oh! Trading Card Game this month, and we have more info and pics on two of them coming up. We already know that the Duel Power sets are coming out today, which will include 100 rares and 40 new cards. But the two we have more info on are the Golden Duelist Collection Duelist Portfolio, which comes out April 5th for all your display needs, and the new structure deck Order of the Spellcasters due out on April 19th. Check out the pictures and descriptions of both below, including price points.
Following up on the February release of the Golden Duelist Card Case, Card Sleeves and Game Mat you can now show off your trades with the Golden Duelist Collection Duelist Portfoliofeaturing an exclusive glittering foil finish, unique to the Golden Duelist Collection. The stylish black and gold motif runs through all four accessories, lending a touch of luxury to your Dueling that even Kaiba would approve of. The Golden Duelist Collection Duelist Portfolio arrives April 5, and includes 10 pages with 9 card pockets per page, displaying up to 180 cards. MSRP: $9.99 per Portfolio.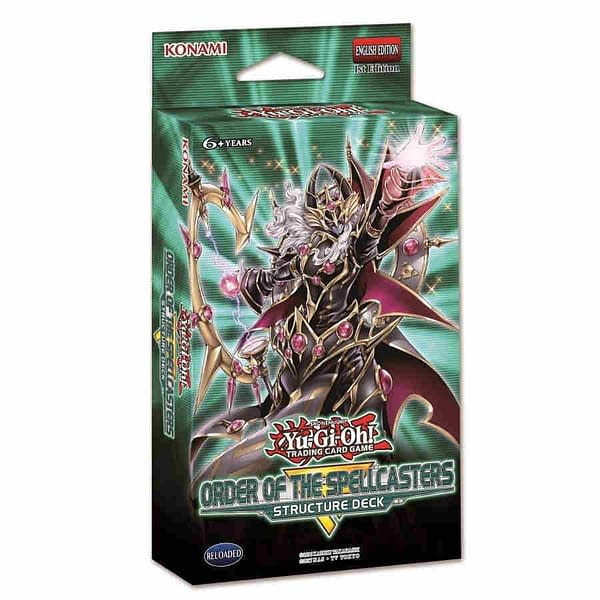 Structure Deck: Order of the Spellcastersassembles a cast of classic conjurers and imbues them all with a new form of trickery: abilities that let them change from powerful monsters into raw magic and back again. Fan-favorites return as Pendulum Monsters, capable of leaping in and out of your Spell and Trap Zones with surprising Special Summon effects, all powered by the "Spell Counter" mechanic. Endymion, the Master Magician makes a revolutionary return, demolishing the field when he arrives and negating your opponent's Spells and Traps. The new leader of the Magical City uses Spell Counters as sorcerous shields to protect himself from targeting and destruction, and should he ever be destroyed you'll search any Normal Spell card you want, straight from your Deck.

Endymion's acolytes are all fierce Pendulum Monsters that Special Summon not only themselves, but more support from your hand, Main, and Extra Deck. A new Link Monster joins the battle to make even bigger plays, turning your Spell Counters into raw destructive power while new Spell Cards let you search and reuse your most powerful Spellcasters (all while helping you gather more Spell Counters). Combined with popular Spell Cards like Left Arm Offering, Spellbook of Secrets, and the peerless Pot of Desires, Structure Deck: Order of the Spellcasters is loaded with all the arcane opportunities you need to mount your magical conquest.

Structure Deck: Order of the Spellcasters is available April 19 with 1 Beginner's Guide, 1 Double-sided Deluxe Game Mat/Dueling Guide, and 42 cards total: 37 Commons, 3 Super Rares, and 2 Ultra Rares. MSRP: $9.99 per box.
Enjoyed this article? Share it!