outh Park: The Fractured But Whole
{{ reviewsOverall }} / 10
Users
(0 votes)
Summary
DEVELOPER/PUBLISHER: Ubisoft REVIEW PLATFORM: PS4 OTHER PLATFORMS: PC, Xbox One RELEASED: 10/16/17
Back when South Park: The Stick Of Truth came out in 2014, it was the first RPG in a long time to give the genre a punch in the gut. It took the best parts of RPGs and married it to a comedic property that didn't take itself seriously. And much like the Comedy Central show it was based upon, it aimed to piss off everyone it could and didn't care whether you liked it or not. It was the first game in a few years where I actively played it multiple times to get all the achievements you can only pick up after at least three times through, even the useless ones many don't care about, because the content was amazing and it held up well over time. It cleared the bad taste of all the South Park games that came before it and raised the bar a bit in the genre. That being said, can South Park: The Fractured But Whole clear it? The Fractured But Whole takes place within the series, but could also stand on its own as an entire season of episodes, as the kids explore the realm of superheroes watching over their snowy mountain town. Making fun of all things cinematic to come from DC and Marvel, you play as a new kid in town who joins the group of heroes in their new massive hero game. A major plot is happening involving disappearing cats, which it is up to you to solve the mystery of, all while dealing with a "civil war" scenario that turns into their version of DC vs. Marvel. Since they are role-playing, you get a mix of what the kids see in their minds and what is happening in their real world through the lens of a tactical RPG. The world you're in wastes little time to remind you just how awesome the game is and how ridiculous the premise is. You explore the town looking for adventures and finding clues while also fulfilling side quests and random missions that help define your kid's character and the path the story ends up taking. One of the greatest improvements from the first game is my character structure. You start off picking one specific kind of hero, but as you move on and gain abilities, you can mix and match powers along with different costume choices to give you bonuses. Don't like being a speedster? Give it a while and you can become a blaster! Got someone in your party who is better at what you already do? Change to a different hero to complement their abilities.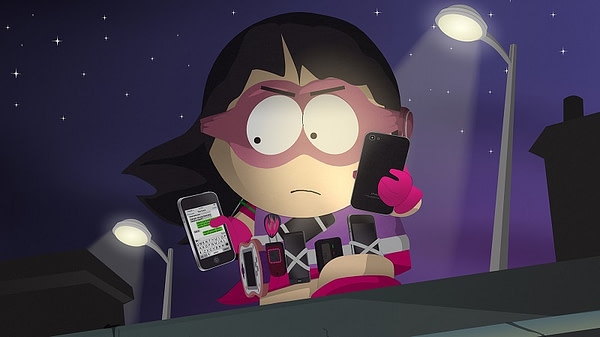 Visually, the game looks great for a South Park title, with some exceptions. The biggest issues I had were dealing with the text on the screen and the map. A lot of times they try to say too much with text messages, and you end up missing something because it's occasionally hard to read. You end up having to pause and go back to find what was being said to make any sense of it. Meanwhile, the map is a pain in the ass. In true South Park fashion, most of the homes look the same, so finding where I need to go becomes a shell game. Combat, while fun, turns into a repetitive chore, same as Stick Of Truth. Sure, there are timed levels and harder enemies that require strategy, but it all blends together after ten hours and it needs a change. All of these elements can be overlooked, but when you play it multiple times (which you will), you'll be begging for some changes.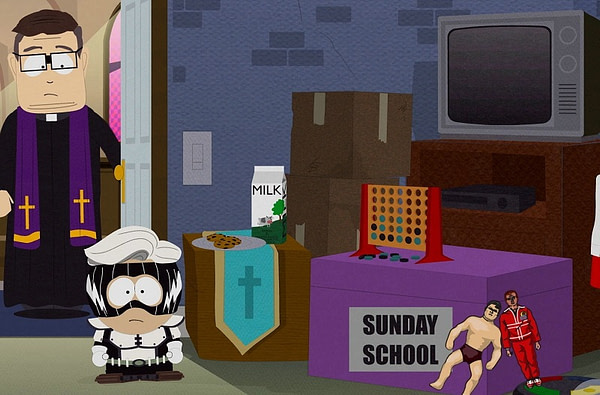 Of course, it wouldn't be South Park if they didn't throw in every racial joke, sexist joke, SJW joke, and "whatever else may offend you" joke they could into the mix. Some are sly and catch you off-guard, some leave you shaking your head, and some are just poorly timed and lack a reason for being there. You know, like every episode of South Park is with a mix of good and bad. Not everything is a winner, but not everything is terrible—there's just stuff you're genuinely going to find funny and stuff that will make you pucker your lips and stare heatedly at the TV before you eventually move on. Two of the biggest issues that people had with the game before they even played it was the race/difficulty meter and the "sexual identity" stat. Let's address the bigger of the two first: Are Matt Stone and Trey Parker the best people to address race relations in the U.S.? Not really! But is South Park the best vehicle right now to make that comparison? Probably.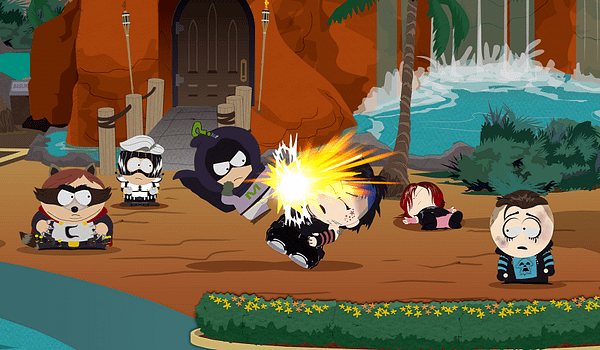 Very few games have ever tackled this issue for the most obvious reason, and that is that no one wants to talk about it. South Park as an entity doesn't give a shit, and while it may be tasteless to some, it's going to be one of the few examples in gaming that will spark the conversation that needs to be had. As to the gender selection, you can choose between Male, Female, or Other if you wish not to identify or be gender neutral. The game finds your choice accepting, but also throws you into more fights with dumb rednecks who don't understand that. The game straight up says you can be whatever sex you want, but every choice comes with consequences, same as the race meter. The short version to all this: it's a video game trying to make you think about stuff, done in a way that was meant to piss people off on every side of the issue. This is a South Park title and it's not for the easily offended or those who lack a sense of humor. If you're a fan and either of these issues were a sudden tipping point for you, then I got 20+ seasons of the show with tasteless jokes to ask you about.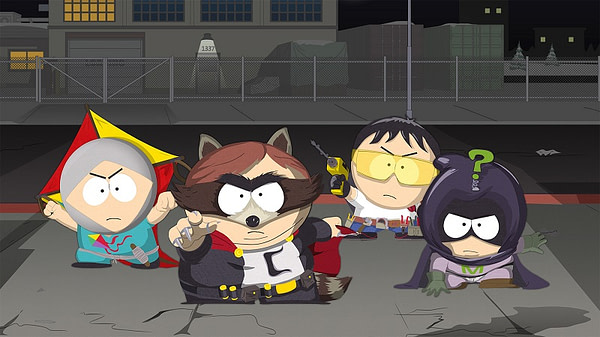 South Park: The Fractured But Whole is an amazing title. We will never get a movie franchise where we see Marvel characters take on DC's characters, this is as close to it as we can get and it works wonderfully. The one thing holding this game back from being perfect is that it feels like Stick Of Truth with some added mechanics and elements, but just with a new skin slapped on it and a new storyline covering the same beats. The game cleared the bar that its predecessor set, but it didn't really raise it. Now that's not taking anything away from this one, it is an excellent RPG and basically a South Park movie trilogy you can interact with—an amazing sequel to the first, but that's kind of where it stays. Grow a thick skin and try it out!
What people say... Leave your rating
Order by:
Be the first to leave a review.
Show more