It's been a little less than two months since Ryan Murphy teased American Horror Story fans with an image of some sand dunes on a beach with the caption, "American Horror Story. Clue." Considering the location setting for the upcoming tenth season, we put our money on the notorious murder case of "Lady in the Dunes.". But since that time, things got understandably quiet as the reality slowly started creeping in that we may not have AHS this fall (though some great programming news came close to making up for it).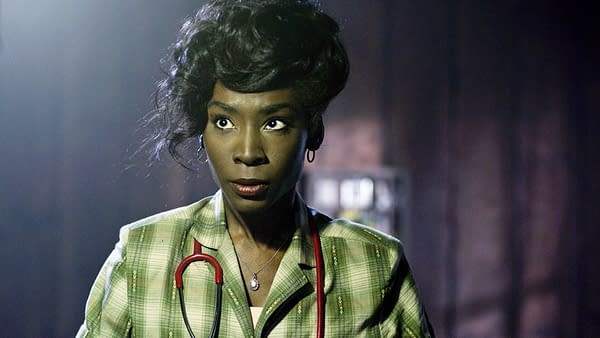 Now, thanks to the folks The AHS Zone we have some interesting teases from Angelica Ross to report. Though with an emphasis on AHS, The AHS Zone covers pretty much every corner of the "Murphy-verse"- and they found themselves on the receiving end of some Cameo love from Ross. After expressing her appreciation for everything the team's done to support the show and her career, she answered some questions about the tenth season. First thing you should know? She hasn't read any of the scripts yet- but that doesn't mean she doesn't have some idea on what's going on. When asked to describe the season in three(-ish) words, our brain's dumpster fire of speculation started raging: "pretty wicked," "heartbreaking," and "very controversial" (with "very controversial" repeated again).
In April, Murphy offered fans an update during an event promoting Hollywood, where he confirmed that AHS was meant to begin filming in early April before things changed dramatically: "I was supposed to start shooting the new season of "American Horror Story" and the new season of 'American Crime Story: Impeachment' this week. That obviously is not happening. I had shot one episode of my limited series with Ewan McGregor, 'Halston.' That got shut down. I had shot an episode-and-a-half of 'Pose.' That shut down." Making up for the lack of AHS for this year was the news that the series was getting a single-episode anthology spinoff titled American Horror Stories, which is set to air exclusively on FX on Hulu.
While Murphy's show (and fans) will suffer temporarily, that wasn't his major concern: "So, yeah, I had four or five things that were impacted. That doesn't bother me. What I'm trying to do is make sure that my cast and crew hear from me and feel taken care of and know that there's someplace they can turn, because it's a dark time and a scary time for so many people. I just want to make sure all my people feel safe." Set to the tune of Orville Peck's Dead of Night, the cast reveal video above confirmed that AHS alums Sarah Paulson, Evan Peters, Kathy Bates, Leslie Grossman, Billie Lourd, Adina Porter, Lily Rabe, Angelica Ross, and Finn Wittrock will return. In addition, Home Alone alum Macaulay Culkin is set to join the franchise's universe for the first time.
Enjoyed this article? Share it!