"American Horror Story": Ryan Murphy Reveals 10 Favorite Eps of All Time
Combine our professional obsession with uber-creative genius Ryan Murphy (Glee, Pose, 9-1-1, Feud, and a billion more) with our love for 80's horror/slasher film, and it's easy to understand why we're excited for FX's American Horror Story: 1984. In fact, executive producer Tim Minear only confirmed our excitement when he said this about the current season of Murphy and Brad Falchuk's horror anthology series American Horror Story:
"I think it's awesome. I think it's gonna be really scary but a lot of fun, like it always is. And that if you have a taste for '80s horror, you're in for a treat."
When we reviewed season opener "Camp Redwood," we made a connection to both Shaun of the Dead and The Cabin in the Woods when describing how the season's initial tone and vibe made us feel. Then "Slashdance" happened and… wow. We're talking false identities, double-crosses, hidden alliances, impalements, and our first major counselor death (sorry, Ray).
Last week's "True Killers" (our review here) was a fun frightfest that confirmed our worst suspicions about Margaret while actually starting to feel(???) for Richter/Mr. Jingles – and Trevor went RIP. Then "Red Dawn" happened, which not offered our weekly two scoops of murder and mayhem, but also got our brains back into "WTF?!?" conspiracy theory mode.
This week marks a special occasion in the AHS universe: the franchise's 100th episode. Murphy remembered (as you'll see below), and now he's revealing to EW his favorite episodes of all time. Now without giving their entire list away, here's a look at a few of the selections from the list that includes Murder House, Asylum, Hotel, 1984, Apocalypse, Freak Show, Cult, Coven, and Roanoke – in Murphy's own words:
8) "American Horror Story: 1984" Episode 5: "Red Dawn"
"I love this season, it's been a true experiment and a BITCH to make. Hello, three months of night shoots. Everyone has lost their minds. It is the youngest cast we've ever had, and a real homage to when Brad and I were growing up in the '80s. It is purposeful, we are really trying to send up that time and those movies. Falchuk is the '80s king, he is a scholar about all of those horror films, so it's been a blast to do.

I love the women power in this season: I love Emma being the good girl for a change in my world, how understated and elegant she is; I love how unhinged and brilliant Billie Lourd is, she just keeps proving to me how talented she is. I've been so inspired by her performance, I'm writing a miniseries just for her! Top secret but it's gonna be my tribute to her talent. Leslie Grossman! We have been friends since 19f***ing98. Popular. Leslie used to come over to my house that first year of Popular and we would watch the dailies on VHS tapes and eat BOWLS of Pirates Booty, we thought it was diet food! Ride or die friend. From that moment to this, where she gets to be dramatic and nuts and brilliant and unhinged and truly acting her heart out and killing it? I'm so proud of her. The scene where she destroys my fave Gus Kenworthy in a boat is really a masterclass on commitment. That was a rough night and Leslie really delivered a character so different from herself. And Angelica Ross! How great is she? Another actress who can do anything, any tone, any move. I love that she's so so masterful on Pose AND AHS this year, and paving new paths and constantly informing me and making me more illuminated.

And again my true character actor love John Carroll Lynch. Whenever he's in a scene, I am just in awe. When I was making The Normal Heart, I spent 90 percent of my time talking to Mark Ruffalo about the making of Zodiac, and Mark kept saying about JCL, "He's THE BEST." I agree."
5) "American Horror Story: Freak Show" Episode 1: "Monsters Among Us"
"I love this episode because Jessica and Evan and Sarah I and I were like a group of unleashed crazies, running ragged through New Orleans. It was so so hot, and we had many many amazing dinners to talk about it ALL. This was all Jessica's idea. I HATED making it. It was 105 degrees every day and I was covered in bug bites, but it was like out of a dream. The sets, the clothes, the actors in the ensemble. Four amazing moments stick out for me:

1) Jessica singing Bowie, in that blue suit. That was a day. We dropped tons of glitter, it got in everyone's eyes. Jessica loved this scene.

2) Working with John Carrol Lynch as Twisty, one of the greatest professionals of all time. The day we shot Twisty's first killing it was in a swamp and 110 degrees, but everyone was so riveted and kept going because John was so so great. From the moment I saw Zodiac, I wanted to work with him and he said yes. Joy.

3) Sarah with those twin heads. It was very hard, but exciting technically. One day Sarah got so frustrated that something she wanted to perform wasn't coming, something technical, and she broke down because she wanted to be perfect and we walked around to talk about it and fix it and I got a glimpse in a mirror of me and her and her second head and I thought "Ok, this is pretty amazing. This moment alone makes it all worth it."

4) Finn Wittrock. Such a pro and always up for anything you throw at him. Dandy was one of my favorite characters we ever did. Specifically, Dandy in that Playroom."
3) "American Horror Story: Hotel" Episode 1: "Checking In"
"I love this episode for so many reasons, most of them Gaga. I loved working with her so much then, and now. I am so proud of where she's gone as an actress, but she always had chops, right from the minute she stepped on the set. She is a born actress. My favorite sequence in the episode was the vampire stalking with her and Matt Bomer, underneath the genius song "She Wants Revenge." Gaga's idea, by the way. It was like making a ten-minute silent movie, all the shots were very planned and choreographed. I would do countless takes just to get the train of Gaga's red dress to move right.

We shot a huge chunk of it in The Hollywood Forever cemetery, and I remember Gaga and Matt and I went wondering between the takes looking at all the beautiful and haunting tombstones. And I loved that we used Nosferatu, one of my favorite movies. Gaga and Matt were so fearless about the sex and all the bloodletting, they were pros about it and perfectionists. I think I enjoyed this so much because Gaga cares about IT ALL. We spent hours on the looks, the backstory of The Countess. She threw a "getting to know you" party at her house in Malibu right before filming this episode and I remember Kathy Bates and I having a moment looking at each other like, "Is this really happening? Did she dye the pool blood red?" Gaga never disappoints. She is incapable of disappointing."
You can check out the rest of the list – and Murphy's thoughts on each one – here.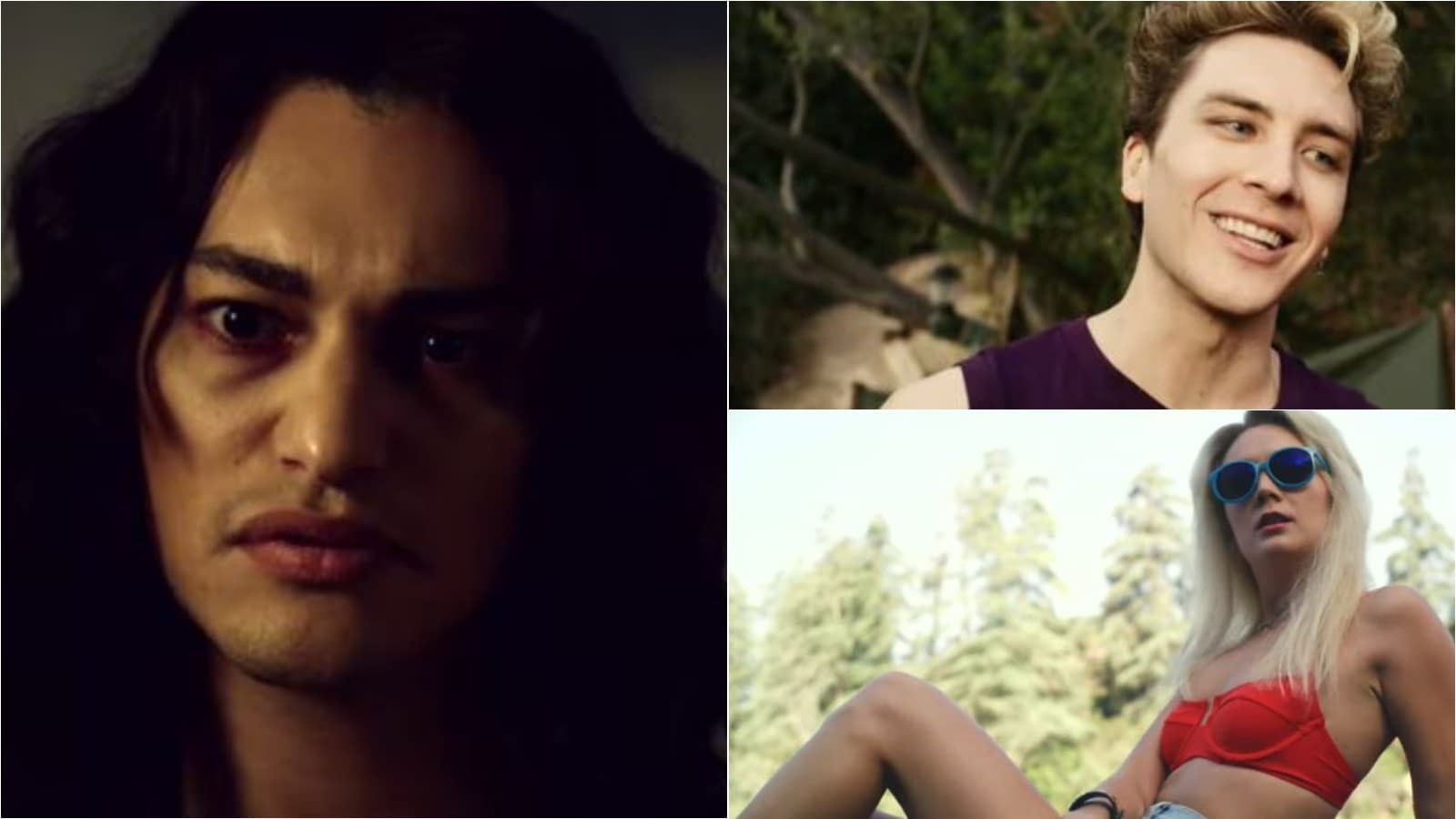 Of course, just because it's a special occasion doesn't mean that anyone's putting the brakes on the murder and mayhem – and as we can see from the preview for the aptly-titled "Episode 100" below, things are definitely going in directions we didn't see coming.
And we can't shake this feeling that a big mythology-connecting reveal is coming soon…
"American Horror Story: 1984" season 9, episode 6 "Episode 100": With the horrors of the night behind them the survivors deal with the fallout of their choices. Written by Ryan Murphy & Brad Falchuk; directed by Loni Peristere.

With all of the carnage and mayhem taking place in and around Camp Redwood, we almost missed this very important occasion – thankfully, Murphy had us covered.
Murphy took to Instagram to post a fan-made image that pays tribute to those who've graced the screen over the course of nine seasons – an image that makes us want to start binge-watching the entire thing right now:

https://youtu.be/9wcEiFIM3mM
In case you're like us and you need to see it for the 166th time, here's a chance to see the cast in all their '80's slasher-film-audition glory:
American Horror Story: 1984 stars Emma Roberts (Brooke), Billie Lourd (Montana), Cody Fern (Xavier), Angelica Ross (Nurse Rita/Donna Chambers), Leslie Grossman (Margaret), John Carroll Lynch (Benjamin "Mr. Jingles" Richter), Gus Kenworthy (Chet), Glee's Matthew Morrison (Trevor), DeRon Horton (Ray), Zach Villa ("The Night Strangler" Richard Ramirez), Alhan Bilal (Jamie), and Tara Karsian (Chef Bertie).
FX's American Horror Story: 1984 slashes its way onto our screens every Wednesday at 10 p.m. EDT.