Archer Star Chris Parnell Confirms Season 14 Recording Underway
Though there's been no official announcement, Archer star Chris Parnell confirmed in a recent interview that Season 14 recording is underway.
---
By the time the smoke settled on the 13th season of FXX's Archer, the long-running animated series seemed on the verge of hitting the rest button once again, taking us back into familiar territory but with some interesting new dynamics. Having The Agency back to being independent with Sterling (H. Jon Benjamin) appointing Lana (Aisha Tyler) to head it opens up a number of interesting possibilities for a 14th season should FX Networks make the call. Yeah… about that… While an official green light hasn't been announced, series star Chris Parnell (Cyril Figgis) signaled during a recent interview the recording for Season 14 had just gotten underway.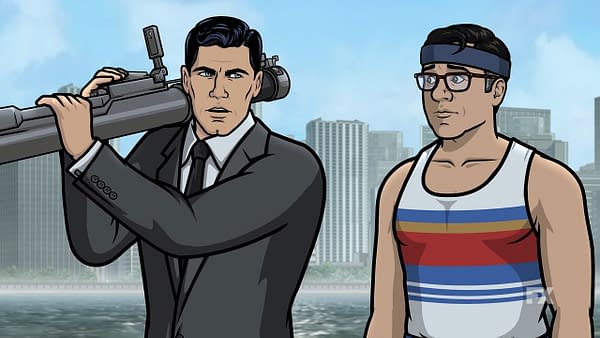 During an interview with ScreenRant, Parnell discussed how the series shifted its focus & approach during Season 13 in light of the passing of the great Jessica Walters (Malory Archer). "I think you got a pretty good sense of the big shift that happened with season 13 without Mallory around, sadly, without Jessica," Parnell shared. And then he followed that up with an unexpected revelation about the animated series' future. "But yeah, I think it's gonna be more of us doing spy stuff, but we've just started recording season 14, so it remains to be seen what else is gonna happen," Parnell added. Could we be getting an official heads-up from FX Networks sooner rather than later? Stay tuned…
For a very special (and abbreviated) look back at the past 12+ seasons (an updated edition is on the way, we're sure), here's a compilation video comprised of three seconds from every episode of the long-running animated series so far:
FX's Archer features the voices of H. Jon Benjamin as the world's greatest spy, Sterling Archer; Aisha Tyler as the spy with marital troubles, Lana Kane; Judy Greer as the crazy office assistant in search of a special skill, Cheryl/Carol Tunt; Chris Parnell as the reliable company-man, Cyril Figgis; Amber Nash as the enthusiastic offender, Pam Poovey; Adam Reed as the opportunist, Ray Gillette, and Lucky Yates as the experimenter-in-chief, Algernop Krieger. The 13th season also featured the voices of guest stars Kenan Thompson, Alison Pill, Christian Slater, Kayvan Novak, Stephen Tobolowsky, and more. The animated series was created by Reed and is executive produced by Reed, Matt Thompson, and Casey Willis at Floyd County Productions (with FX Productions producing).