Battlestar Galactica Michael Lesslie to Create, Write Peacock Reboot
Eight months after it was announced that Sam Esmail (Mr. Robot, Homecoming) would be offering a new take on the Battlestar Galactica franchise, NBCUniversal has tapped Michael Lesslie (The Little Drummer Girl) to create, write, and executive produce the reboot project for Peacock. Esmail and Chad Hamilton (Briarpatch, Mr. Robot) will executive produce with Universal Content Productions (UCP) serving as the studio. Esmail is a huge Battlestar Galactica fan and made it known that offering his vision of the franchise was high on his creative "To Do" list, so last year's four-year overall deal with UCP made that wish a reality. Esmail has been in touch with Battlestar Galactica revamp (2004-2009) mastermind Ronald D. Moore, who was impressed by Esmail's enthusiasm to give the project his blessing.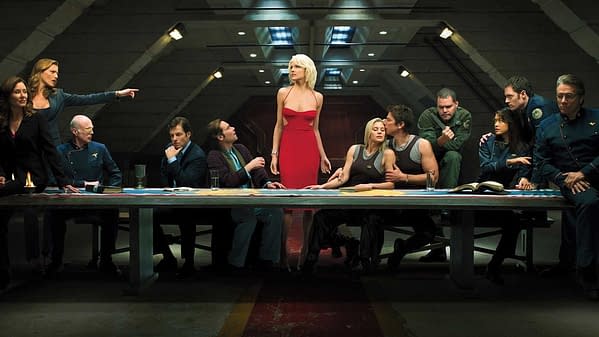 "I am beyond excited to be taking on this iconic and inspirational show. As a lifelong devotee, I know that the possibilities of Battlestar Galactica's world are infinite and that each iteration has raised the bar for epic and intelligent sci-fi storytelling. The teams at Esmail Corp, UCP and Peacock are second to none, and I already know that we are going to honour Glen A Larson and Ronald D Moore's landmark series and break new boundaries with our own vision. It's a dream come true – one I just can't wait to share with fans, new and old alike. So say we all."

– Michael Lesslie
NBCU's Universal produced the original Glen A. Larson series for ABC, which ran for one season (1978-1979) and starred Richard Hatch, Dirk Benedict, and Lorne Greene – eventually spinning-off a sequel series in 1980 that last 10 episodes. Similar to the original Star Trek, the franchise would gain cult status over the years – and do pretty well in merchandising department, too. Moore's 2003 Sci-Fi Channel miniseries was produced by Universal TV and starred Edward James Olmos, Mary McConnell, Katee Sackoff, and Grace Park. The miniseries would spawn the critically-acclaimed series that went on to run for four seasons and continue on through prequel spinoff series Caprica and several television movies.