On the morning after another night of protest and rioting over the killing of unarmed black man George Floyd and only hours after Donald Trump tweeted a threat to have American citizens shot, CNN correspondent Omar Jimenez and his camera crew were arrested during a live broadcast from the streets of Minneapolis during the cable news network's weekday morning show New Day. In the footage below, Jimenez is seen reporting as well as speaking with anchors Alisyn Camerota and John Berman when the news team is approached by State Patrol. Though the reporter appears to be more than willing to move to another area to continue reporting, officers surround the crew before telling Jimenez that he is under arrest and placing him in handcuffs. Jimenez displayed his handcuffed hands to the camera as he walked away, with his camera crew are also placed into handcuffs.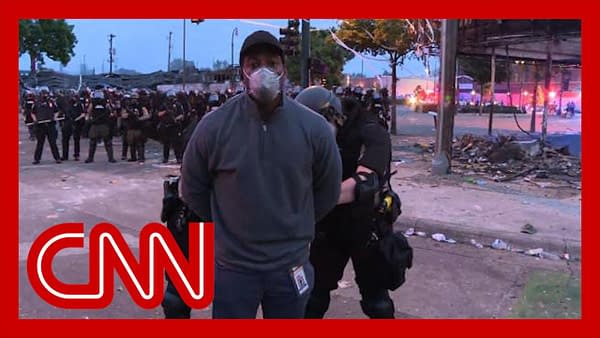 Of note: white CNN reporter Josh Campell also reported in the area but was not arrested, a difference in approach that Campbell noted to the network: "I identified myself… they said, 'OK, you're permitted to be in the area'… What happened to Omar (Jimenez) was clearly a lot different… I was treated much differently than he (Jimenez) was." The news network demanded the immediate release of its journalists in the following statement: "A CNN reporter and his production team were arrested this morning in Minneapolis for doing their jobs, despite identifying themselves – a clear violation of their First Amendment rights. The authorities in Minnesota, including the Governor, must release the three CNN employees immediately."
Once news made its way across social media, Governor Tim Walz spoke directly to CNN president Jeff Zucker to apologize for the incident (later taking public responsibility for the arrest). Jimenez and his crew were eventually released, with Jimenez updating viewers on what went on during the time he was arrested: "They weren't violent with me, we were having conversation about how crazy this week has been for every single part of the city. A lot of these people are on edge." A silver lining that Jimenez takes from the matter is that it happened in front of millions of viewers: "The one thing that gave me a little bit of comfort was that it happened on live TV. When you talk within the community about, let's say what happened with George Floyd, there's discussion that, what's happening isn't new, it's being filmed. That speaks to the power of having something that happens on camera. You can have people speak up for you without you saying anything."
Enjoyed this article? Share it!