'Harley Quinn': Happy! Star Christopher Meloni Talks Voice Acting; DC Universe Animated Series
Actor Christopher Meloni acting resume may list three roles in law enforcement in three of his most recent projects (we'll be opening debate on The Handmaid's Tale later), but that's pretty much where the similarities end. Because if you're finding a serious series of similarities between Law & Order: Special Victims Unit's Det. Elliot Stabler and Happy!'s ex-Det. Nick Sax, then by all means forward me some of your fanfic – cause we need a better sense of what's going on in your world.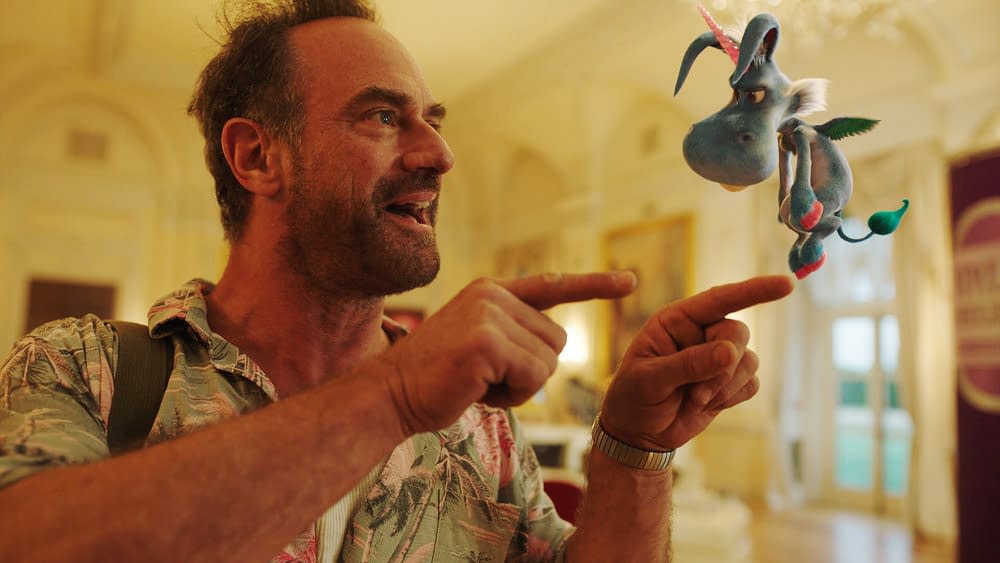 Next up for him is the role of Gotham City Police Commissioner James Gordon in DC Universe's upcoming animated Harley Quinn series, starring The Big Bang Theory's Kaley Cuoco. In the following excerpt from a longer interview we had with the Happy! actor (coming soon), Meloni discusses his overall approach to voice acting and if it differs from his approach to live acting before briefly getting into what the Harley Quinn recording experience has been like for him – and how it connects back to Meloni's work on 2014's FOX sitcom Surviving Jack:
During last October's New York Comic Con (NYCC), Warner Bros. Animation unveiled a first-look at the upcoming animated series with a special video created specifically for NYCC. After the screening, Cuoco took the stage – giving attendees the first opportunity to welcome the actress to the role and learn of her take on the character – and as you can see from the following clip, Cuoco has definitely been doing her homework:
THE BIG BANG THEORY's Kaley Cuoco stars as the voice of Gotham's criminal queenpin Harley Quinn in the new animated series for the DC UNIVERSE digital subscription service.
Here's a look at an additional few seconds from DC Universe's upcoming animated series, which gives us a very strong impression that Cuoco's madcap Ms. Quinn doesn't take orders from anyone – even if their nickname is "puddin."
Joining Cuoco on the voice cast for DC Universe's animated series Harley Quinn are Lake Bell (In a World…, Wet Hot American Summer series, Childrens Hospital), Alan Tudyk (Rogue One: A Star Wars Story)*, Ron Funches (Powerless), JB Smoove(Curb Your Enthusiasm), Jason Alexander (Seinfeld), Wanda Sykes (Black-ish), Giancarlo Esposito (Breaking Bad), Natalie Morales (BoJack Horseman), Jim Rash(Mike Tyson Mysteries), Diedrich Bader (Veep), Tony Hale (Arrested Development, Veep), and Christopher Meloni (Happy!, Law & Order: Special Victims Unit). In addition to voicing the lead role, Cuoco also executive produces through her Yes, Norman Productions, serving alongside Justin Halpern, Patrick Schumacker, and Dean Lorey.