"It's Always Sunny in Philadelphia" Season 14: Dolph Lundgren in… "Crime Stinks II"??? [UPDATE]
With season 14 set to premiere on Wednesday, September 25, FXX's It's Always Sunny in Philadelphia is now tied with ABC's The Adventures of Ozzie and Harriet as the longest-running live-action comedy series. Now that's a title Mac (Rob McElhenney), Dennis (Glenn Howerton), Charlie (Charlie Day), Dee (Kaitlin Olson), and Frank (Danny DeVito) would be more than happy to hang behind the bar – and one they're expected to hold on their vey own very soon. Safe to say things are pretty good for The Gang from Paddy's Pub.
Mac's real-world alter-ego McElhenney even got to play catch with Chase Utley (we're serious – take a look) and nearly got into a "beef" with Steve Carell and The Office over "territory rights" – before building a bridge of love and friendship between both shows (more on that here and here). Then there were those teases of The Gang going "noir" for their 14th go-around… and now? An onset visit from HBO's Chernobyl writer/producer Craig Mazin and a man who needs no introduction… but we'll give him one anyway.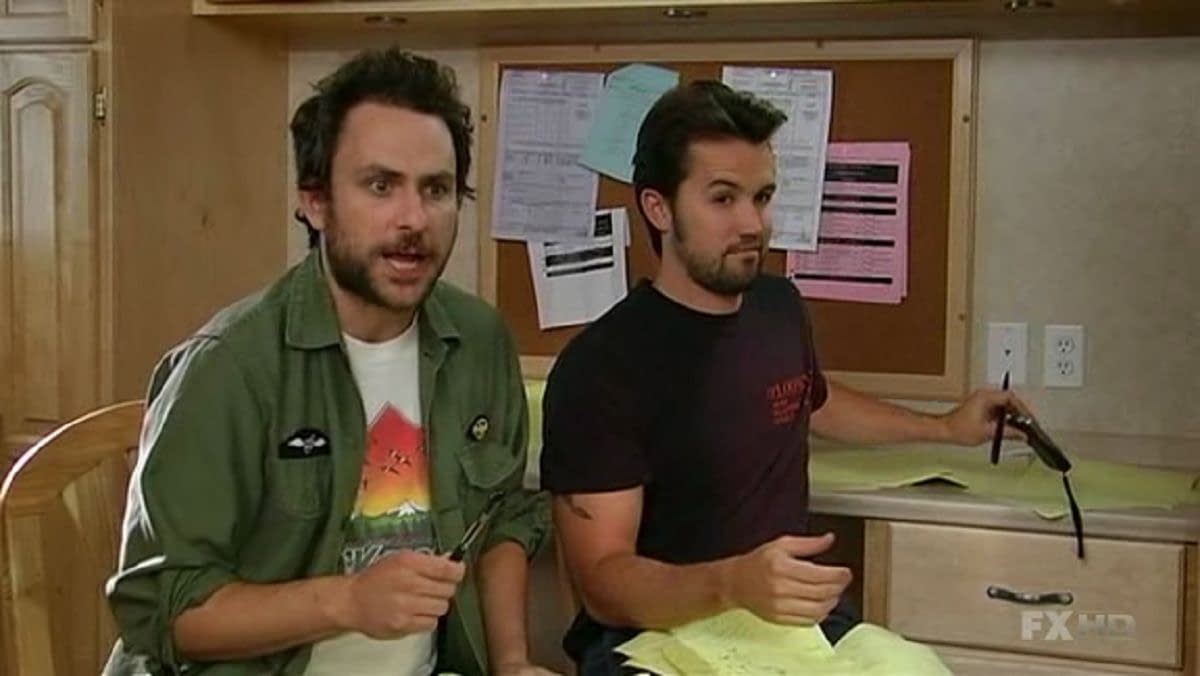 We know him as Ivan Drago from 1985's Rocky IV… but Always Sunny fans know him as the man with "The Fifth Sense."*
A muscular, mesh-shirt-wearing scientist with the ability to smell crime before it happens – and have very graphic onscreen sex with his young lab assistant.
The man who was born to star in Crime Stinks: The Smell of Penetration…
Dolph Lundgren
Except this time, it looks like it wasn't so much about pitching something for the "The Fifth Sense" franchise.. but more about taking HBO's soon-to-be award-winning limited series in a very interesting direction for a second season:
UPDATE: But never let it be said that McElhenney would pass up a chance to repair U.S./Russia relations:
* It's Always Sunny in Philadelphia season 5, episode 11 "Mac and Charlie Write a Movie"

The Gang Keeps Us Busy While We Wait
Developed by McElhenney and Howerton, and written/executive produced by McElhenney, Howerton, and Day, It's Always Sunny in Philadelphia was FX's first comedy hit before moving over to FXX – a fact that FX CEO John Landgraf does not take lightly when he explained at the Television Critics Association (TCA) why the series has been so successful for so long – even after all this time: "It was the fist successful deconstruction and reconstruction of a sitcom," praising the leads as "five really hilarious degenerates who are most active schemers" as well as the main reason for the show's success – while also acknowledging the various "social issues" that the series addressed so effectively in the past.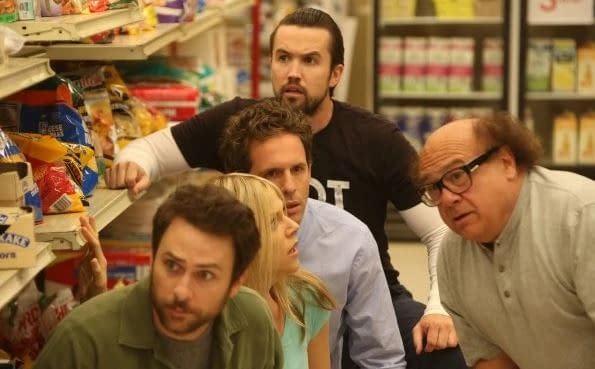 With the show back in production, that means scripts are being written – which makes this time ripe for spoilers. Of course, "The Spoiler Game" gets a whole lot easier when McElhenney posts on social media an image of Day tapping away on an upcoming scene. If you zoom in close enough, it becomes pretty clear it's not Lundgren's super-powered nose that Day's writing about…
Charlie's leaving?!? Dennis and Mac are in love?!?
Wow! I can't be-… hold on. Keep reading. "Frank" has the biggest revelation of them all:
I can't believe you zoomed in to see what was on this screen and actually think that we'd give away anything we're doing this season. Don't you have better things to do? Just kidding. Thanks for caring. Happy Fourth of July.
Gotta' admit – they have a point. Which is why your friends at Bleeding Cool are more than happy to do the zooming and squinting for you as we pick over ever single fiber of It's Always Sunny in Philadelphia news possible.
Though wouldn't it be funny if it turned out to be true, and they got us with a double-swerve. Wild card!

McElhenney posted an image of himself and Day in full-on "Charlie/Mac mode" as they wore knit meerkat hats at the Philadelphia Zoo recently – begging the question:
What's the deal with that shady person in the background?
Seriously. We're fixated. Are they writing something? Watching something on their phone? Threatening a leprechaun by jacking it up against a tree? We need answers, people…

Finally, we're just going to leave this little Jennifer Jason Leigh/Single White Female-inspired moment between McElhenney and Olson right here… with no further commentary needed: