Legends of Tomorrow Season 3: Bad Things in Memphis Lead to a Hair-Unraising Adventure
So far this season, DC's Legends of Tomorrow has had the team saving the United States of America, Hollywood and Rome. But now the Legends have to save something even more important… Rock & Roll. In an episode called Amazing Grace, the team heads to 1954 Memphis, Tennessee after reports of the town suddenly being evacuated. Memphis is were Rock & Roll was born, and the episode includes Elvis Presley. It's also the first episode with Wally Woods (Keiynan Lonsdale), aka Kid Flash, as an official member of the Legends.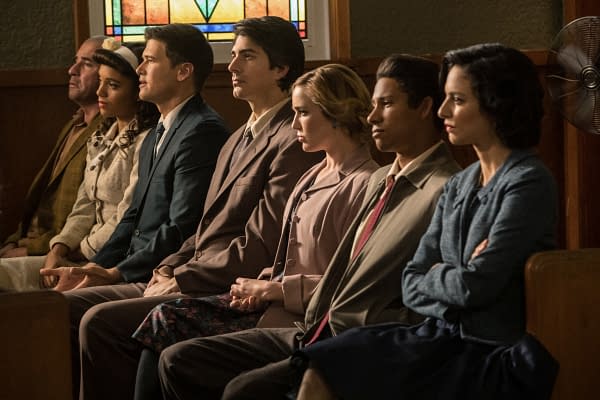 The clip below has Sara (Caity Lotz) asking Amaya (Maisie Richardson-Sellers) and Nate (Nick Zano) to find the next anachronism to go after. Both of them pick low-level events that seem more like dates than missions, so Sara tries to snap them out of the starry-eyed romance thing when she notices that Nate's hair is different. Then everyone comes into the area with Mick (Dominic Purcell) upset that his pet rat's name changed, as did the game Zari (Tala Ashe) was playing. They all ask Gideon what is going on, and she tells them about something going on in Memphis.
DC's Legends of Tomorrow airs tonight at 8 p.m. ET on the CW.
https://youtu.be/VzfZhZP3HV0