Legends of Tomorrow Season 3: Sara Lance is the Type of Girl You Take to an Exorcism
I don't know which is better — that Legends of Tomorrow is finally back tonight or that Matt Ryan is back as John Constantine. We get both as Legends takes over the Supergirl time slot for the next nine weeks. The episode this evening is called 'Daddy Darhkest' and has Constantine showing up on the Waverider because he has a possessed girl who knows Sara Lance (Caity Lotz) by name.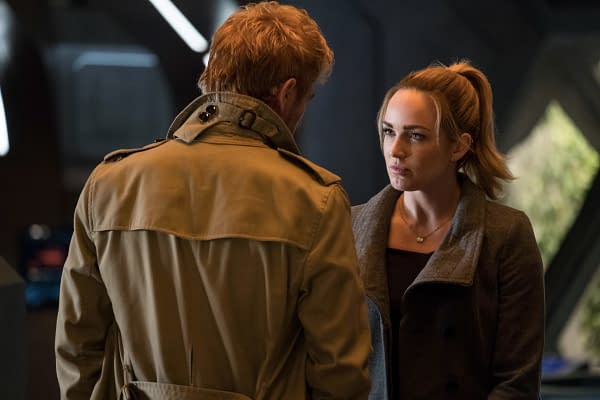 We've got two clips below, with the first one talking about the possessed girl and the demon's name, Mallus. Sara admits that she's been to the spirit world recently and that how the demon may have found out her name. Once Constantine gets the name, he's off to do an exorcism, but Sara insists on coming along. He pushes back on the idea, but she can be very persistent. In the second clip, Ava Sharpe (Jes Macallan) calls to touch base about the Time Bureau. The conversation is a bit flirty, and once it's over, Leo Snart (Wentworth Miller) comes in and points out the fact that Ava has a crush on Sara.
DC's Legends of Tomorrow returns tonight at 8 p.m. ET on the CW.