James Spader and Megan Boone are going to be busy for another year as NBC has renewed The Blacklist for another 22-episode season. The series was a huge hit when it debuted in 2013, but dipped quite a bit when they moved the second season to Thursday nights. While never getting back to the numbers it had in the first season, the series has been a consistent performer both live and on delayed viewing. Averaging 1.6 demo rating and 8.8 million viewers in Live+7 data. Deadline is reporting that the show is getting a new timeslot, moving to Wednesdays at 8 PM.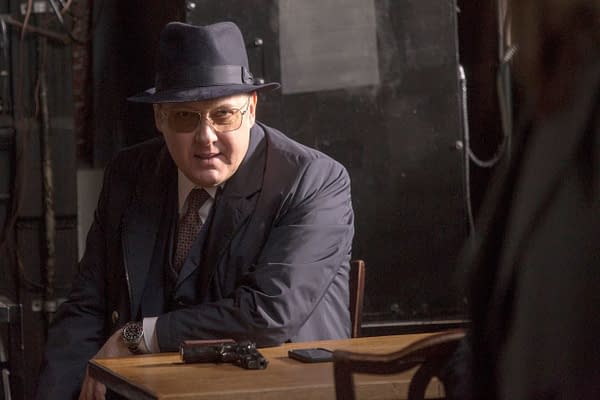 The negotiations for the renewal were a bit complicated as the series comes from Sony TV who also produces Timeless and two pilots that NBC was interested in, the Bad Boys inspired series LA's Finest and the Norman Lear comedy Guess Who Died. The network was pushing for a reduction on the licensing fee for The Blacklist, a series NBC owns 25% of, something Sony was open to because of the profit the series makes their deal with Netflix and international sales. NBC ended up passing on the two pilots and the fate of Timeless has yet to be announced.
The Blacklist tells the story of criminal mastermind Raymond Reddington (Spader) who is trying to rebuild his empire with Elizabeth Keen (Boone) at his side. Liz is dealing with finding out that Red is her father and the turmoil between her role as an FBI agent and the temptation of following in her father's footsteps. Together they work on searching for the criminals on Red's Blacklist. The series also stars Diego Klattenhoff, Harry Lennix, Amir Arison, Mozhan Marnò and Hisham Tawfiq.
Enjoyed this article? Share it!