New Netflix Animated Show "Human Resources" Debuts At NYCC
The creators of Big Mouth has their next project lined up for Netflix, an animated workplace comedy called Human Resources. The streaming service made the announcement at New York Comic-Con. Human Resources is the brainchild of Nick Kroll, Andrew Goldberg, Mark Levin, Jennifer Flackett, and producer Kelly Galuska.
Details are scant about the series other than it is a workplace comedy set in the world of the monsters from Big Mouth. A preview clip unveiled the title followed by the tagline: Human Resources: We manage people. Kroll, Goldberg, Levin, Flackett and Galuska will serve as creators and executive producers.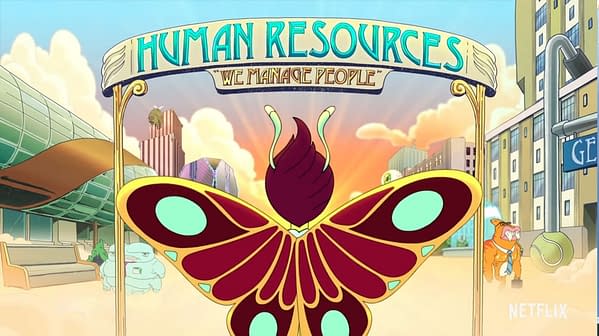 In addition to Human Resources, Netflix also renewed Big Mouth for three seasons in their deal with Kroll, Goldberg, Levin and Flackett's company Brutus Pink. The studio will create a variety of adult animated projects for film and television in addition to the two shows. Big Mouth explores of adolescents facing the horrors of puberty. Inspired by Kroll's and Goldberg's childhood, the group of friends explores their hormone monsters, puberty-related changes and human sexuality.
Teenage friends find their lives upended by the wonders and horrors of uberty in this edgy comedy from real-life pals Nick Kroll and Andrew Goldberg.
Big Mouth was nominated for two Emmys including Outstanding Animated Program in 2019 and Outstanding Original Music and Lyrics in 2018. The series stars Kroll, John Mulaney, Jessi Klein, Jenny Slate, Jason Mantzoukas, Fred Armisen, Maya Rudolph, and Jordan Peele.
Netflix released the third season on October 4. Are you looking forward to Human Resources?