When the New York Daily News' Enquiry About Netflix and Seinfeld Went A Little Wider Than They Anticipated
So, the news is out that Netflix has global streaming rights for the popular nineties sitcom Seinfeld. But the New York Daily News wanted more. Senior Film Writer Peter Sblendorio e-mailed Netflix to get confirmation, a release date and a statement.
And Don Halcombe of Netflix PR passed it on to Eliza Abramson at the same company.
But he also managed to cc in the US Netflix Film Press mailing list that his company has so carefully curated. And so everyone got a copy of the enquiry.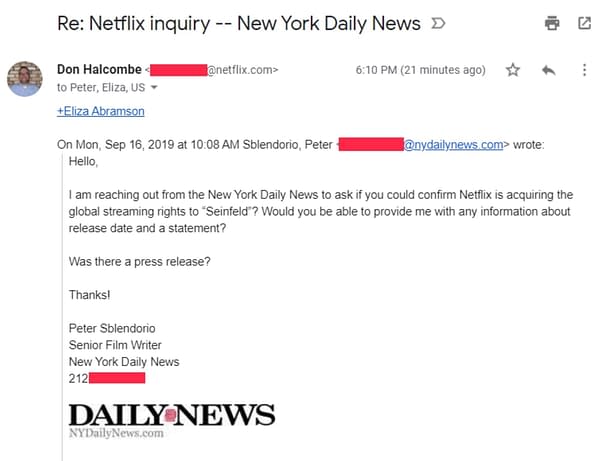 To be honest, I didn't even know I was on the US Netflix Film Press list. I mean, I do now…
Anyone have an answer for Peter?
And yes, Netflix has landed worldwide rights to Seinfeld in a five-year deal with Sony. moving from Hulu in 2021. And this comes as Netflix lost rights to two NBC comedies, Friends, moving to HBO Max in 2020, and The Office, moving to Comcast's streaming platform starting in 2021.