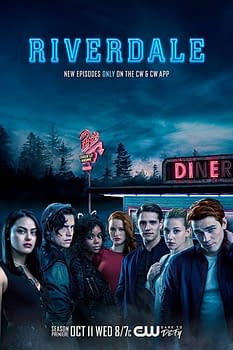 The February 7th episode of Riverdale, the 26th chapter of the series, is going to be called The Tell Tale Heart. The title is, of course, the same as the famous short story by Edgar Allan Poe that was first printed in 1843.
The choice of the title is rather interesting with the fact that there is a killer in the series. The Poe story uses an unreliable narrator — a killer who is trying to convince the reader that he is in fact completely sane by describing the choices and detail he went through to commit a murder.
Though the series is known for using movie titles for episodes, it would be difficult to believe that they would use this particular title if they plan isn't to have the killer reveal himself and try to explain his actions logically. The focus of the short story is the scheme to commit the perfect crime; it would be easy to see it translated into the killer explaining either how he killed someone or how he is planning to kill them.
Adding to the uniqueness of the episode is the director. Julie Plec is taking the helm and according to TVLine's Michael Ausiello, it's said to be among the dark-and-twisty drama's darkest and twistiest ever. Plec is the boss and writer for the Vampire Diaries and The Originals. She also worked on Containment, the Tomorrow People, and Kyle XY as a writer. She hasn't done a lot of directing: three episodes of the Vampire Diaries and one episode of Time After Time prior to working on Riverdale.
Riverdale season 2 returns from its mid-season hiatus this week, January 17th, at 8 p.m. ET on the CW.
Enjoyed this article? Share it!