Sarah Michelle Gellar, Pedro Pascal "Buffy" Lovefest Comes Full Circle
Sarah Michelle Gellar's & Pedro Pascal's nostalgic trip down Buffy the Vampire Slayer memory lane has now officially come full circle.
---
When you spend your days reporting on shows being canceled shows, horrible people doing horrible things, and mind-numbing corporate shenanigans, it's nice to cover something that involves two famous pop culture familiar faces actually being decent to one another. And that's been the case this week with Buffy the Vampire Slayer & Wolf Pack star Sarah Michelle Gellar, who shared a look back at the brief yet meaningful on-screen time she spent with Pedro Pascal (The Mandalorian, The Last of Us) on "Buffy." In return, Pascal has some very kind words to share when reflecting back on filming and how Gellar "was such a kind scene partner."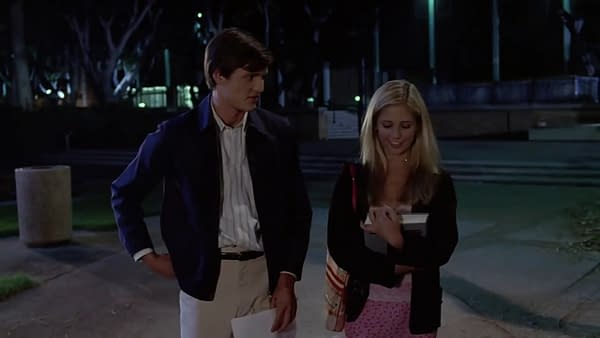 Well, it looks like we have our third & final act, with Gellar posting her reactions to Pascal's two interviews where he discussed his "Buffy" time on her Instagram Stories: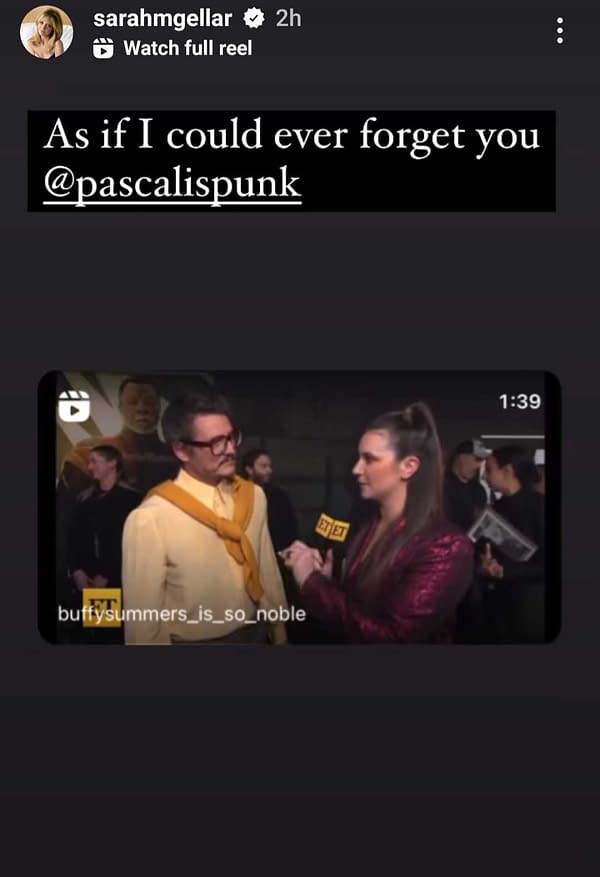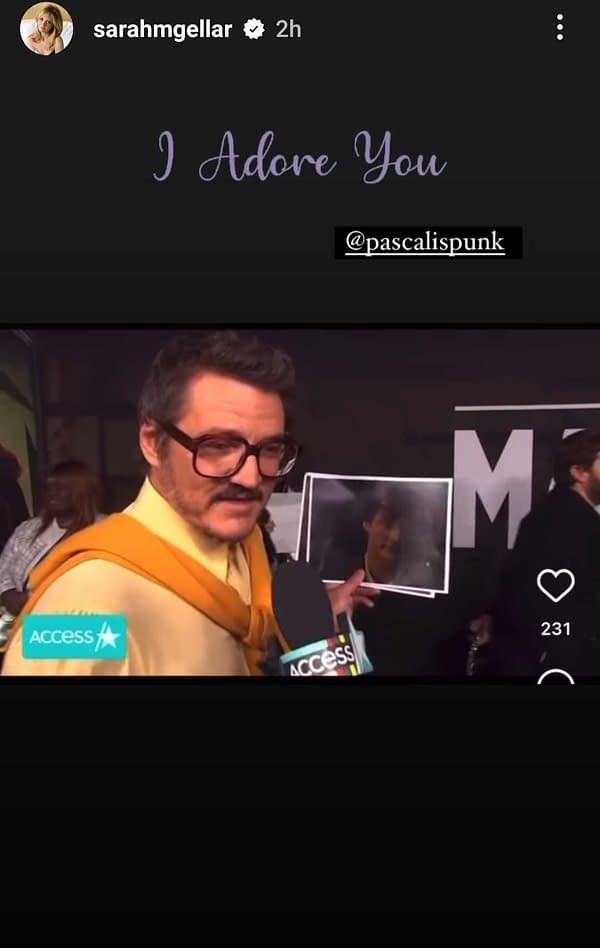 In S04E01 "The Freshman," Buffy (Gellar) & Willow (Alyson Hannigan) begin attending UC Sunnydale. Right from the start, Buffy has a hard time with her classmates, roommate, and professor. At least there was Pascal's fellow freshman Edward, aka Eddie, the one bond Buffy could make. Of course, that meant Eddie had to be turned into a vampire for Buffy to slay later (leaving fans feeling not exactly happy, but this was during those pre-social media days). Here's a look back at what Pascal had to share with Access Hollywood about his brief stint on "Buffy" during his red carpet interview at Disney+ & Lucasfilm's The Mandalorian Season 3 premiere:
And here's Gellar's Instagram post from earlier in the week, sharing a look back at their all-too-brief time together, followed by a look back at some other "Buffy" intel that Gellar's been gracious enough to share over the past few weeks:
Sarah Michelle Gellar Looks Back on "Buffy the Vampire Slayer"
In a recent profile/interview with The Hollywood Reporter, Gellar shared some additional thoughts on "Buffy," her experiences working on the series, and the seasons/episodes she's hesitant to show her children:
Gellar Has "Come to a Good Place" with Her "Buffy" Years- Just Don't Expect a "Tell-All" Anytime Soon: "I've come to a good place with it, where it's easier to talk about. I'll never tell my full story because I don't get anything out of it. I've said all I'm going to say because nobody wins. Everybody loses."
Gellar Hopes "Buffy" Legacy Can Outshine Whedon's Failures: "I'm not the only person facing this, and I hope the legacy hasn't changed. I hope that it gives the success back to the people that put in all of the work. I will always be proud of 'Buffy.' I will always be proud of what my castmates did [and] what I did. Was it an ideal working situation? Absolutely not. But it's OK to love Buffy for what we created because I think it's pretty spectacular."
Gellar Didn't Want Her Children Watching All Seven Seasons: "We watched seasons one through five. "We skipped around a lot on those last two. I have trouble with six. It wasn't appropriate for them at the time, and I just don't want to rewatch it." (Note: the later seasons of "Buffy" included the controversial Buffy/Spike (James Marsters) storyline that involved an attempted rape).