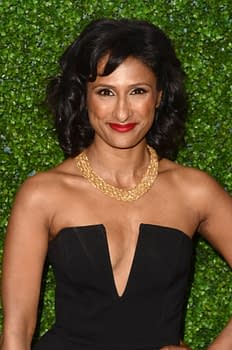 Sarayu Blue (No Tomorrow) has been cast to play the lead in NBC's half-hour single-camera comedy inspired by the Orli Auslander book I Feel Bad: All Day. Every Day. About Everything. The untitled project comes from Aseem Batra, Amy Poehler and Julie Anne Robinson and shows a womans' unfiltered takes on the side effects of triying to have it all.
Blue plays Emet, a modern, working mother who is in a constant battle between being a mom and still having some personal fulfillment. She is a storyboard artist for a video-game start-up with a group of young guys that she uses as a sounding board for her own personal issues. She is married to David, played by Paul Adelstein (Scandal), who was raised as a man's man but is trying hard to be a sensitive and modern husband and father. He works in the customer complaint department of a major airline and prefers problems with concrete, simple solutions.
Blue co-starred on the short-lived CW series No Tomorrow and will be seen in the upcoming film Blockers with Jon Cena and Leslie Mann. Adelstein was a series regular on Girlfriends' Guide to Divorce and the Hulu series Chance along with returning recently for Fox's Prison Break reboot. He's also been on Scandal, Brooklyn Nine-Nine and Get Shorty.
Source: Deadline
Enjoyed this article? Share it!