'Star Trek: Discovery' Season 2, Episode 11 "Perpetual Infinity" Has Serious Mommy Issues [PREVIEW]
Last week's episode of CBS All Access's Star Trek: Discovery "The Red Angel" blew all expectations, predictions, plans, and conjecture right out of the window. The sophomore season of Discovery has been full of surprise endings, anti-climactic teases, and dramatic twists. Viewers have learned that they can't even depend on their eyes and ears, that anything on the show can change at any minute. We've also learned that studio released previews and images are carefully curated to give viewers the wrong impression, to lead them to erroneous conclusions. So, with all of this in mind, lets analyze what we know so far about this week's episode, "Perpetual Infinity."
Studio provided misdirections…err spoilers…to follow.
This week, Burnham receives the reunion she's been longing for, but it doesn't go quite as she imagined. Georgiou and Tyler sense a disturbing change in Leland.
The preview for "Perpetual Infinity" is heavy, if not enlightening. Michael Burnham's mother (Sonja Sohn), who we learned last week is apparently the Red Angel, is a hardened time warrior. Her voice-over is warning the crew about how cruel and unforgiving time can be. As Burnham's mom talks, we see scenes of the Discovery and her crew facing dangerous situations. We see a firefight and explosions, most of which appear to take place on the surface of Essof IV.
But, wait, are those Klingons? And a… Bird of Prey???
Last week, we learned that Leland stole a time crystal from the Klingons in order to make the Red Angel suit functional for time travel. The Klingons can't still be tracking that crystal, can they? That seems a bit extreme. Maybe it is a flashback to the attack on Doctari Alpha, when Michael's (Sonequa Martin-Green) parents were supposedly killed? The dress and style of the Klingons in the shot does not reflect what we have seen thus far on Discovery. However, they look very similar to the Klingons from The Original Series and The Next Generation.
The images released by CBS from this week's episode (included in this article) almost all depict the planet-side research station where the Discovery crew trapped the Red Angel last week. This could indicate that a majority of this week's action takes place on Essof IV – or just a majority of the images. In addition to Burnham's reunion with her mom, it appears that Pike (Anson Mount), Spock (Ethan Peck), and Georgiou (Michelle Yeoh) are all present to greet the Red Angel. In one shot, we see Georgiou talking to mama Burnham with an armed Michael standing guard.
Maybe mama is not happy to see her long lost daughter?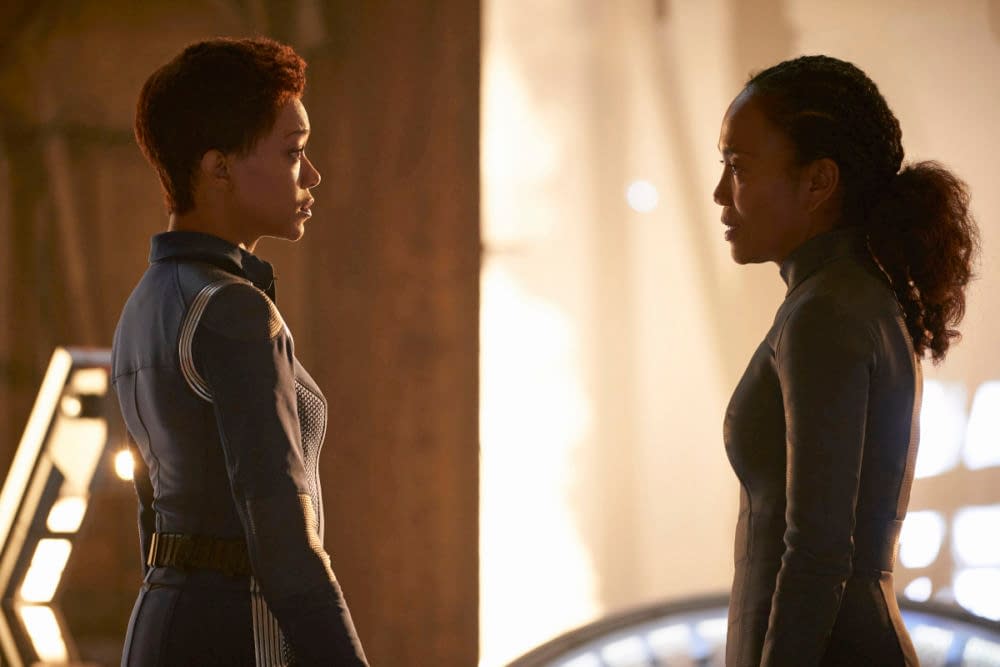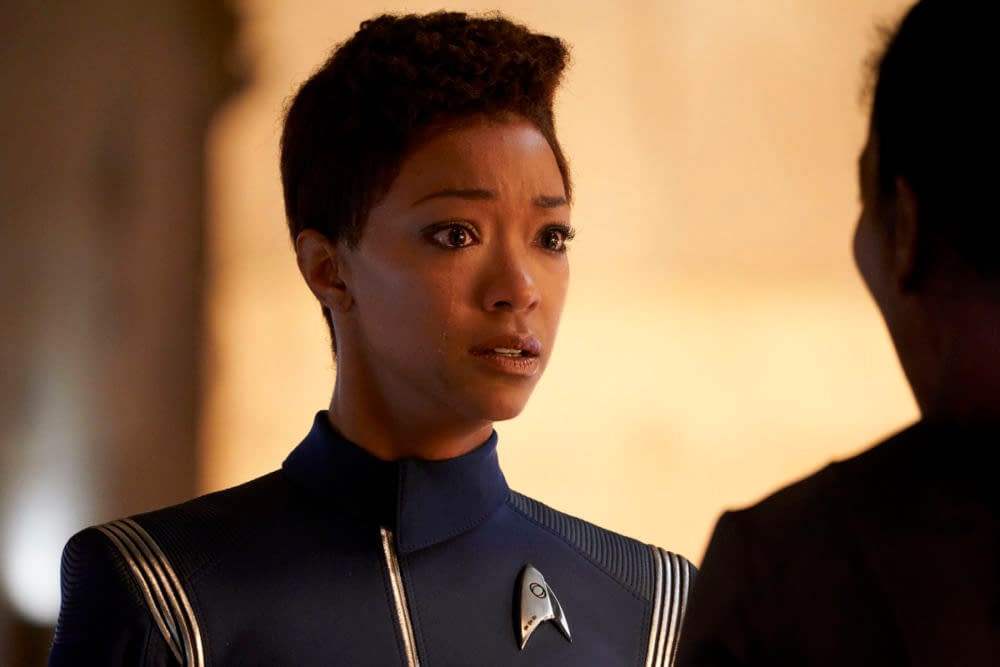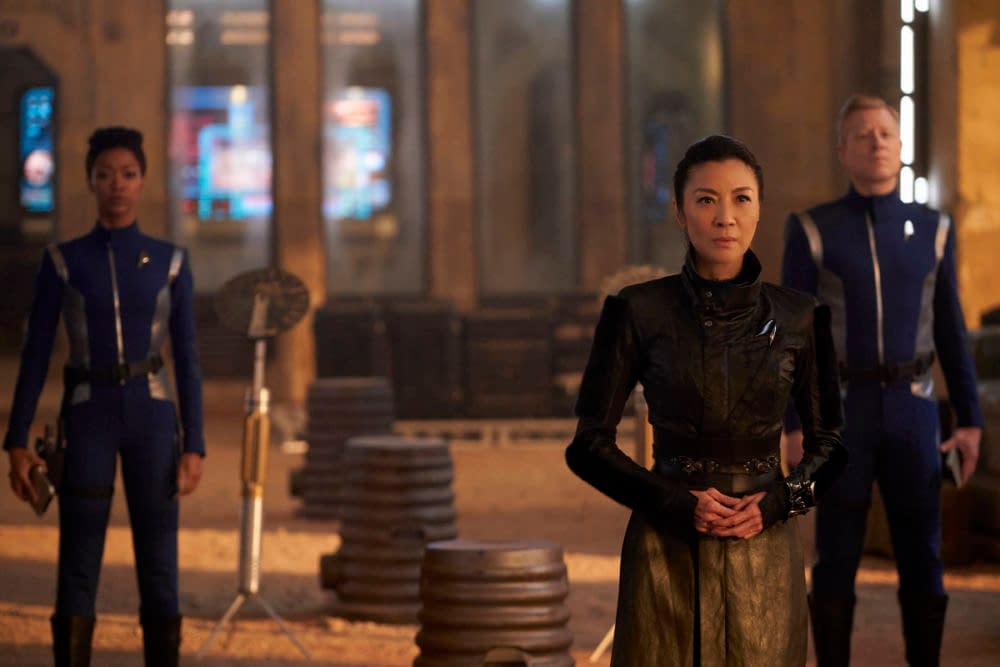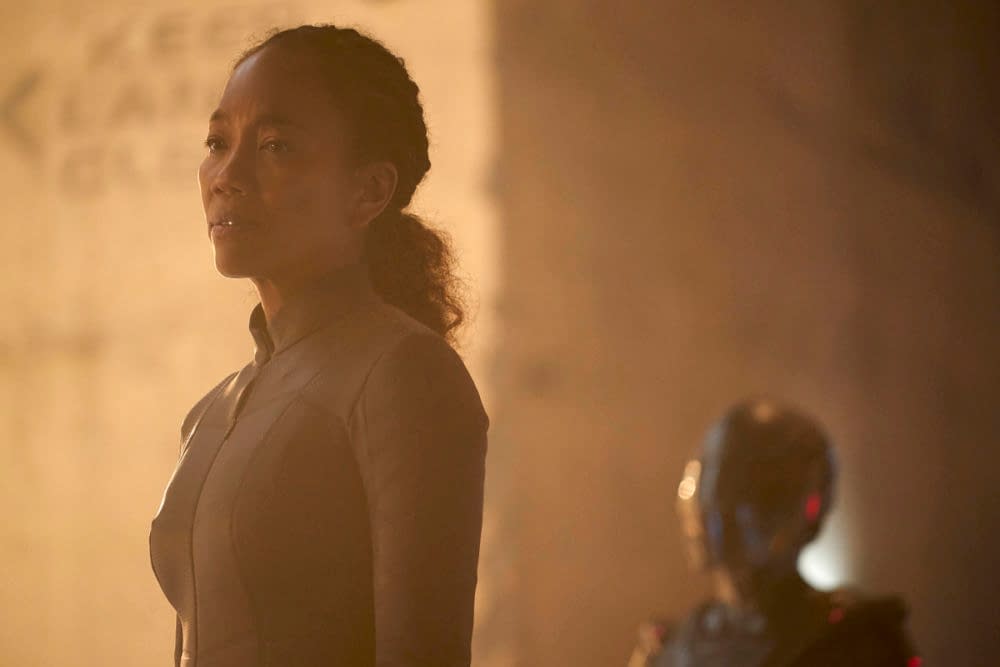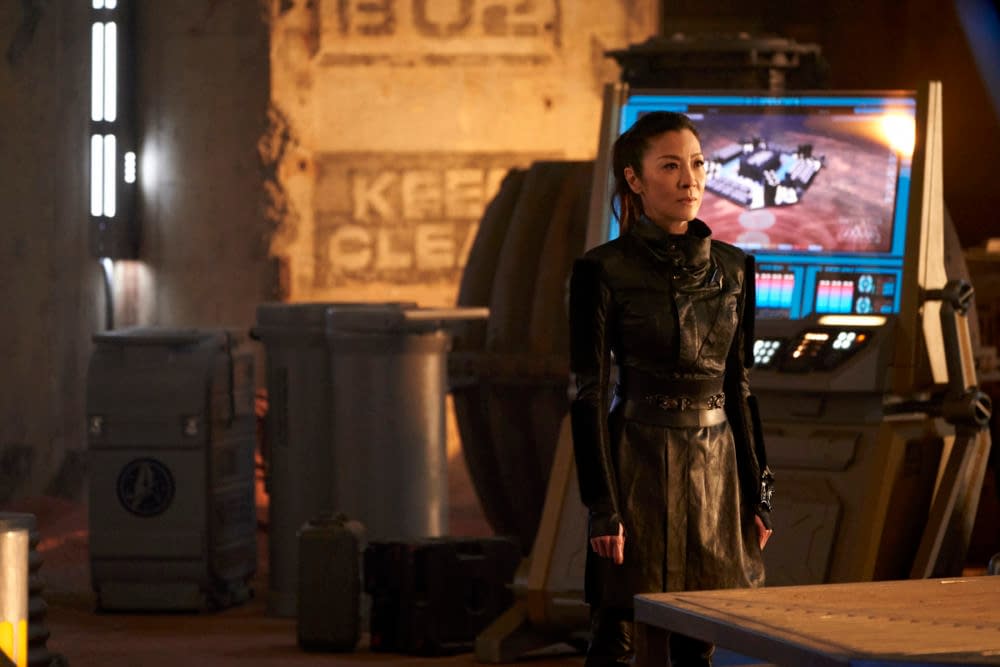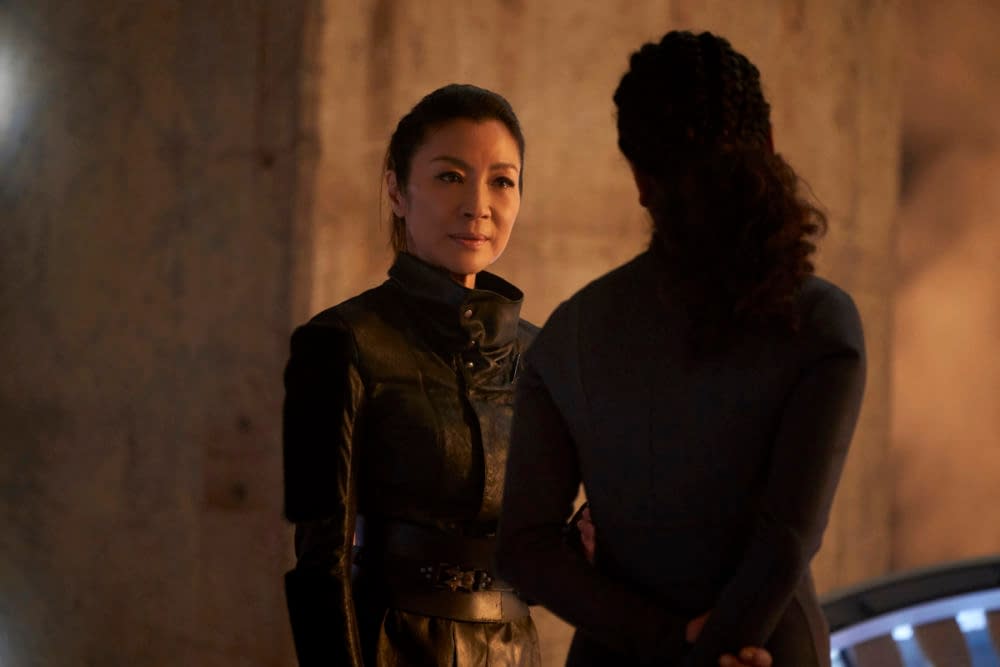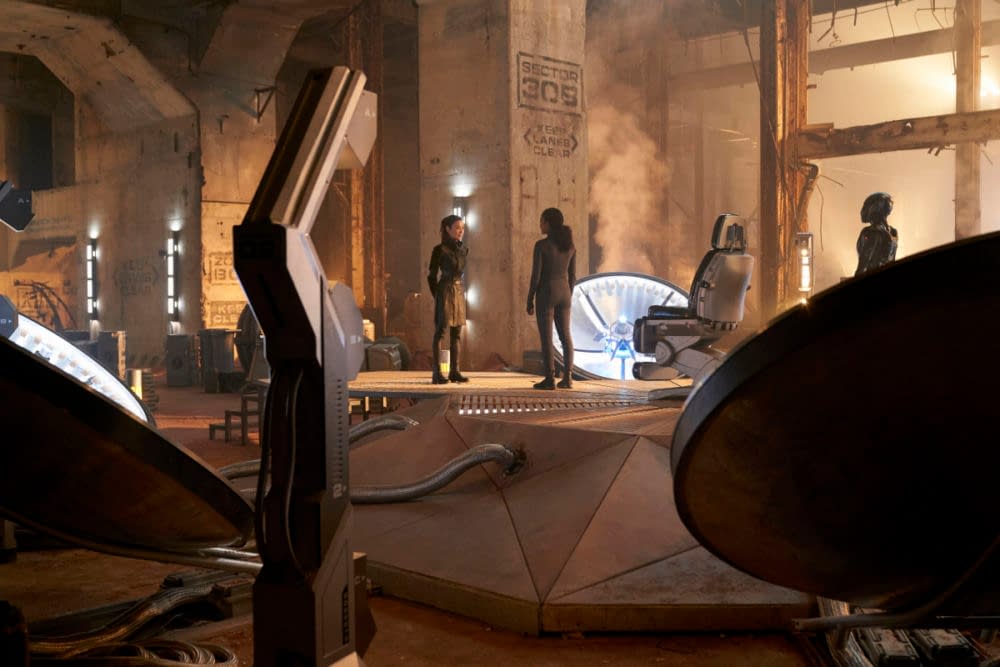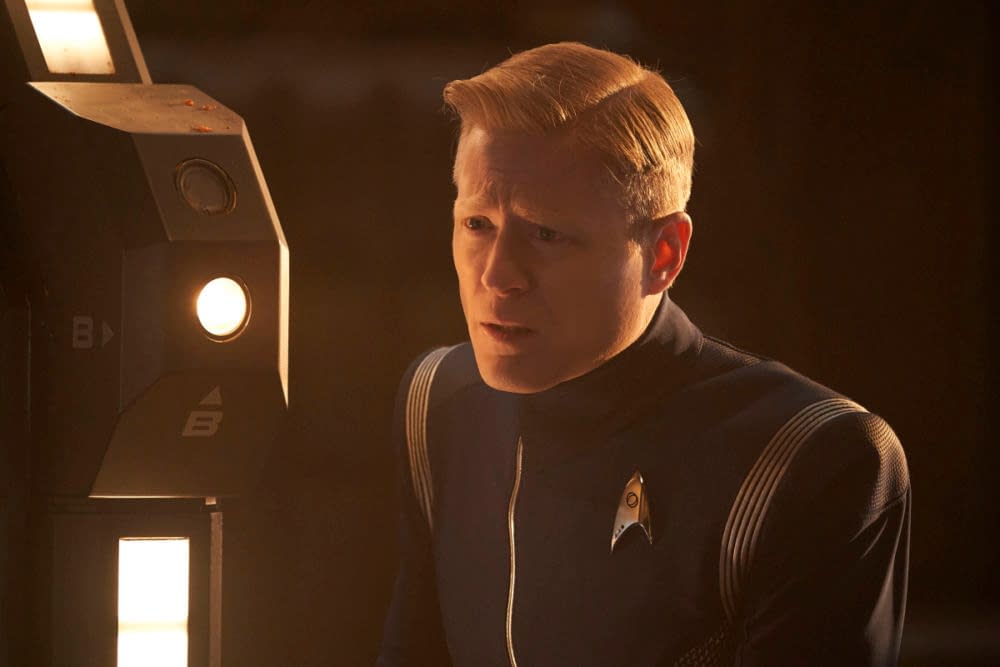 Meanwhile, back on the Section 31 ship, it appears that Leland (Alan Van Sprang) didn't die last week when the "Command" possessed computer poked his eyes out. The show description says that Tyler (Shazad Latif) and Georgiou sense a "change" in Leland. Is he a hologram like the other Section 31 leaders were? Did the corrupted AI somehow infect Leland's brain? Has he been brainwashed? That could be an interesting insider threat storyline – or another random subplot.
Images from scenes onboard the Discovery show mostly main crew member talking in groups on the bridge or in Pike's ready room. We don't really have any idea what they are planning, but it likely has something to do with the events taking place on the surface. Culber (Wilson Cruz) must be cleared for duty again, because he is in his white medical uniform while talking to Pike. Likely they are trying to figure out if the Red Angel is really Burnham's mom, and why she has the same bio-neural signature as Burnham.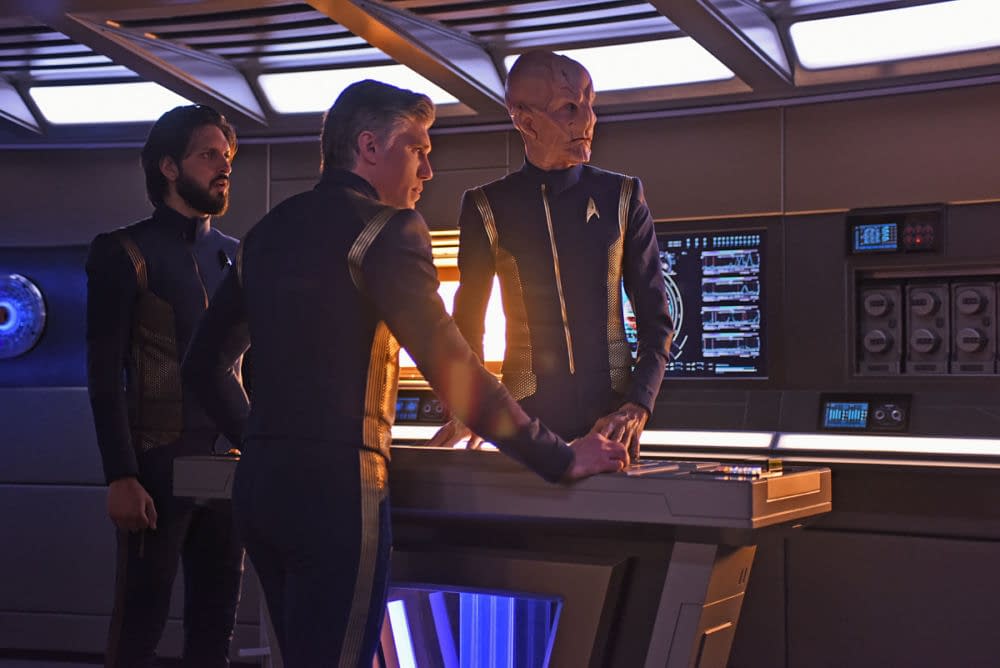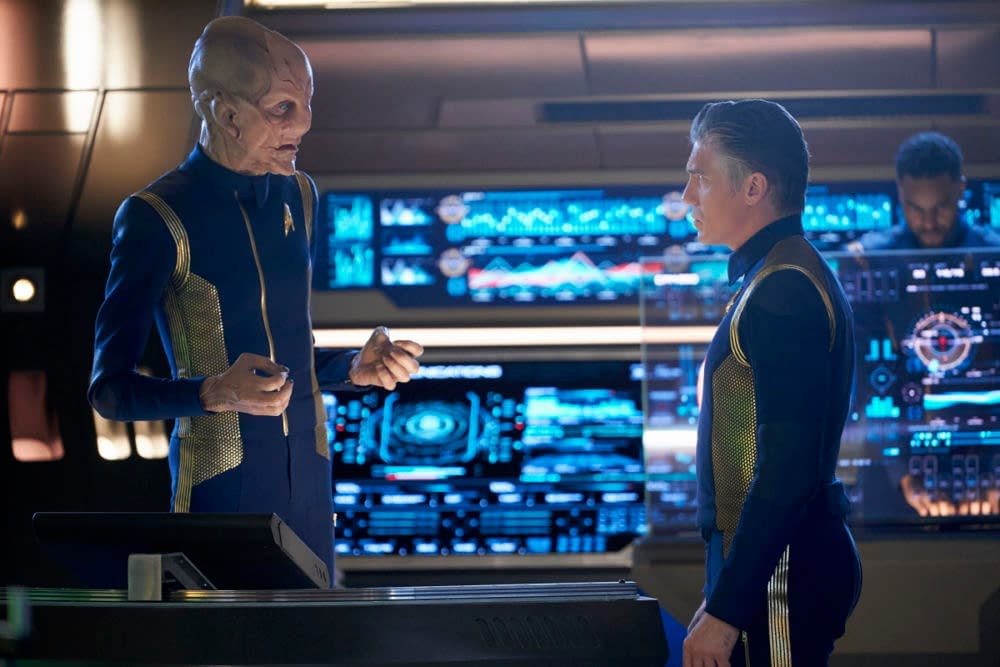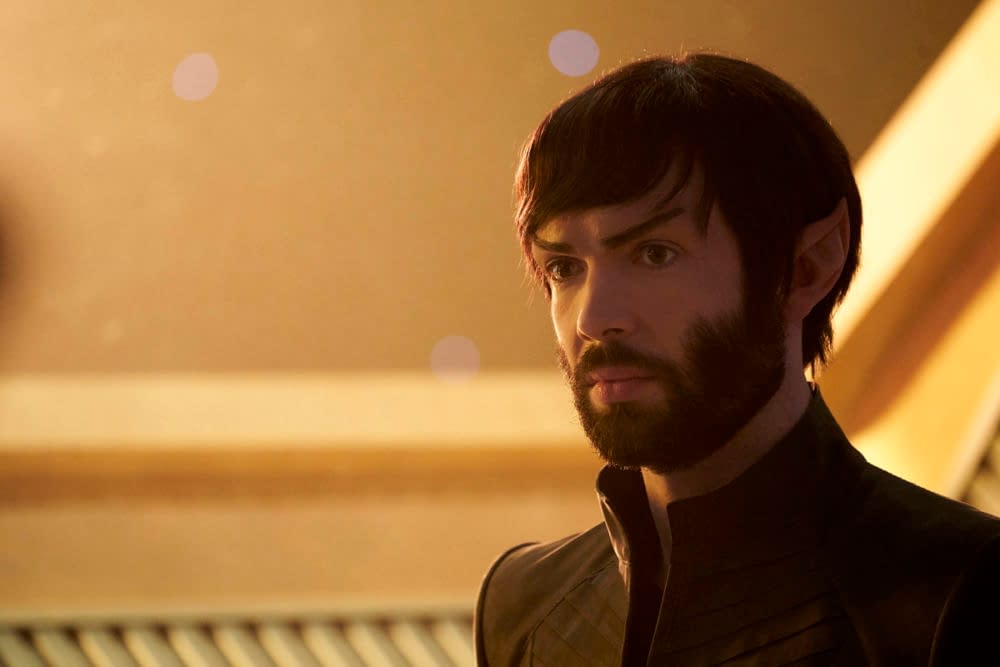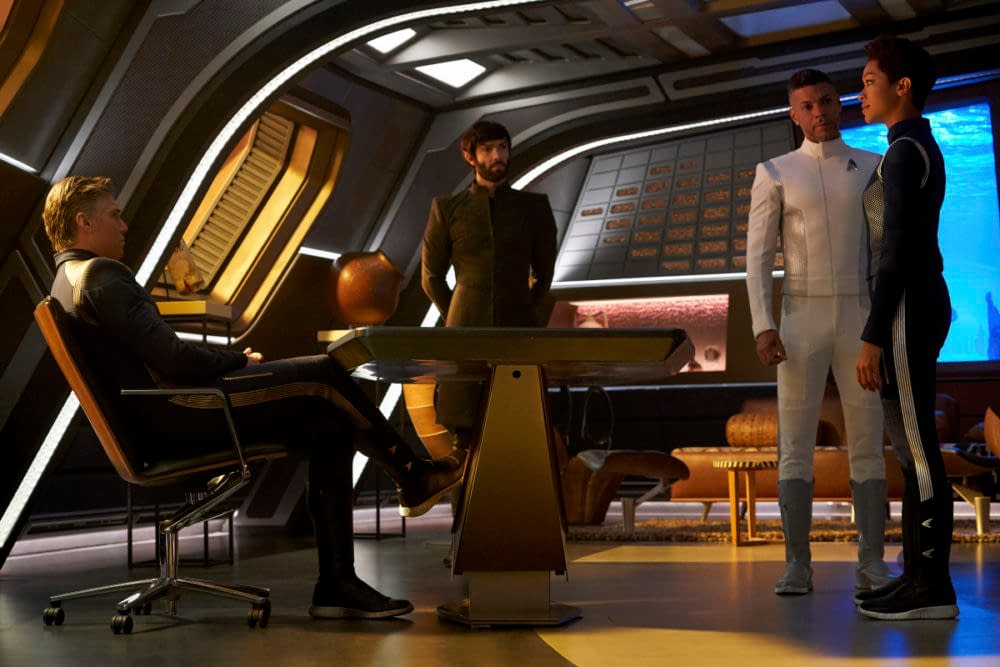 There is only one thing that we can maybe… possibly… sort of glean from the images, video, and description of "Perpetual Infinity" provided by CBS. The reunion between Burnham and her mom is not going to be full of hugs, kisses, and happy tears. So far, no one knows what Mama Burnham has gone through, where she is coming from, or what her goals are. In fact, we don't even know if she is real, or really Burnham's long lost mother.
Once again, we go into a new episode of Star Trek: Discovery with more questions than answers. However, last week's episode taught us that we can't even trust the answers we do get. With four episodes to go in Season 2, it is anyone's guess where Discovery is going to take us next.
Star Trek: Discovery season 2, episode 11 "Perpetual Infinity" will be available Thursday, March 28, at 8:30 p.m. EST on CBS All Access.