Posted in: NBC, Opinion, streaming, TV, TV, YouTube | Tagged: elon musk, opinion, stephen king, twitter, ukraine
---
Stephen King Tells Elon Musk What He Can Do With His Blue Checkmark
Instead of paying for his Twitter blue checkmark, Stephen King has a better idea when it comes to what Elon Musk should spend his money on.
---
As we're sure you've heard by now, Elon Musk pulled blue checkmarks from everyone on Twitter this week – and guess what? The planet is still spinning, my pizza from 4 Bros Pizza is as delicious as ever, and my pup still can't stand other dogs (but loves people). In the process of Musk doing all of that, famed bestselling author & pop culture icon Stephen King's Twitter account showed that he paid for a checkmark and gave a phone number – two things that King made a point of strongly denying. Considering King & Musk's past track record, it wasn't a leap in logic to assume that something a little shady was going down. Well, it turns out that Musk decided to personally pay for the checkmarks for some famous folks – including King and LeBron James. His motive? Maybe Musk's concerned about losing too many major social media influencers? Maybe Musk thinks that having people who've called him out sporting blue checkmarks would make people see them as hypocrites? Whatever the reason, King has a better idea of how Musk should be spending his money. "I think Mr. Musk should give my blue check to charity. I recommend the Prytula Foundation, which provides lifesaving services in Ukraine," King recommended to Twitter's owner. "It's only $8, so perhaps Mr. Musk could add a bit more."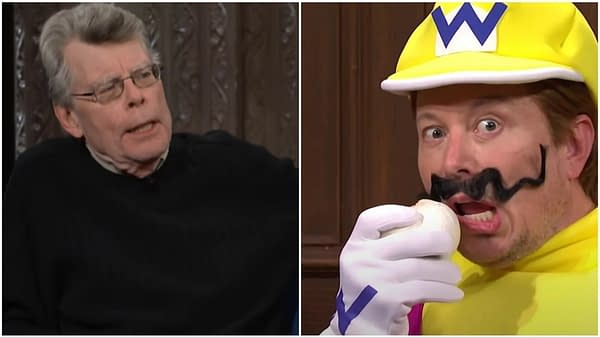 Here's a look at King's response from earlier today, telling Musk what he can do with his blue checkmark (for a good cause, of course):
Stephen King & Elon Musk: The Twitter Exchanges
For a visual history of the back-and-forths that have gone on this week between King & Musk over the blue checkmarks, here's a look at their tweet exchanges:
And not long after, Musk revealed himself to be King's "Twitter Santa Claus," gifting the famed author his blue checkmark: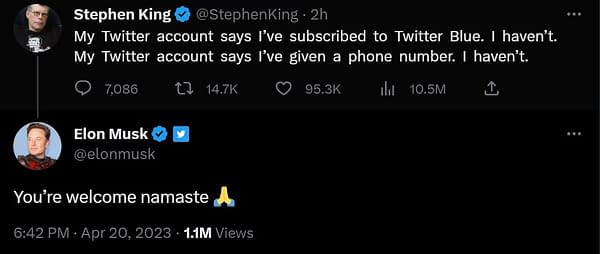 ---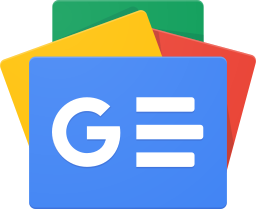 Stay up-to-date and support the site by following Bleeding Cool on Google News today!