Ten Thoughts About Doctor Who Season 11 Episode 9 – It Takes You Away
Doctor Who Series 11 – Episode 9 It Takes You Away just aired on BBC One from 6:30pm – 7:20pm. Spoilers going forward to those timeshifting on another continent of course….
1. The HitchHikers Guide To Norway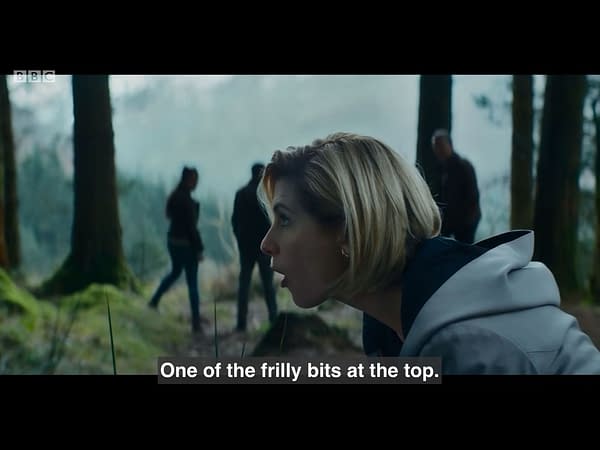 We always like to look for a little Douglas Adams in Doctor Who. And Doctor noting that the fjords of Norway are the frilly bits, it's bang on Slartibartfast winning an award for designing the fjords, all the 'fiddly bits' in Hitch Hikers Guide to the Galaxy. And it's good to know that when it comes to Trip Advisor Ratings, the answer lies in the soil. This is also a place of Nordic myth, of Valhalla, or portals to other realms, with demons and trolls. So when what looks like sci-fi twists into fantasy, is it really that much of a surprise? Either way, this may be my favourite episode of the year. And I was thinking that last week with The Witchfinders…
2. Woolly Thinking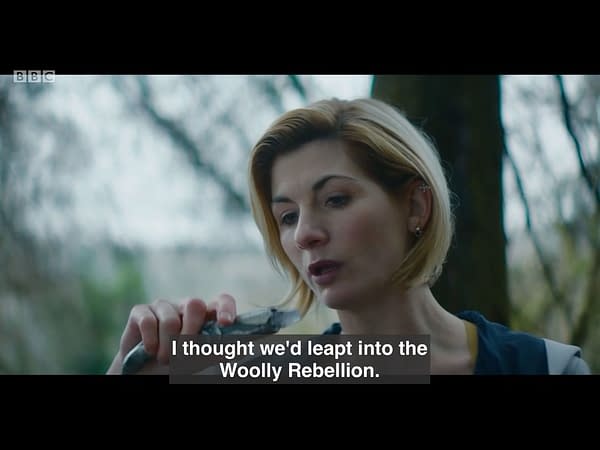 This week PETA tried to get the village of Wool to change their name to Vegan Wool as part of a way to get some cheap publicity. It worked. Well, it appears that in the year 2211, everything changes with the Woolly Rebellion…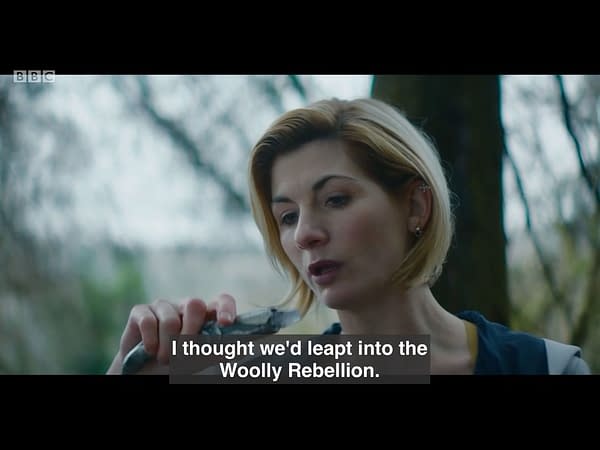 With a renegotiation of human/sheep relationshipmsleading to an utter bloodbath. But not today. It's scandi-noir but only so far. The sheep aren't the monsters in these woods…
3. Can She Do Deadlocks Now?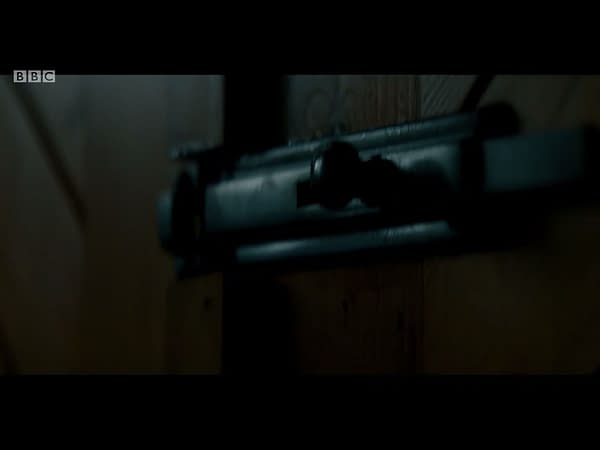 Okay, it's not ever been really clear what a 'deadlock' means in Doctor Who aside from a lock that the sonic screwdriver can't unlock. It seems to mean standard locks rather than electronic locks but that changes from episode to episode. Either way, these looked very deadlocky.
But we get a mysterious cabin in the woods plagued by monsters. So you think the threat comes from without rather within…
4. Second Sight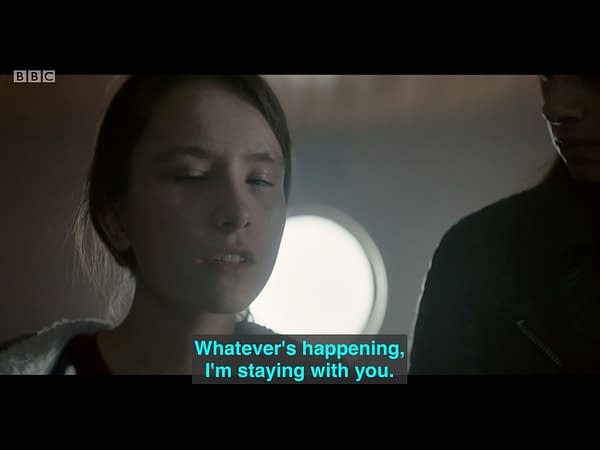 Hanne, played by Ellie Wallwork, is not the first blind character on Doctor Who – the Doctor has been there too. But this is the first time they have been played by a blind actor, and it's a very naturalistic performance. It does kinda make Charlie Cox' performance of late a little on the pants side. It is notable that both the Doctor and Ryan are rougher with her than they need be, but that is self defeating as Hanne works out what isgoing on and flips the script…
5. Picnic In The TARDIS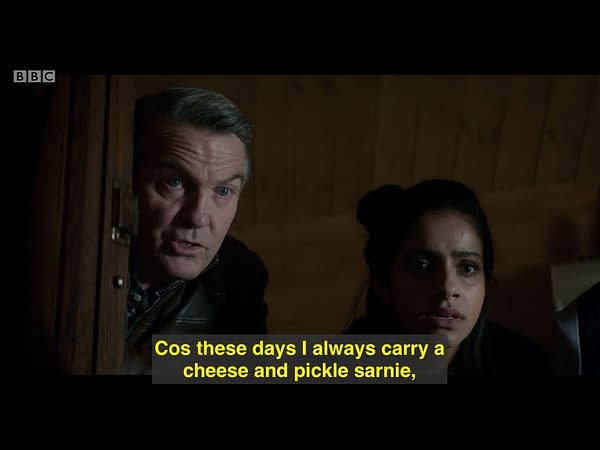 Graham has a handy sandwich from the TARDIS, because you never know what might happen. Shades of Paddington Bear but rewatching the Silence In The Library, it could have helped with the Vashta Nerada… related to the Flesh Moths at all? And of course it has to be Chekov's sandwich, doesn't it?
6. The Doctor Has Seen Stranger Things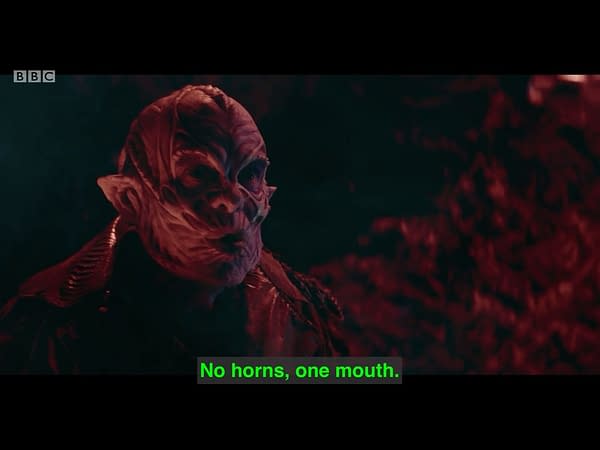 Another parallel dimension that can be reached where things are dark, filled with flesh eating moths and Kevin Eldon done up as a demonic figure Ribbons, possibly stealing the entire episode (or at least exchanging it for something tubular). But it did rather feel like a certain Netflix show, by way of Gollum's caves. Oh and even a little Minotaur Labyrinth logic to keep things going. And does any of this make E-space a very large Anti-Zone now?
But walking through a portal into the second cabin, the same with different decor and The Other Mother – well that was pure Coraline.
7. A Moment Of Grace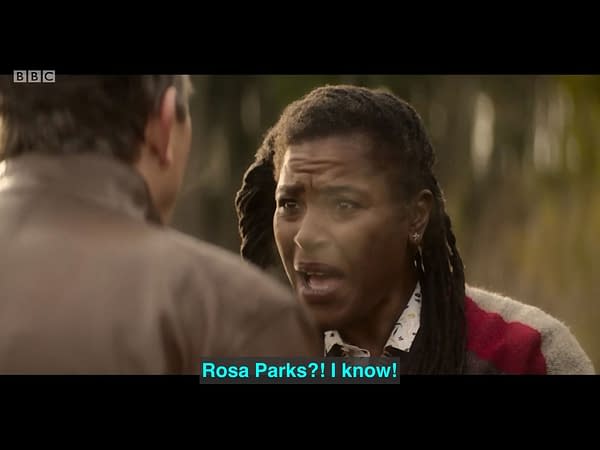 She had one episode but made such an impact and as Graham knows that this isn't fair, that it will be snatched away, he is preparing us for the same thing.
8. It Isn't Easy Being a Sentient Universe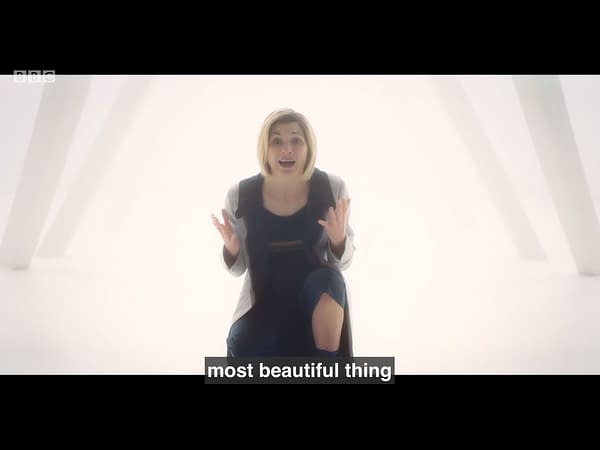 Everyone's getting a sentient universe now. Grant Morrison wanted one, Scott Snyder gave DC Comics one underneath everything else and Doctor Who gives us a sentient universe masquerading as our nearest and dearest departed, guaranteeing people not wanting to leave. Creating an abusive, misleading, gaslighting, codependent, destructive relationship. And because this universe is sentient, it knows just what it's doing…
9. BFFs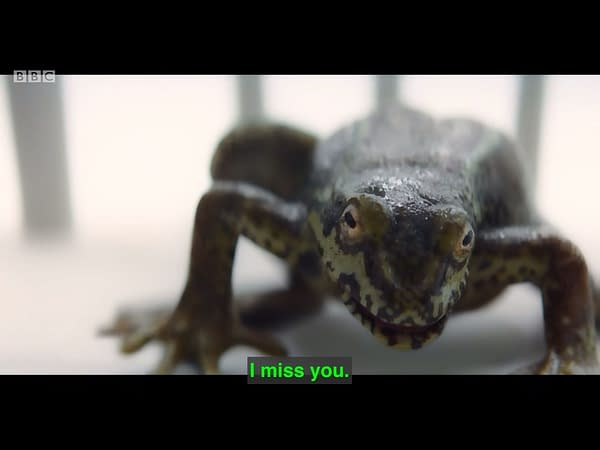 The Solitract does the right thing though, the Doctor providing the route to do so, hand holding it away from destroying all – and losing a new best friend in the process. The Doctor's other friends have been dealing with loss, now it's her turn. This begins as a Doctor Who Rescue episode but ends up rescuing someone entirely different from themselves. Even if they end up as a frog. Which, back to Douglas Adams, is a little on the white mice side, right? If slightly less convincing…
10. At Last, A Grandad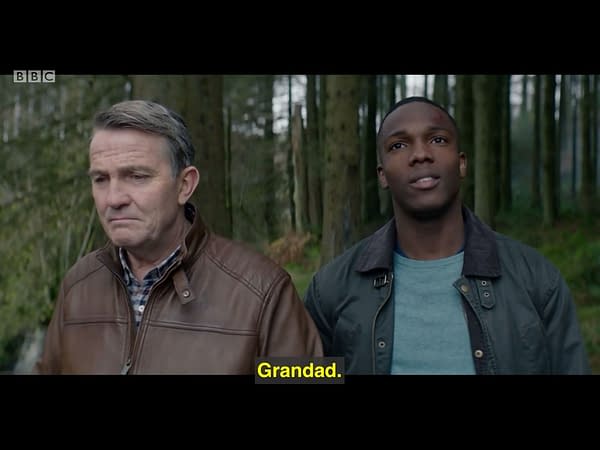 Been a long time coming, with continual rejection through the series, but just as we learn that the Doctor had grandmothers, eight of them, now Ryan finally has a granddad.
CAST & CREW
The Doctor Jodie Whittaker
Graham O'Brien Bradley Walsh
Ryan Sinclair Tosin Cole
Yasmin Khan Mandip Gill
Ribbons Kevin Eldon
Hanne Ellie Wallwork
Erik Christian Rubeck
Trine Lisa Stokke
Director Jamie Childs
Executive Producer Chris Chibnall
Executive Producer Matt Strevens
Series Producer Nikki Wilson
Writer Ed Hime