What We Do in the Shadows: Lucy Punch Talks Lilith, Would Love Return
One of the most memorable episodes of the FX vampire comedy What We Do in the Shadows during the second season was one simply titled "Witches" involving a coven that has nefarious plans for the male vampires Nandor (Kayvan Novak) and Laszlo (Matt Berry). After finding out they're captured, Nadja (Natasia Demetriou), along with Colin Robinson (Mark Proksch) and Guillermo (Harvey Guillén), attempt to rescue them. We come to find out just how much Nadja loathes witches and their craft to the point of paranoia, blaming everything bad that happens on some hex regardless of its coincidental nature. While promoting her latest film Silent Night, I spoke with Lucy Punch, who played Nadja's arch-nemesis Lilith, about her experience on the show and if a return during the fourth season was in the cards.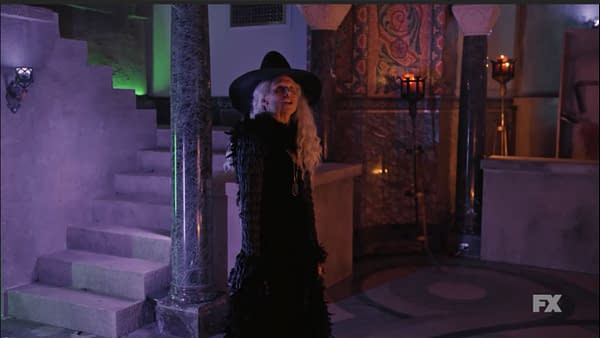 "Being on the show was such a treat," Punch said. "I just got a phone call asking if I'd come out and do it, and I actually hadn't seen the series. I'd just seen the [2014] movie and loved it, and I was like, 'Absolutely'. I went out and sort of joined that group. They're all so funny and clever. It was a lot of fun and quite bizarre for me because I sort of spent the sort of my first few days filming looking like a rather glamorous witch. I had sort of six hours of prosthetics that I was in for like hours and hours. I was desperate to get off my face. I've never done that before as we all aged up." As far as any hopes for making a return to becoming a thorn in Nadja's side during her travels in Europe during the fourth season (if that's what we get to see). "I haven't heard anything," she admitted. "I would love to come back and do more." You can check out our interview with Guillén here. Silent Night is currently available to stream on AMC+.