The Bleeding Cool TV Top 10 Best of 2019 Countdown: #4 "The Boys" (Amazon Prime)
Once upon a time… working for television was labelled a "demotion," a professional death sentence for actors whose careers were considered on a no-way-back downward spiral.
Today, actors of all ages and experiences (especially women and actors of color) have found more opportunities to practice their craft and tell their stories (and be recognized for it) than ever before. While there are still many roads that need to be travelled in terms of fairness and equality on both sides of the camera, progress has been made – even as the film industry continues a slow descent into "event film haze" to remain relevant.
Once upon a time… it was thought for a show to succeed, it needed to start every September, end every April/May, and run at least 20 episodes per season.
Today, fans wait over a year for a half-season of Adult Swim's Rick and Morty, and have shown their willingness to embrace an 8-episode quality season over a 16-episode "padded" season.
https://www.youtube.com/watch?v=Rw6BrzB1drs
Once upon a time… television meant "The Big Three," HBO went off-air at 11 p.m., and "water cooler" moments before the VCR could be a very select club at the work place.
Today, cable and streaming have turned "The Big Three" into "The Big 333" – with DVR, on-demand, and binge watching making any time a great time to watch.
With that said, it's hard to believe it's been a year since our last go-around – and as difficult as it was to choose only 10 shows last year, this year tripled the pressure. Once again, it felt like we were trying to find ten specific needles in a pile of needles – and this year, that pile was huge… and twice as painful when it came to cuts.
But we prevailed – and over the course of the next ten days, you'll see that our list represents the best in diverse thought and action that graced our screens this year. Continuing on from our previous six picks (which you can check out for yourselves here. here, here, here, here, and here), Bleeding Cool's own Alejandra Bodden makes the case why 2019 was a great year to put those "bloody f****n'" supes in their place:
In a world where superheroes embrace the darker side of their massive celebrity and fame, THE BOYS centers on a group of vigilantes known informally as "The Boys," who set out to take down corrupt superheroes with no more than their blue-collar grit and a willingness to fight dirty.

THE BOYS is a fun and irreverent take on what happens when superheroes – who are as popular as celebrities, as influential as politicians and as revered as Gods – abuse their superpowers rather than use them for good. It's the powerless against the super powerful as The Boys embark on a heroic quest to expose the truth about "The Seven," and Vought – the multi-billion dollar conglomerate that manages these superheroes.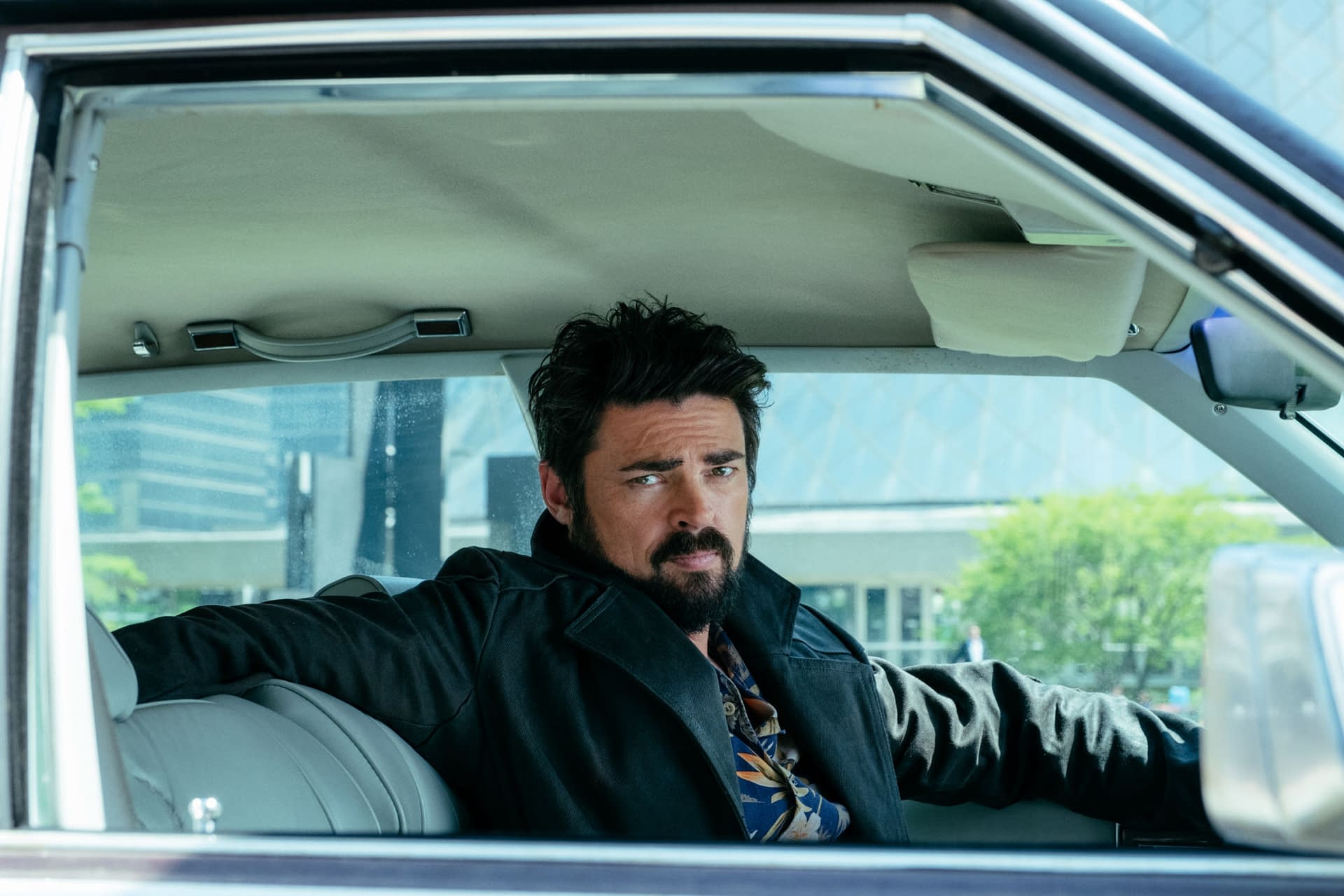 "Hands down, The Boys was my most eye-grabbing (gouging), senses (and kneecap)-shattering, attention-hoarding show of the year from the moment Hughie's A Train-tragedy splashed across all of our faces. From its ability to effectively weave storylines while maintaining character development to insanely choreographed action extravaganzas, the series was able to tell a complete story while still leaving just the right amount of questions still to be answered for the next season.

The dialogue always felt grounded and relatable to our own world. The characters were understandable, with motivations we could appreciate – even if despise then for who they are and what they do. Considering the number of "WTFs" we were left to consider at the end of the first act, I cannot wait to see what the second act has in-store for our "Boys", The Seven, Vought – and the world."

– Alejandra Bodden
On the side of The Boys, Karl Urban's Billy Butcher is mysterious and brutal, hiding a personal agenda as he approaches potential new recruit Hughie (Jack Quaid), claiming to be a shadowy government operative. Butcher capitalizes on Hughie's rage over his girlfriend Robin's accidental death at the hands of Superhero A-Train and enlists Hughie as part of his plan to bring down the super-hero franchise.
Rounding out Butcher's team are Laz Alonso (The Mysteries of Laura) as second-in-command Mother's Milk; Karen Fukuhara (Suicide Squad) as The Female, a young Asian assassin with blistering fighting skills who happens to have superpowers; and Tomer Capon as unpredictable wild card Frenchie, a brutal warrior when who lives a life of no attachments or responsibilities.
On the flip side, The Seven are Antony Starr (American Gothic) as The Homelander, leader of the main superhero team, The Seven; Dominique McElligott (The Last Tycoon) as Queen Maeve, a member of The Seven; Chace Crawford (Gossip Girl) as The Seven member The Deep, an aquatic hero; Jesse T. Usher (Survivor's Remorse) as speedster with a major PR problem, A-Train; Nathan Mitchell (iZombie) as Black Noir, a masked superhero with fighting and Set martial arts skills; Alex Hassell as perverted invisible hero Translucent (who's not really…you know… "translucent"); and Erin Moriarty (Jessica Jones) is Starlight/Annie, a young woman who can make lightning bolts flash from her eyes and dreams of being a "real superhero" like the famous Seven.