The Falcon and the Winter Soldier Set Gets a Bit More Crowded
What's this? For a second day, we have a production update on Disney+'s The Falcon and the Winter Soldier– and it's also good news? Finally, things might be looking up for the Anthony Mackie and Sebastian Stan-starring live-action series. Previously, Stan took to Instagram to post an image taken of the two of them on set, with a caption looking to put minds at ease when it comes to COVID precaution concerns. Now we're learning who else has been hanging out with them on set: Emily VanCamp (Sharon Carter/Agent 13), Georges St-Pierre (Georges Batroc), and Desmond Chiam (undisclosed role). Based on social media and online reporting, the actors are currently in Atlanta, Georgia, to complete filming on the series (which was expected to premiere in August but was delayed by a COVID-related production shutdown).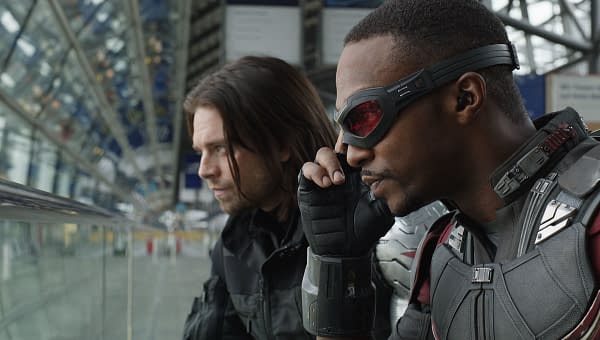 Back in July, series star Daniel Brühl responded during an interview that he wasn't sure when he would be heading back to work on the series: "We were affected by the coronavirus whilst we were shooting the show, so hopefully we'll be able to return very soon. We were not able to finish and to wrap it up. That's still something that we have to do. Fingers crossed that it will happen, as soon as possible."
Directed by Kari Skogland with Malcolm Spellman as head writer, The Falcon and the Winter Soldier features Anthony Mackie aka Sam Wilson aka The Falcon and Sebastian Stan (Bucky Barnes aka Winter Soldier) returning to their feature film roles, alongside Emily VanCamp (SHIELD agent Sharon Carter), Daniel Bruhl (Baron Zemo), Wyatt Russell (John Walker aka US Agent), Desmond Chiam (Now Apocalypse), Miki Ishikawa (The Terror: Infamy), Noah Mills (The Enemy Within, The Brave), and Carl Lumbly (Supergirl, Alias) in undisclosed roles.