"The Rookie" Season 2: "Safety" Is No Protection From Pain [SPOILER REVIEW]
On this week's episode of ABC's The Rookie, "Safety," the rookies face a hard reality. Despite all of the physical and emotional safety precautions the officers take each day, they are never fully protected. The vests, weapons, gloves, and professional distance may keep the rookies alive. But knives, drugged out homeless men, jewelry thieves, and break-ups still happen. And they hurt. "Safety" started with benign community policing projects, but ended with two rookies facing life changing decisions. Finally, the rookies are starting to grow.
To be on the safe side, spoiler alert.
Poor John Nolan (Nathan Fillion). He really suffered this week. Jessica Russo (Sarah Shahi), his girlfriend, announced that she might be pregnant and then bailed for most of the day. Alone, Nolan freaks out and over-analyzes the situation. Waiting for Russo's call, Nolan stands in front of a room of pregnant women and attempts to do his job. While his carseat installation skills suck, he does take out an abusive boyfriend. Unfortunately, he gets stabbed in arm in the process. And then is stabbed again when Russo announces that she isn't pregnant, but wants to be. In the end, Russo and Nolan's relationship implodes due to their very different places in life. Russo's baby fever is the impetus, but it is not the cause. However, despite the fact that their breakup was predictable, Nolan seems completely shocked by the ending.
Officer Chen (Melissa O'Neil) finally gets a chance to work with Detective Nyla Harper (Mekia Cox) this week. Harper, who has barely warmed up to Nolan, insists on calling Chen "Not-Nolan." Despite Harper giving Chen a hard time, the two end up bonding by the end of the episode. Harper is hard, dedicated, cutting, good at her job, and unwilling to take anyone else's crap. In other words, Harper is the cop that Chen wants to be. However, when Chen gets bested by a junkie, Harper gives her a reality check. There are some things that Bradford (Eric Winter) is unable to teach Chen, like how to be a female cop. After six months of mind games with Bradford, Chen seems both thrilled and frightened to learn that her training officer doesn't know everything. Maybe Harper can teach Chen not to walk into a bomber's house.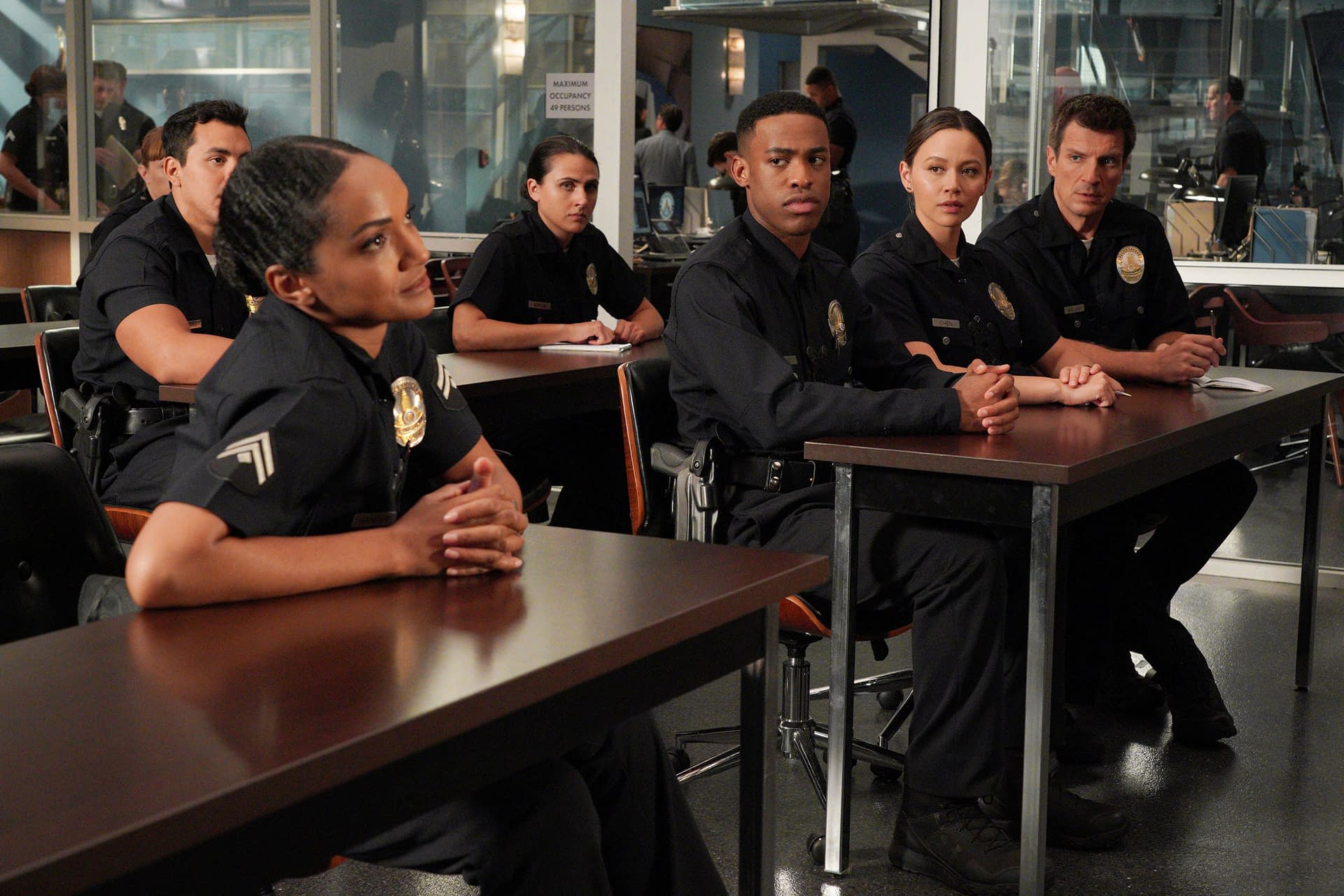 Officers Bradford and West (Titus Makin Jr.) start out the day in good form. Bradford manages to stop a high speed chase by rolling his truck out of his driveway. Then, he and West get to hang out with real-life LA Rams Eric Weddle and Robert Woods. However, when the mother of one of the players is abducted for a planned jewelry heist, they are no longer playing a friendly game. Despite an 11th hour Hail Mary save from Bradford and West, a moonlighting Lopez (Alyssa Diaz) and the quick thinking kidnapped mom bring down the diamond thieves. Lopez, who is still on leave in order to care for the stabbed Wesley (Shawn Ashmore), is a total badass in this episode. More of her moonlighting, please!
After several episodes that prioritized drama for the sake of drama, "Safety" is refreshing. There is an aspect of drama to the episode, but there is also humor, character development, and overall plot movement. Nolan and Russo's relationship is finally dead, after lingering on life support for far too long. Chen is finally learning that a woman with a neck tattoo should not be afraid of a guy like Bradford. Harper has finally realized that she does, in fact, have something useful to share with the rookies. While "Safety" was an improvement on The Rookie's second season so far, the show season still lacks a larger plot arc, something to keep the viewers engaged over the course of the season. Well, maybe next week.
All new episodes of The Rookie air Sundays at 10PM on ABC.