Following on the heels Kristen Bell (Central Park), Jenny Slate (Big Mouth), and Mike Henry (Family Guy) stepping down from their roles so that those characters can be voiced by a Black voice actor, producers of FOX's The Simpsons released a statement that made the same pledge moving forward: "Moving forward, 'The Simpsons' will no longer have white actors voice non-white characters." As national attention, conversation, and debate continue over systemic racism and unequal representation in the media, a number of shows (Little Britain, 30 Rock, Scrubs, for example) are either choosing to have potentially racially insensitive episodes pulled or the work's being done for them by the studio or service. The debate moved into the area of animation, with debate growing over the importance of having equal representation on the mic as well as in front of the camera.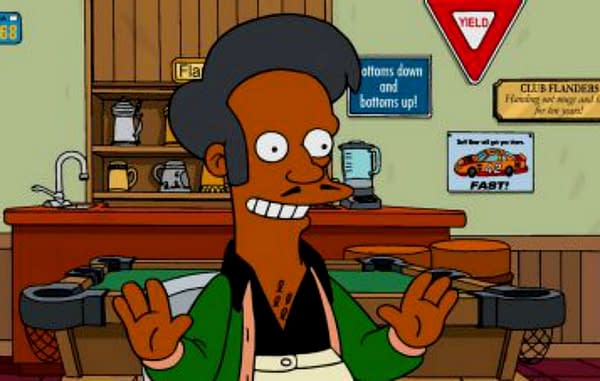 The issue of representation within the field of animated voice acting is one The Simpsons isn't new to, having to answer for Hank Azaria's portrayal of Indian character Apu for years. Comedian Hari Kondabolu's documentary "The Problem With Apu" brought the topic to a national level, with Azaria announcing in January 2020 that he was stepping away from the character. Previous recurring cast member Kevin Michael Richardson was promoted to full-time several seasons ago, and currently voices many of the show's African American characters.
The longest-running primetime scripted show in television history, THE SIMPSONS exploded into popular culture in 1990 and has remained one of the most groundbreaking and innovative entertainment franchises, recognizable throughout the world. HOMER (Dan Castellaneta), MARGE (Julie Kavner), BART (Nancy Cartwright), LISA (Yeardley Smith) and MAGGIE are instantly identifiable television icons. Rounding out this cast of characters are many beloved Springfield residents, including tavern proprietor MOE SZYSLAK (Hank Azaria) and nuclear power plant owner MR. BURNS (Harry Shearer). The Emmy Award-, Annie Award- and Peabody Award-winning animated comedy will begin its 31st season this year.

THE SIMPSONS is a Gracie Films Production in association with 20th Century Fox Television. James L. Brooks, Matt Groening and Al Jean are the executive producers. The Gracie Films Worldwide Brand Division develops and produces the licensed content for the series.
Enjoyed this article? Share it!