Michelle Wolf Blasts Donald Trump in Brutal White House Correspondents' Dinner Tweet
Now that the White House Correspondents'Association (WHCA) is taking a pass on a comedian hosting-performing at next year's White House Correspondents' Dinner (WHCD), is it possible that President Donald Trump might actually attend? In a tweet that also attempted to throw shade at last year's host Michelle Wolf (The Daily Show), Trump praised the media organization for its decision – and left the door open for a possible appearance: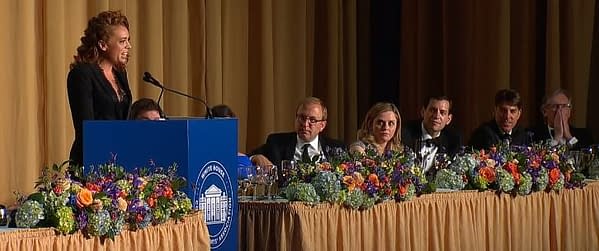 Proving once again why people who aren't funny shouldn't go after comics, Wolf's response to Trump on Twitter had the comedic impact of an argument-ending atomic bomb:
In the tweet, Wolf is referencing Trump's continued backing of Saudi Arabia and bucking of the CIA in the wake of the death and dismemberment of Washington Post journalist Jamal Khashoggi.

Earlier this week, the WHCA anounced that the 2019 White House Correspondents' Dinner will not have a comedian serve as its host/emcee. Historian Ron Chernow will be the featured speaker at the annual event on April 27, 2019. The WHCA's official statement announced Chernow's role at the dinner, but did not address the lack of a comedian:
"I'm delighted that Ron will share his lively, deeply researched perspectives on American politics and history at the 2019 White House Correspondents' Dinner. As we celebrate the importance of a free and independent news media to the health of the republic, I look forward to hearing Ron place this unusual moment in the context of American history."

– Olivier Knox, President, WHCA
Chernow will address the importance of the First Amendment and a free press – and used his right to free speech to reference this year's change in his statement:
"The White House Correspondents' Association has asked me to make the case for the First Amendment and I am happy to oblige. Freedom of the press is always a timely subject and this seems like the perfect moment to go back to basics. My major worry these days is that we Americans will forget who we are as a people and historians should serve as our chief custodians in preserving that rich storehouse of memory. While I have never been mistaken for a stand-up comedian, I promise that my history lesson won't be dry."
Up until now, Trump has made it clear that he did not plan on attending attending the WHCA dinner; and though he didn't attend last year's event, it still wasn't without Trump-related controversy. Wolf drew harsh criticism and strong support for her perfomance at last year's dinner, in particular for her remarks directed at White House Press Secretary Sarah Huckabee Sanders:
For her part, Wolf took to Twitter and did not hold back with her response to the WHCA's ("cowards") decision:
Renowned for his biographies of J.P. Morgan, John D. Rockefeller, George Washington, Alexander Hamilton, and Ulysses S. Grant, the Pulitzer Prize-winning Chernow has some serious multimedia credentials. His 2004 Hamilton bio served as the source material for Lin-Manuel Miranda's Broadway musical Hamilton, with his 2017 Grant bio being developed for the big screen by Steven Spielbergand Leonardo DiCaprio.
In light of the WHCA's decision, there is no word yet if Samantha Bee (TBS's Full Frontal with Samantha Bee) will host another edition of Not The White House Correspondents Dinner opposite the dinner.