38 Thoughts About 37 Of Today's Comics – Through Convergence And Back Again
Back in Blighty, able to go to the comic shop on a Wednesday, here's a welcome return for X Thoughts About X Of Today's Comics…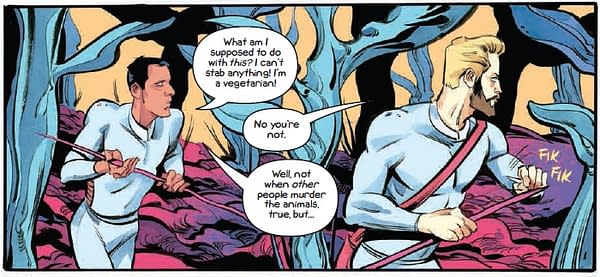 Okay, so Kaptara is book of the week. A take on Flash Gordon, if the lead was a wimpish gay cowarldy scientist who, to boot, was a bit of a manipulative shit with no loyalty to anyone.
Of course I utterly love it. Great first issue, a real smash and I'm in for the long haul. This is what Starlight should have been. Second issue please.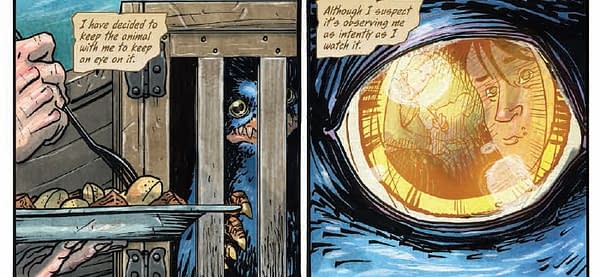 Manifest Destiny isn't far behind either. Word of warning, if you capture a strange creature, check its head size and which direction its eyes face. And then run…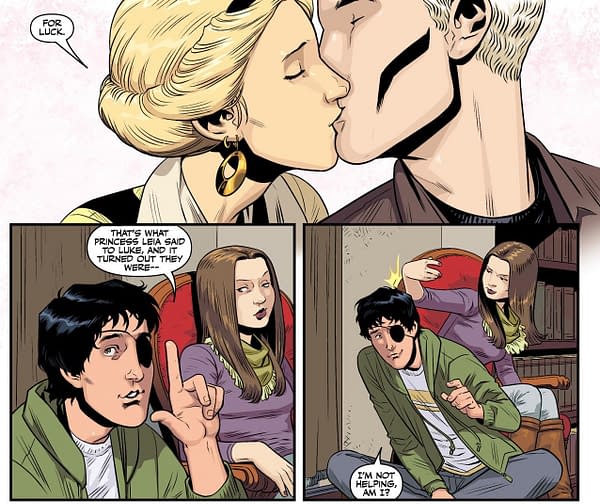 There are times when Xander's pop culture obsessions are the best things ever in Buffy The Vampire Slayer. This is one of them.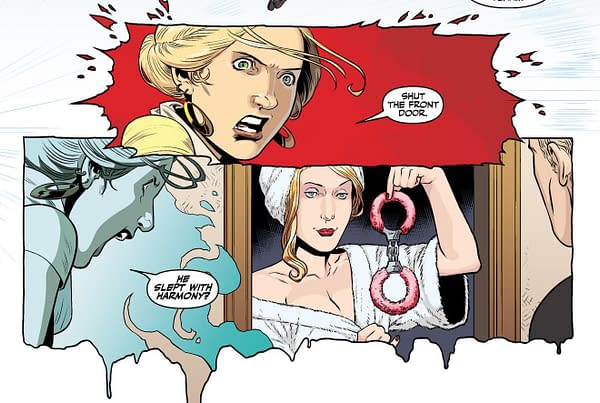 Almost.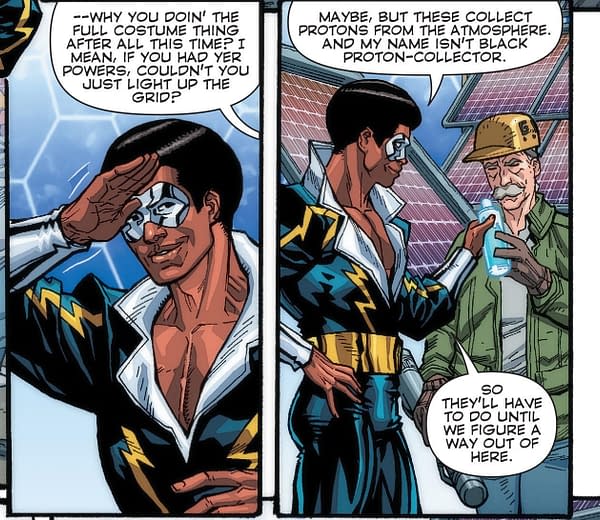 Convergence: Batman And The Outsiders reminds us how black characters used to look in superhero comic books. And how they used to be named….
However, even in Convergence: Green Lantern Corps, they still seem to wend their way towards construction of some kind…
Okay, this from Convergence: Hawkman. Is this Convergence they are talking about, or Time Runs Out and Secret Wars over at Marvel? I don't think the two events have ever been closer…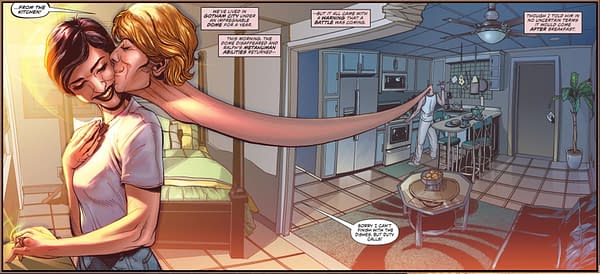 This is how Convergence embraces All-Ages. Gives us a scene that suggests many things that Ralph Dibny could do to Sue Dibny from the kitchen, but is happy to let it go at a kiss, from Convergence: Justice League Of America,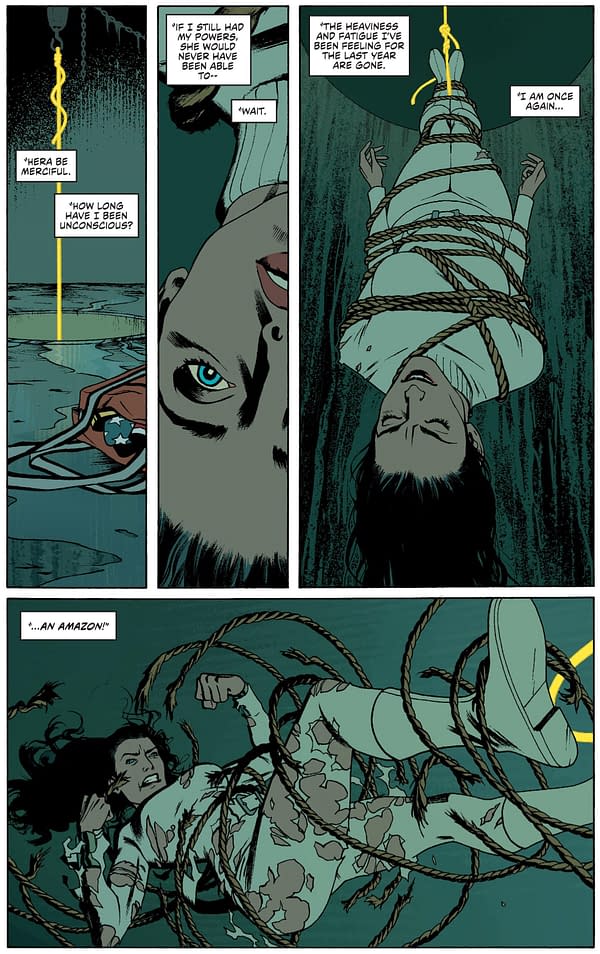 Is this Convergence: Wonder Woman or an episode of Adam Warren's Empowered. Not only is she tied up again but in the escape, her clothes somehow rip to shreds. Seriously…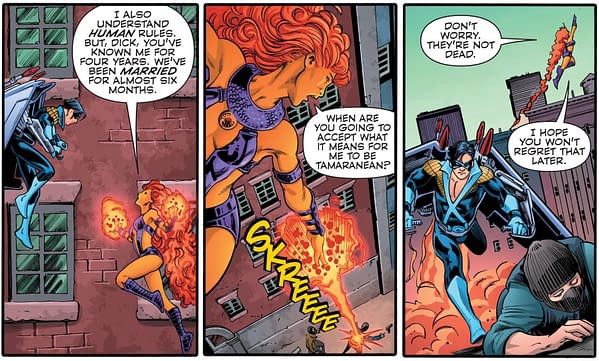 That's the thing, Nightwing, you always have to let the lady have what she wants. Even if that means the expression of genocidal impulses. It's worth it in the long run. From Convergence: Teen Titans.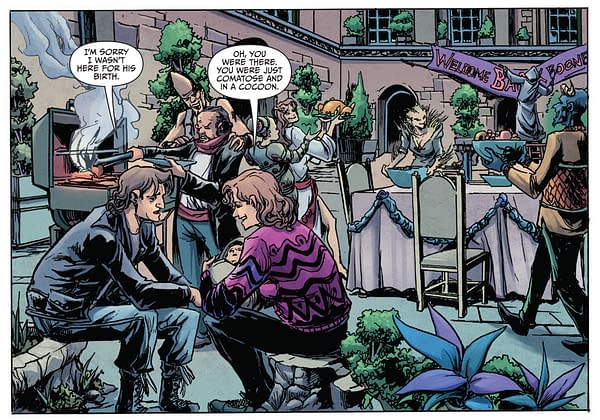 Clive Barker's Nightbreed #12, the final issue, gives us a father figure that, well, some mother figures would probably be quite okay with.

Namor, even as a king of Atlantis, really should know better in Avengers World.

Maybe it's all about performance issue, like Convergence: Flash

In the end, Superboy is just a boy… from Convergence: Legion Of Superheroes.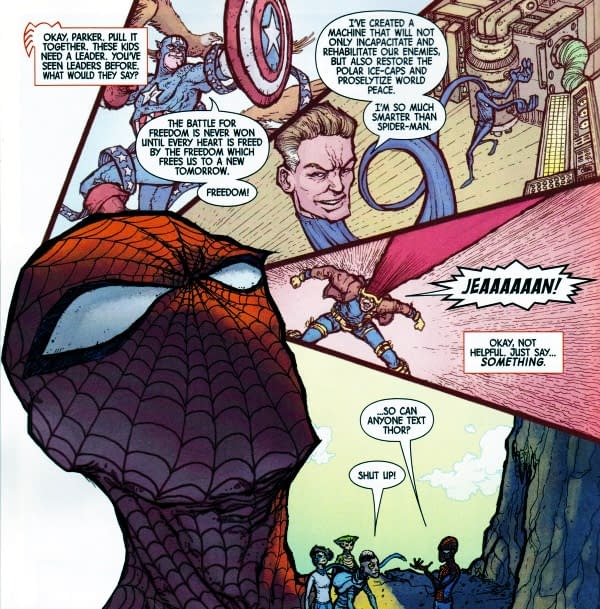 A few issues in and Jeff Loveness is turning into a major new Marvel talent, with Inhuman Special, out Dan-Slotting Dan Slott with his Spider-Man, and joining Joe Kelly, Kieron Gillen and Peter David as those who can balance the comedy inherent in the ridiculousness of the Marvel universe, with the reality it intends to portray.
Len Wein rewrites the Anatomy Of A Lesson story in one panel in Convergence: Swamp Thing. That, I believe is called dedecompression.

Convergence itself continues the fight over the Batmobile. Can't everyone just have one?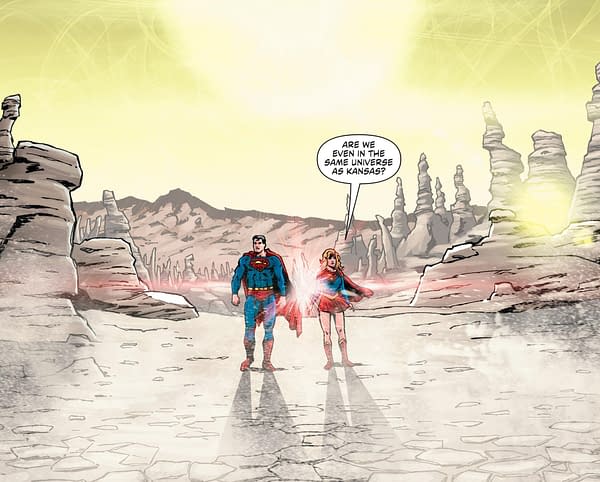 Just tap your ruby boots together, Supergirl – from Convergence: Adventures Of Superman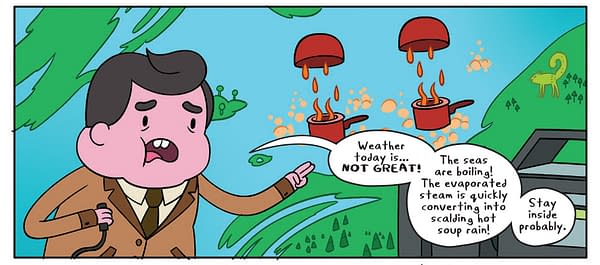 Adventure Time #39 does give me an idea for a TV show, The Weathermen Of The Damned, reporting in the oncoming Apocalypse. Anyone c=got a small budget or a weather studio? I can have script by he weekend…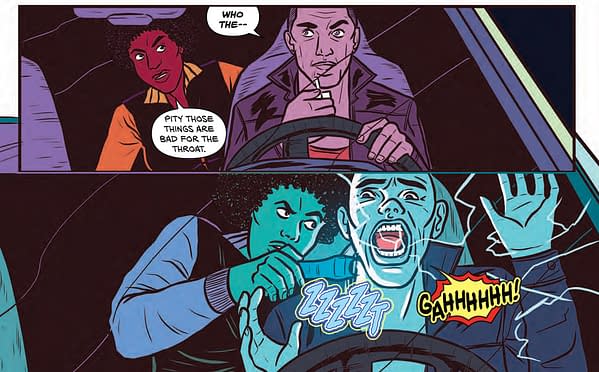 Curb Stomp #3 demonstrates the dangers of tazering and driving There really should be a public awareness campaign.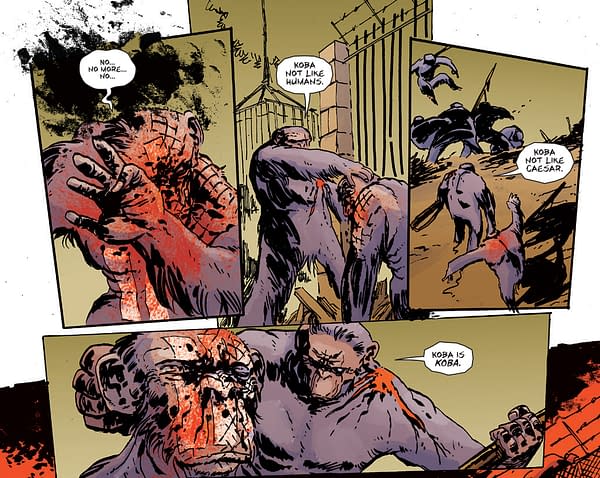 Dawn of the Planet of the Apes #6 (of 6) sees a monkey do conceptual mathematics….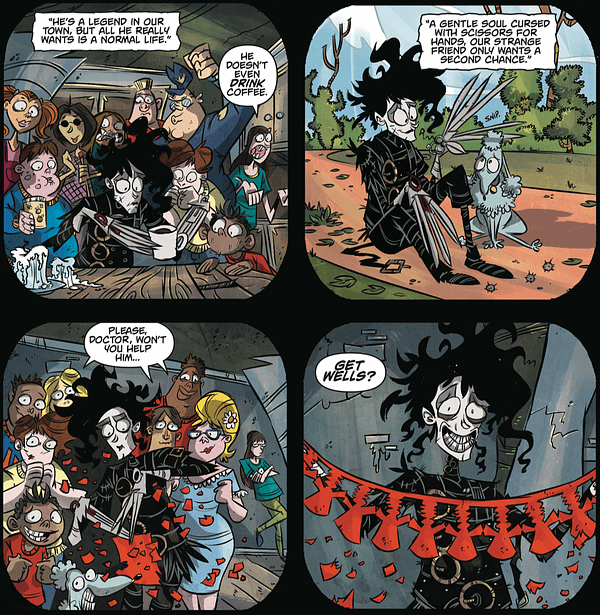 Edward Scissorhands #7 has a strong career at Hallmark, why cure him of his gift? Just open it to the capitalist market again, but this time keep the cougars at bay…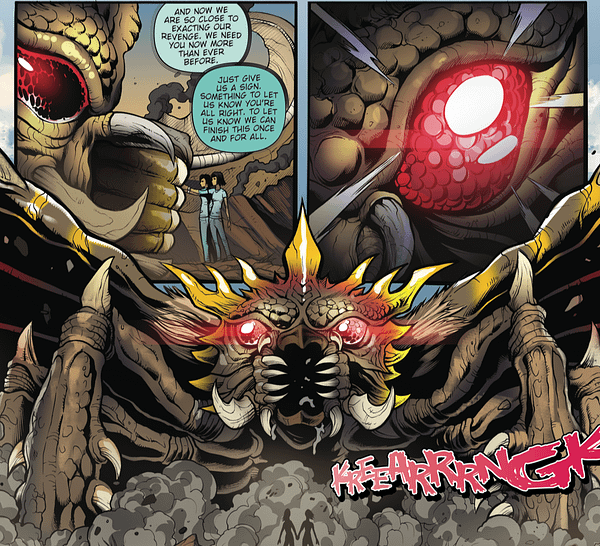 Godzilla #23… that's a sign, right?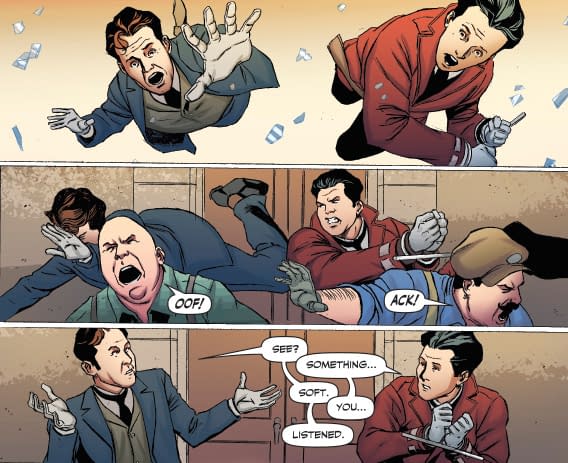 Holmes/Houdini #5 know how to make an entrance. Elementary…. but not everyone lands quite so well.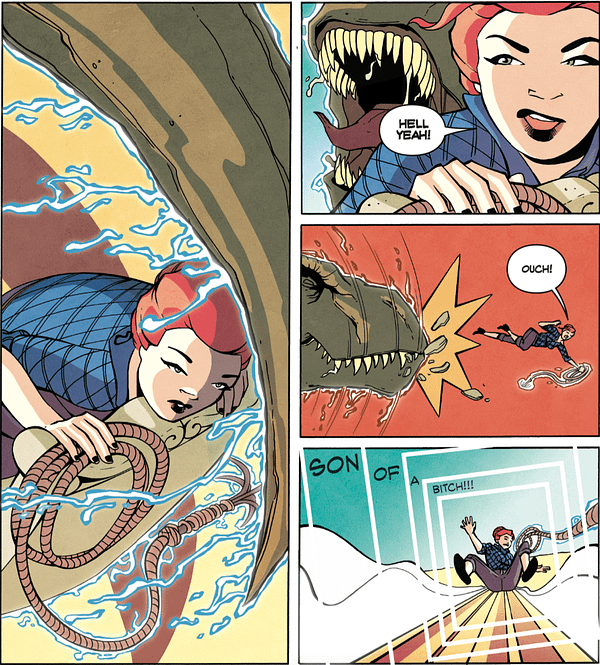 Infinite Loop #1 gives you a rather more painful way to make a landing. With language to boot.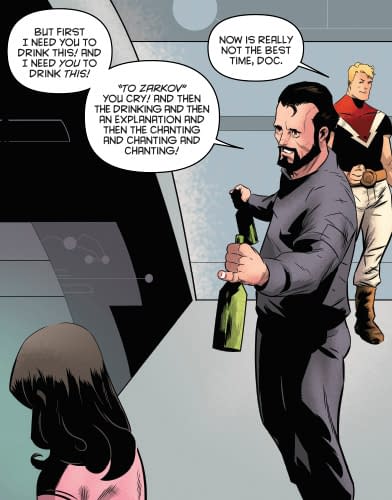 King: Flash Gordon #3 sees Doc Zarkov's approach to attracting women. I'm sure it sometimes works. But maybe a little more decorum is in order?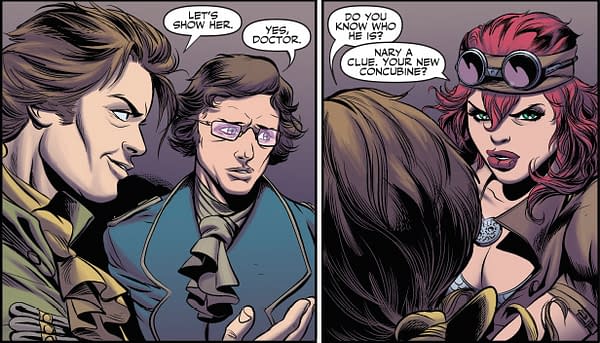 Legenderry Red Sonja #3 – hey, what happened to sisterhood?
A rather taciturn turn from a zombie in Zombie Tramp #10… well what would you expect?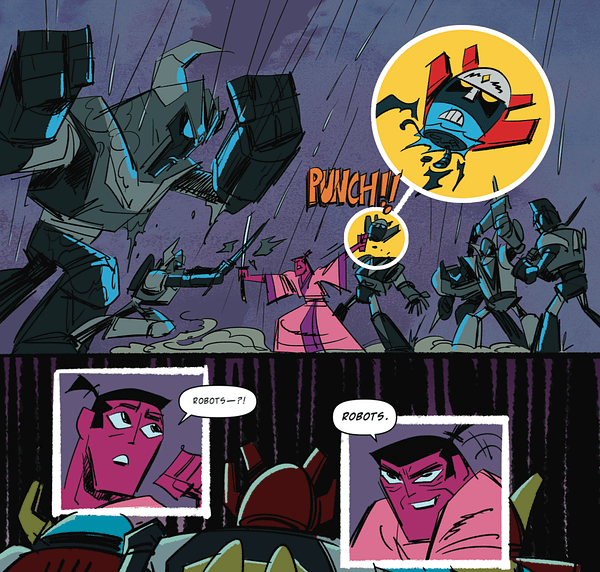 Samurai Jack #18 meets… well.. robots instead. Maybe they should get together?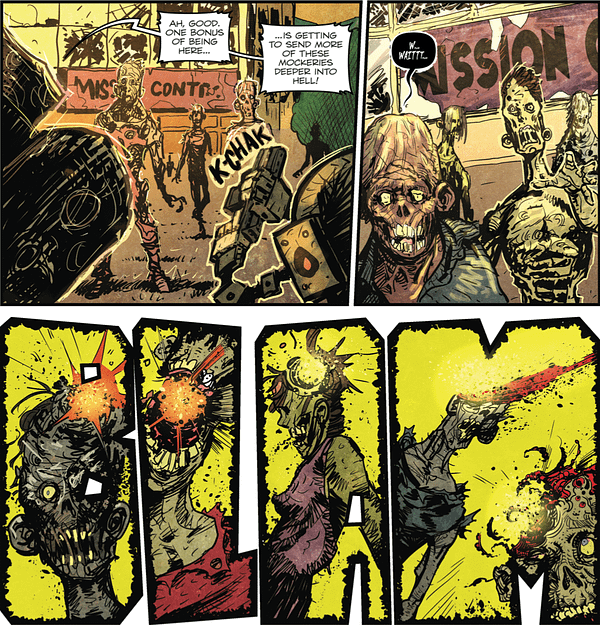 Blam indeed… sound effect destruction from Zombies Vs Robots #4 makes for a quick trip to hell.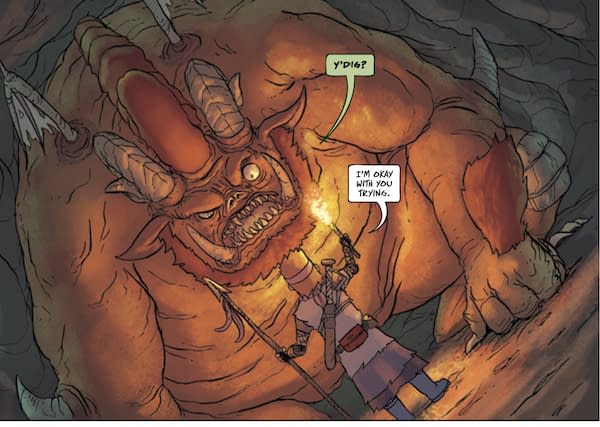 But will The Life After #9, set before the return to Hell, when Essie, the little girl in the panel, is warned by this demon who has been helping her that returning to Hell will make them enemies.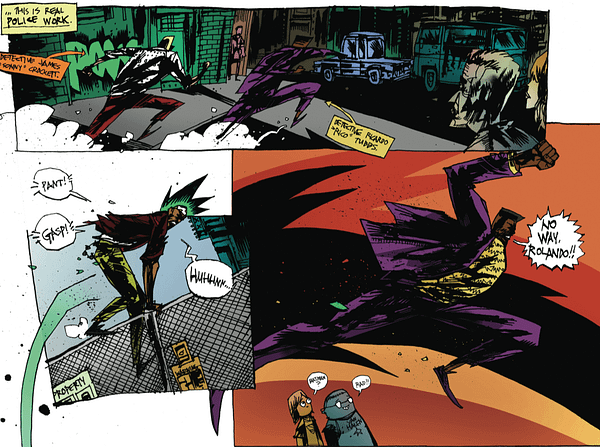 Miami Vice Remix #2 gets everyone out of breath just following the panel-to-panel action.

Solar #11 puts on the meta-suit…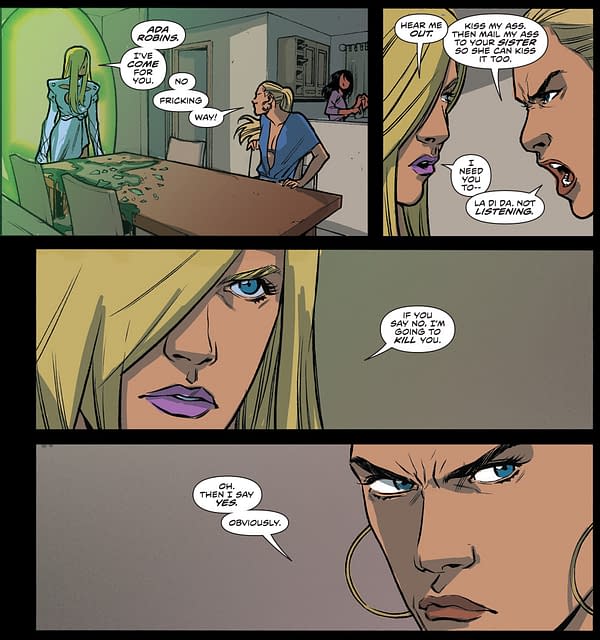 Suicide Risk #24, penultimate issue, gets an offer that can't be refused. Even if they're all a bit pouty about it.
The Realist HC, an original graphic novel by Asaf Hanuka, translated from French, seems to translate rather well as the realities of apocalypse are hidden from a child. And watch out for those moths, they simply can't be relied upon.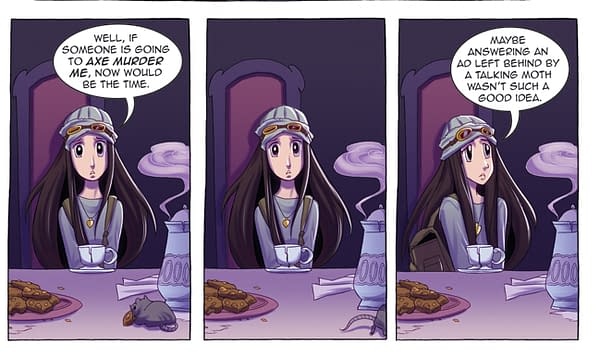 Maybe someone should talk to Vamplets #1 about Tinder,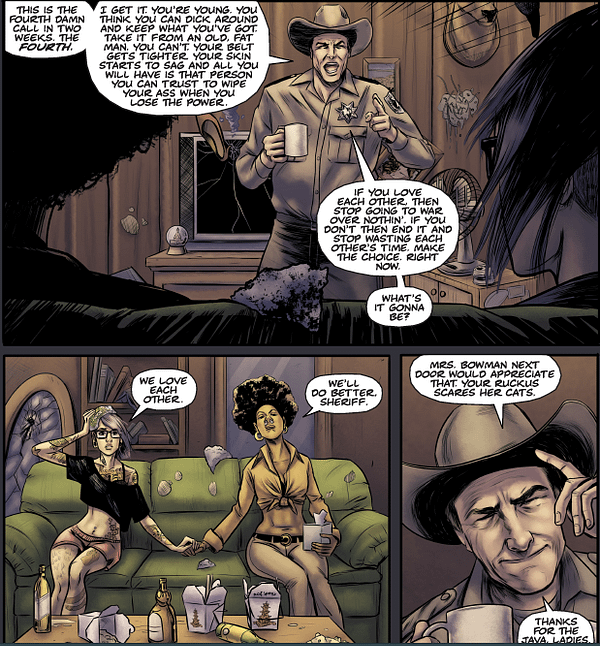 Postal #3 shows us how the ladies frighten the horses – and the kitties,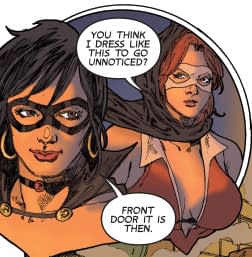 Lady Rawhide/Lady Zorro #2 gives us a name for that dress style. you've had the boob window, here is the front door…
Comics courtesy of Orbital Comics, London, currently exhibiting The Irish Invasion in their gallery.