Hunted, the massive Amazing Spider-Man story that's so big it couldn't fit in the regular Amazing Spider-Man issues for April, May, and June, and even after that, was still so big it couldn't fit in the allotted 6 regular issues and 3 additional .HU issues, so Marvel had to push the finale back one more issue. But that was apparently only the beginning.
Today, Marvel teased the cover to Amazing Spider-Man #24, with the text:
The "Hunted" storyline in AMAZING SPIDER-MAN has officially kicked off, but there's another danger lurking in the background for Peter Parker — and the newly revealed cover of issue #24 may give us the first look! Just one issue away from Nick Spencer, Ryan Ottley, and Humberto Ramos' 25th issue of AMAZING SPIDER-MAN, this issue will raise the question of who this mysterious bandaged figure is. He seems to appear in every shadow — but what does he want with Spider-Man?
And a quote from editor Nick Lowe:
Ever since #1, we've been hinting at someone working behind the scenes in Spider-Man's world. We've been very coy — but we're done being coy. Strap in and get ready to get scared.
And the cover, by Ryan Ottley…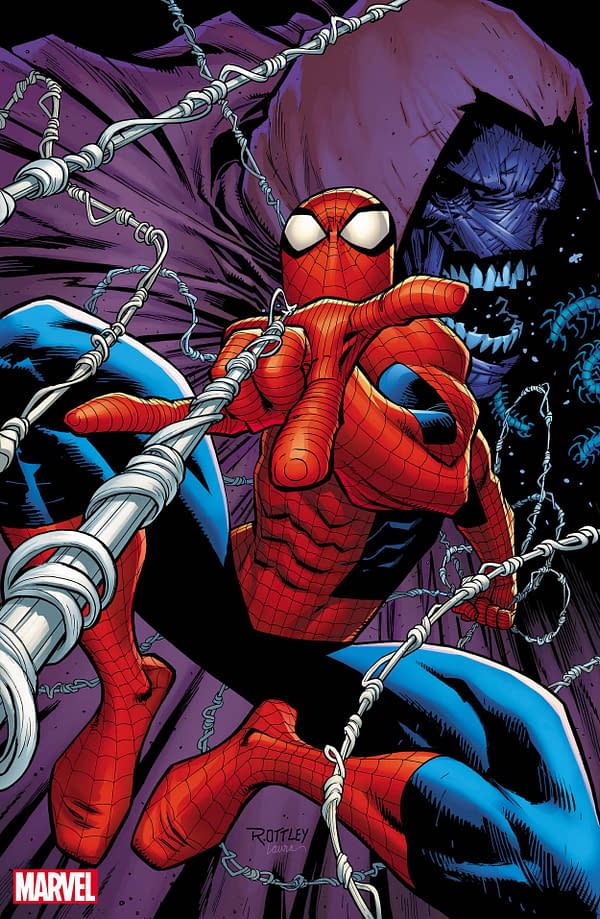 So, as the press release asks, what is the identity of this mysterious figure? A lesser-known hobgoblin with a crappy costume budget? Batman villain Hush? Nah, still no inter-company crossovers. Uh… Sleepwalker? The specter of Nick Spencer's life in Cincinnati come back to haunt him like a Dickensian spirit?
We're gonna go out on a limb and say it's… Uncle Ben! Not because of any context clues, but because comics is obsessed with turning the father figures of heroes into villains, and dammit, it's Uncle Ben's turn!
Post your own speculation in the comments.
Enjoyed this article? Share it!